Athletics: Oscar Pistorius cries foul over blade lengths after 200m shock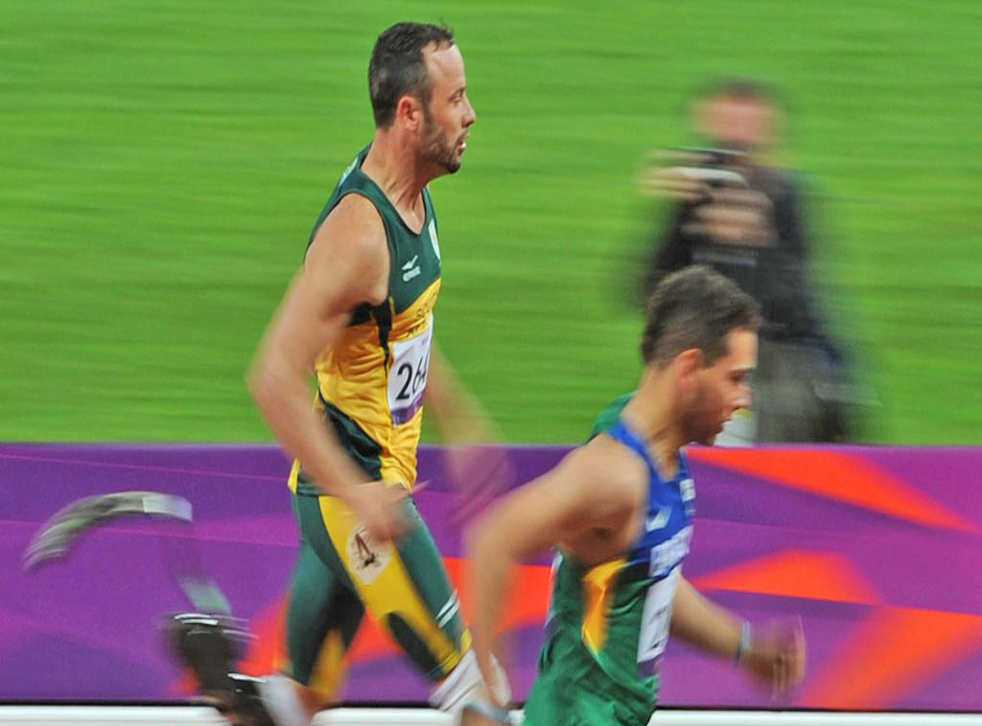 It was Oscar night but there was no acceptance speech for the big prize. Not from the Paralympic star that the sell-out 80,000 audience had come to see, at any rate. Oscar Pistorius did give his reaction but it was one of outrage at having been eclipsed by a member of the supporting cast.
The South African was not so much cut up about Alan Fonteles Cardoso Oliveira as about the size of the blades with which the 20-year-old Brazilian inflicted his first ever defeat in a 200m race. "We aren't racing a fair race," Pistorius said.
It was ironic to reflect in the aftermath of the T44/43 200m final that Pistorius was once deemed to have benefited from an unfair advantage. Back in 2008, the world governing body of track and field, the International Association of Athletics Federations, outlawed his J-shaped carbon fibre prosthetics, the Cheetah Flex-Foot. The 25-year-old took the matter to the Court of Arbitration for Sport and won the right to take part in able-bodied competition – leading to his ground-breaking appearance in the Olympics here last month.
The drama last night came in the second half of the race. All was going to script as Pistorius entered the home straight out in front and threatening to pull clear. But then Oliveira started tearing through from lane seven – and proceeded to rip up the expected lines. He flew past Pistorius in the final 30m, winning by 0.13sec in 21.45sec. The crowd were stunned to silence.
Pistorius was clearly gobsmacked too. He might be a 400m specialist in able-bodied competition but he is the supreme Paralympian at 200m too. Or was until Oliveira improved his lifetime best by 0.43sec last night.
It was no consolation to Pistorius that the world record he set in the heats the night before, 21.30sec, remained in his possession. Indeed, no sooner had the South African crossed the line than launched into a complaint about the size of the blades used by both Oliveira and the American Blake Leeper, who took bronze in 22.46sec.
"As I said yesterday, the International Paralympic Committee don't want to listen," Pistorius said in a trackside Channel 4 interview. "The guys' legs are unbelievably long.
"I'm not taking away from Alan's performance. He's a great athlete. But these guys are a lot taller and you can't compete with the stride length. You saw how far he came back. We aren't racing a fair race. I gave it my best.
"The IPC have their regulations. The regulations allow that athletes can make themselves unbelievably high. We've tried to address the issue with them in the weeks up to this and it's just been falling on deaf ears.
"You saw Blake Leeper yesterday when the guy came down literally overnight, made his blades longer. His knee height is like four inches higher than it should be. The guys are just running ridiculous times and they're able to do so.
"I think Alan's a great athlete but I run just over 10 metres per second, I don't know how you can come back, watching the replay, from eight metres behind in the last 100m to win. It's absolutely ridiculous."
An IPC official, Craig Spence, denied that Oliveira and Leeper had an unfair advantage. "All the blades were measured and there was no infringement of the rules as far as the IPC was concerned," he said.
Oliveira himself insisted: "I've been using the same blades all along, for the last five weeks. They were tested. It is training. It is not about two blades. It is about training. I am below the maximum length of blades I could have been.
"I am very happy about having won and all I want to do is thank everybody that helped me get here and celebrate. I am not worried about this polemic that has been raised. This polemic is just about Oscar Pistorius, not about myself. I don't know who he is picking a fight with, it is not with me.
"Pistorius is a big favourite, so when he was announced the whole stadium reacted. When I was announced I realised everyone was silent. I felt like the underdog. He is not a bad loser. He is a great athlete. I am just sad with the interview where he said my blades were too big. He was bothered by my time in the semi-finals and he wanted to get to me with his polemic but it did not work. For me, he is a really great idol and to hear that from a great idol is difficult."
The story will run and run, it seems. Pistorius and Oliveira are due to meet in the 100m and 400m later in the week.
Join our new commenting forum
Join thought-provoking conversations, follow other Independent readers and see their replies