Neil and Lora Fachie shine as British cycling's new golden couple in magical day at Izu Velodrome
The couple replicated the impressive performances of Laura and Jason Kenny after winning Paralympic gold medals, while also smashing world records within an hour of each other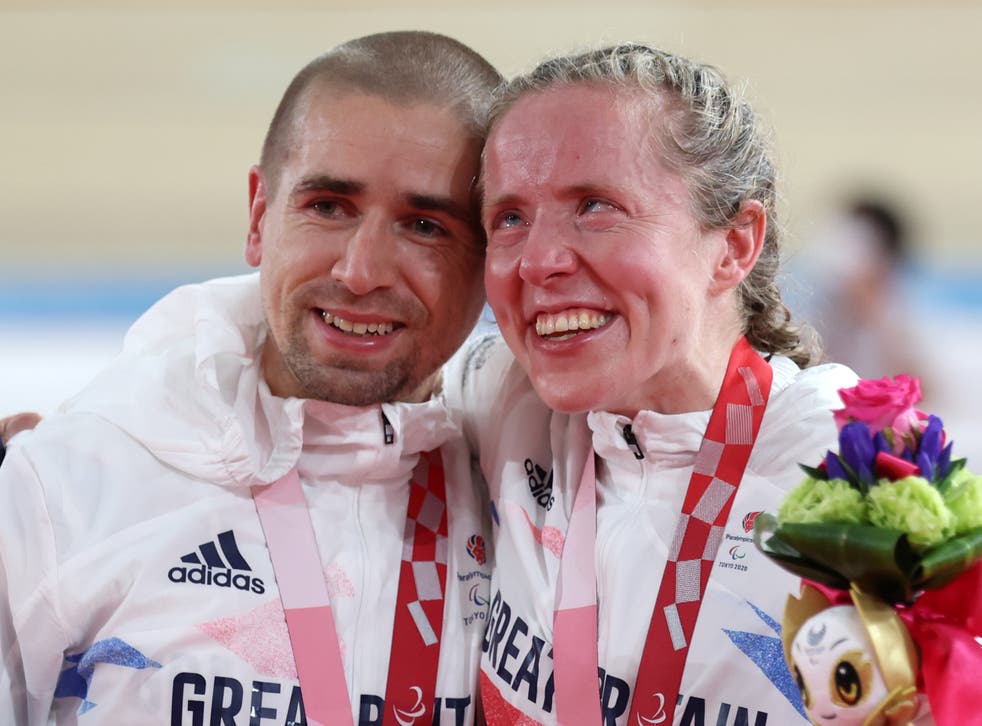 Move over Laura and Jason and arise Neil and Lora Fachie, the new golden couple of British cycling.
They actually went one better than the Olympic legends in Tokyo, winning gold medals and smashing world records within an hour of each other at the Tokyo Paralympics.
Unlike the Kennys in Rio there were no raucous celebrations or passionate kisses, just the poignant sharing of a moment befitting this quiet, likeable couple.
"The Kennys are an incredible family, so to be even in the same sentence as them is amazing," said Neil.
"Lora and I have had mixed success over the years, We thought the moment might not actually come when we both won gold.
"She obliterated the world record, and I have as well. Nobody even dreams of this, it's way beyond anything you can imagine.
"I knew how hard Lora works, she's been fighting for this, and she deserves every bit of it."
The Fachies tied the knot just after Rio 2016 and set up a life-coaching business together in 2017.
Neil credits Lora with helping him come to terms with his visual impairment, which he struggled to accept in his younger years.
"When I met Lora I was probably still shying away from my condition, but she sort of gave me the kick I needed to stop feeling sorry for myself and go out and get on with things," he said.
The pair decided to further delay starting a family, a lifelong dream for both of them, when the postponement of the Games was announced last year.
They lived with that uncertainty for the reward of a golden day in Tokyo that started with Lora smashing the 3000m individual pursuit world record in qualifying.
Having watched Ireland's Katie-George Dunlevy lower the old record, Lora and sighted pilot Corinne Hall brought down that new mark with an incredible 3:19.483.
The 32-year-old delivered a dominant ride in the final to beat the Irish and retain their Paralympic title.
"I'd dreamt of this, we hoped that it would happen," said Lora.
"I was scared it wouldn't come true, but it did. We were both feeling the pressure this morning and quite stressed about it.
"I didn't know what Ireland had done, and I'm quite glad about that. It's a pretty special day."
Lora's final ride came seconds after Neil stepped off the boards having obliterated his own tandem kilo world record and claimed a second Games gold.
He has been a man on a mission ever since Rio 2016, pushing the boundaries of the event with Matt Rotherham, and they lowered their own 59.278 world record to a stunning 58.038.
"You're always aspiring for the perfect race, and it's something you never achieve, but I feel like that was pretty damn close," said 37-year-old Neil.
"I knew we were fast, the bike felt fast. We just had to dig as deep in that last lap as we could. When Matt told me the time, I couldn't believe it."
Both are now likely to stay in cycling until at least Paris 2024 – with other ambitions kept on hold, they can keep on building this special family legacy.
"Some people have retired from sport and both of us thought that it might be it for us after Tokyo," Neil said.
"I don't know what happens for us going forward now, we have to sit down and have a think, because we've both now got this renewed love for cycling."
It was a magical day all around for Britain in Izu, with the final session of track cycling yielding five medals.
The mixed C1-5 team sprint proved a pulsating crescendo, with Kadeena Cox, Jaco van Gass and Jody Cundy combining to win gold in world record time.
The trio overhauled China, world record holders, favourites and 0.5 seconds quicker than the ParalympicsGB trio in qualifying.
Cox's searing lead out saw the team cover the first lap in 20.032 and Cundy threw the bike over the line ahead of Lai Shanzhang.
Cox said: "Beating the boys makes it even sweeter for me. I could have been scared as the only woman racing a team of amazing guys, but I'm a great athlete in my own right.
"I'm just trying to show people that if you put your mind to something, you can absolutely nail it. I've not done sub-20 before and I've done it twice in 48 hours now!"
Sainsbury's is a proud supporter of ParalympicsGB and a champion of inclusive sport for all. Sainsbury's commitment to helping customers to eat better has been at the heart of what we do since 1869. For more information on Sainsbury's visit www.sainsburys.co.uk/ and https://paralympics.org.uk/
Join our new commenting forum
Join thought-provoking conversations, follow other Independent readers and see their replies