Paralympics 2016: Four 1500m runners finish faster than Rio Olympics gold medal winning time
Gold medallist Abdellatif Baka finished 1.7 seconds faster than Olympic champion Matthew Centrowitz along with three other Paralympic athletes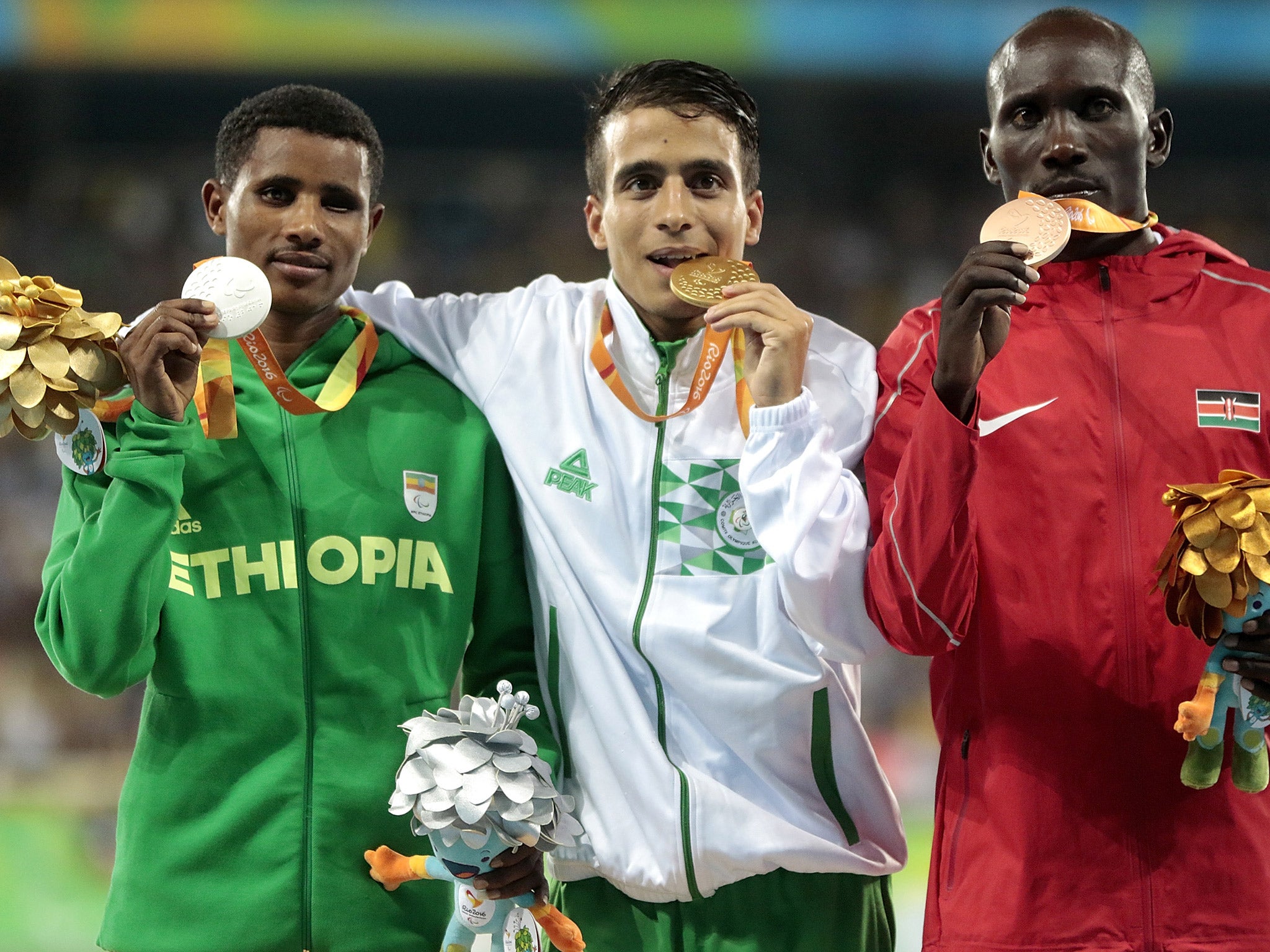 A disabled middle-distance runner shattered the 1500m Paralympic world record after winning gold at the Rio Paralympic Games, beating Olympic champion Matthew Centrowitz by more than 1.7 seconds.
Abdellatif Baka of Algeria won the T13 1500m final on Monday night in a stunning performance that not only set a new Paralympic world record, but stands as the fastest 1500m time recorded by an able-bodied or disabled athlete in Rio over both the Olympic and Paralympic Games.
Baka clinched gold in the T13 class where athletes suffer from visual impairment. There are two other classes for visually impaired athletes in the form of T11 and T12, with the lower numbers indicating a more severe impairment.
Baka crossed the line in a time of three minutes and 48.29 seconds to win gold, with American Olympic champion Centrowicz only managing three minutes and 50.00 seconds at the Olympic Games last month.
The feat was made all the more stunning given the fact that the second, third and fourth-placed finishers all recorded times faster than Centrowicz, meaning that four Paralympic athletes had run times fast enough to win gold had they competed in the Olympic Games.
Paralympics: Five foreign athletes to look out for
Show all 5
Ethiopia's Tamiru Demisse claimed silver with a time of three minutes and 48.49 seconds, with Kenya's Henry Kirwa taking bronze in three minutes and 49.59 seconds. Incredibly, Baka's brother, Fouad Baka, finished fourth in a time of three minutes and 49.84 seconds to also finish faster than Centrowicz.
Meet victoRIOus flying Team GB and ParalympicsGB home from Rio 2016
"It wasn't easy to get this gold medal," Baka said after winning Paralympic gold. "I've been working one or two years non-stop and it's been very, very hard for me."
Join our commenting forum
Join thought-provoking conversations, follow other Independent readers and see their replies