Paralympics 2020: Hannah Cockroft concerned by impact of empty stadiums after winning 100m gold
Cockroft set a new world record but the sound of silence left her to ruminate on when, and indeed whether, we will see full Paralympic stadiums again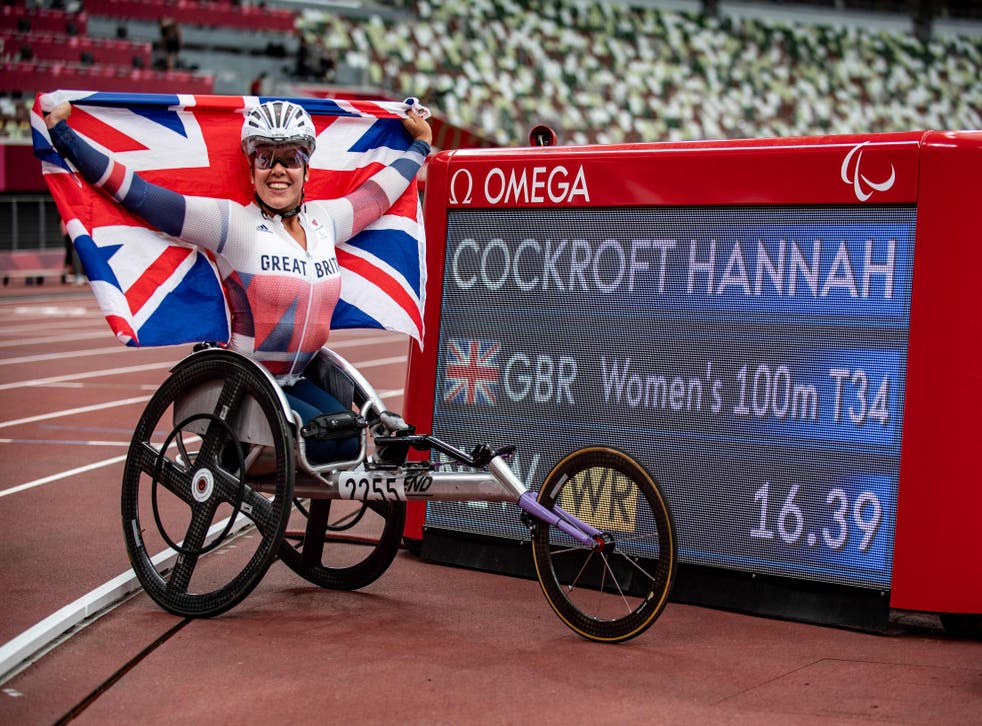 Hannah Cockroft was the first British athlete to race in Tokyo's Olympic Stadium, the first to break a world record and the first to offer a honest take on the potential impact of empty stadiums on the Paralympic movement.
The Halifax hurricane blew at all-time high speed to win gold in the T34 100m, leaving devastation in her wake and setting a massive new world record of 16.39 seconds.
But for Cockroft it was quiet, too quiet.
After all, wheelchair racing's greatest of all time saw the stunning 60,000 seater arena packed to the rafters in 2019, playing her part in its official opening alongside Usain Bolt.
The sound of silence left her to ruminate on when, and indeed whether, we will see full Paralympic stadiums again.
"It's quiet out there. Very quiet," said Cockroft.
"And I know that as Paralympians, we're used to that. But it felt like a shock when we were on the start line and there was no noise. It's very sad and it does worry me.
"The Paralympics, every four years, are our time to get bums on seats and get people interested, at least for the next couple of years. And that opportunity has been taken away from us.
"We just have to hope that Covid's out the way next year and that people come out. We are always there, we're always racing, people don't have to wait for the Paralympics to come and watch us.
"We don't fill stadiums, unfortunately. We just have to keep pushing towards that and we have to hope that this is not a loss of momentum for the Paralympic Games."
There is nothing more Cockroft can do to create momentum and interest in her sport. The 29-year-old is engaged and engaging, continuing to push the boundaries of what's possible to achieve in a wheelchair.
This was the eighth world record she has set in the last year and the most impressive, because it came in a Paralympic final where failure wasn't an option for an athlete who has only ever lost one international race.
The prospect of failure flickered in her mind when the only fellow T34 racer to ever beat her, Britain's Kare Adenegan, surged into a significant lead at the 30-metre mark.
"There was definite panic there," said Cockroft of being so far behind off the start line.
"The 100m, when you're sitting on that start line, looks so short. Kare went, and I thought, 'I haven't got enough time. I need 120.'
"I had raced Kare only once this year so it was a shock all round. I had no idea how hard they were pushing.
"You just need to get your head down and get your arms moving."
The speed of Cockroft's turnover and her sheer power saw her surge past Adenegan in the middle phase and claim a dominant victory by a margin of 0.64 seconds.
It turns out Adenegan's fast start played into her teammate's hands.
Cockroft never shies away from competing against men like her partner Nathan Maguire, against faster athletes, against racers in different disability classes.
She does this behind closed doors, with T53 training buddy Sammi Kinghorn, and under pressure in competition at Diamond League and British Championship events where sporting classes are merged.
"Kare put me in my comfort zone, giving me something to chase," she said. "That's the feeling I'm used to."
Adenegan first beat Cockroft in 2015 and then twice in 2018, including at the European Championships. But there wasn't a word of conviction in the 20-year-old's voice when she was asked whether she truly believed it would happen again in Tokyo.
"Yeah, I guess you have to," she said.
"I've won before. I know she's an amazing athlete but I never think I can't do it, you've always got to go in with the mindset you can win and that's what I did today."
Cockroft is only now over halfway to matching Tanni-Grey Thompson's all-time haul of 11 Paralympic titles.
With only two events on the T34 programme, unlike in Thompson's time when there were four, wheelchair racing is probably now too competitive for her to beat all comers across another three Games.
Cockroft's focus is really now on driving her times down and breaking barriers. The 16-second barrier is unthinkable but next on the agenda, a testament to her progress given she was stuck on 17 seconds for six years, from 2012 until 2018.
"I just came off the line and somebody said to me, 'sub-16 is in you,
" she said.
"If you'd said that to me last year, no way. I've been trying to get sub-17 for seven years, so to be flying through the 16s is exciting but scary, because I don't know where I'm going to go next."
Sainsbury's is a proud supporter of ParalympicsGB and a champion of inclusive sport for all. Sainsbury's commitment to helping customers to eat better has been at the heart of what we do since 1869. For more information on Sainsbury's visit www.sainsburys.co.uk/ and https://paralympics.org.uk/
Register for free to continue reading
Registration is a free and easy way to support our truly independent journalism
By registering, you will also enjoy limited access to Premium articles, exclusive newsletters, commenting, and virtual events with our leading journalists
Already have an account? sign in
Join our new commenting forum
Join thought-provoking conversations, follow other Independent readers and see their replies