Paralympics: Alex Zanardi races to victory in hand cycling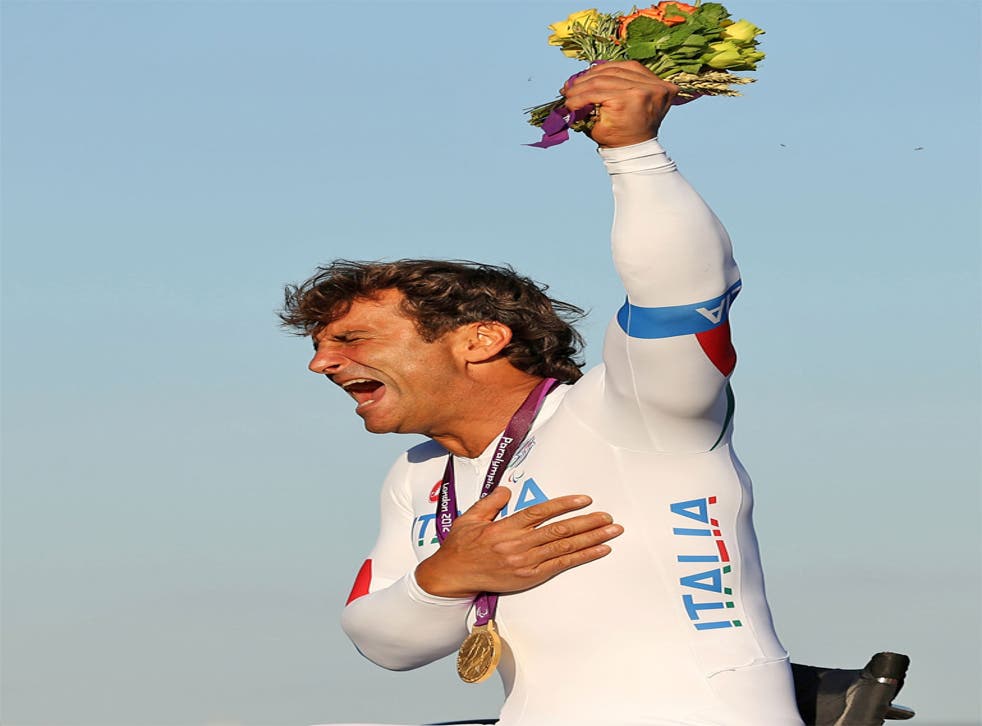 Eleven years ago Alex Zanardi was being airlifted to hospital with two makeshift tourniquets tied around his legs. A former Formula One driver who had recently moved into CART racing, Zanardi had collided with another car and spun off a track the track in spectacular fashion.
As rescuers sifted through the wreckage they realised that the Italian's legs had been sliced from his body. He had lost so much blood that a priest began to read him his last rites on the way to hospital.
Today Zanardi was back on a motor sport race track. Under glorious blue skies at Brands Hatch he raced to victory in his hand cycling class in a race that pays testament to one of the motor world's most colourful and determined athletes.
Competing in the H4 handcycling time trial, the 45-year-old beat Germany's Nobert Mosandl by more than 27 seconds at Brands Hatch despite being a good two decades older than most of his competitors.
Zanardi took up handcycling five years ago and even with his advancing age has already won a slew of races including a silver at the World Championships in Denmark last year. He also won the New York marathon in 2011 and has sought to utilise some of the design technologies used in Formula One in constructing his racing chair.
He has also continued to race after his horrific smash. After designing himself a special set of prosthetic legs he returned to professional motor racing, winning four times in German touring cars as well as testing a BMW F1 machine in Valencia in 2006.
Given his love of motorsport the Brands Hatch course is one he knows well. Zanardi first competed at the famous Kent circuit as a young Formula 3000 driver 21 years ago in a time where many of his rivals in yesterday's race had not even been born. He also finished third at Brands Hatch four years ago in his specially adapted car.
In an emotional victory celebration, Zanardi got out of his handcycle and raised it high above his head. "Last time I was here I was going about five times faster but I still love this circuit!" he said.
Register for free to continue reading
Registration is a free and easy way to support our truly independent journalism
By registering, you will also enjoy limited access to Premium articles, exclusive newsletters, commenting, and virtual events with our leading journalists
Already have an account? sign in
Register for free to continue reading
Registration is a free and easy way to support our truly independent journalism
By registering, you will also enjoy limited access to Premium articles, exclusive newsletters, commenting, and virtual events with our leading journalists
Already have an account? sign in
Join our new commenting forum
Join thought-provoking conversations, follow other Independent readers and see their replies