Tokyo Paralympics: Great Britain secure improbable wheelchair rugby gold with thrilling victory over US
A 54-49 win against the United States ensured glory for Britain in the sport nicknamed 'Murderball'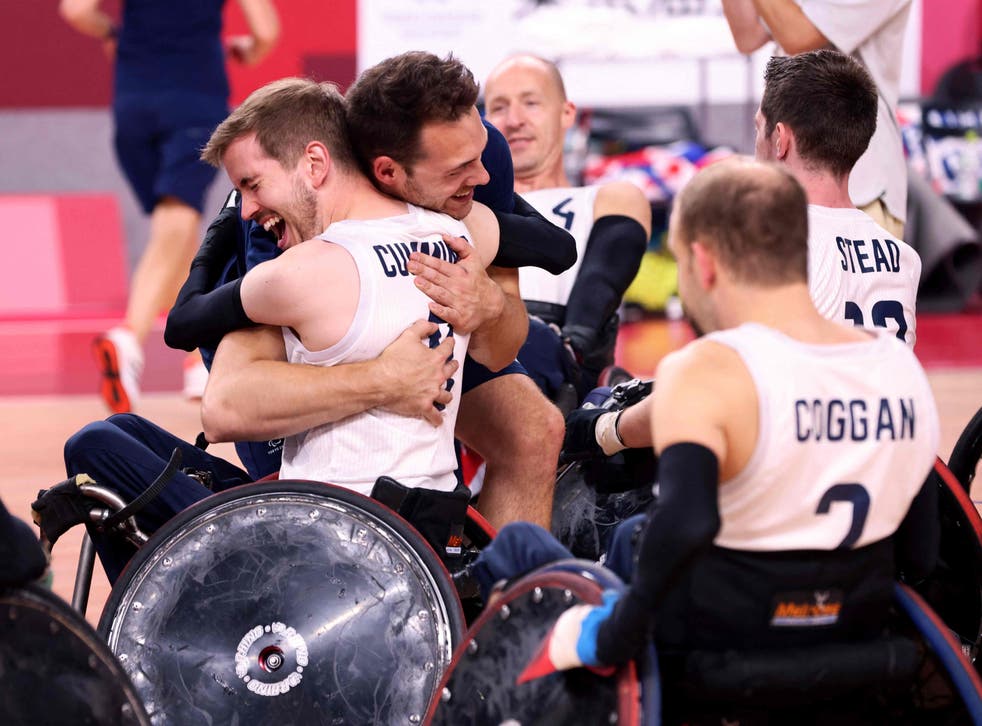 In the end it was the perfect murder. It was brilliantly planned, ruthlessly executed and the luckless victim probably didn't see it coming.
Wheelchair rugby – or 'Murderball' as it is more widely known – has long been the hottest ticket at the Tokyo Paralympics and the exclusive preserve of the United States, Australia and New Zealand.
Since its debut in 1996, no European has made the podium, Great Britain losing in the bronze-medal match three times.
They arrived here with little expectations and they leave as improbable Paralympic champions, thanks to a thrilling 54-49 victory over the United States.
On another day of British success across these Games, it's worth noting this is the first team-sport gold won by ParalympicsGB in their history.
Because for all their pre-match stars-and-stripes swagger, the chest-beating, fist-pumping and chants of "U-S-A", the Americans simply couldn't cope with free-scoring Jim Roberts and team enforcer Stuart Robinson, a no-nonsense Afghanistan veteran with a hard-as-nails stare that says: 'Don't mess.'
As their teammates hassled and harried – led by artful blockers Ryan Cowling, Jonathan Coggan and Aaron Phipps – Roberts and Robinson repeatedly picked their rivals' pockets, spinning their chairs on a sixpence as they rode through a succession of shuddering blows.
Roberts top-scored with 24 tries while Robinson weighed in with 14, his play in the crucial final quarter invaluable, as Great Britain took an early lead against the United States and never relinquished it.
"It's still sinking in," said Robinson. "The way that we've been together as a squad for the past four or five years and built towards this.
'It's been not only my dream of trying to perform at a Paralympic Games but for us a squad to kick on since Rio, with the disappointment of finishing fifth there.
"We worked so hard during the pandemic at home and away at training camps. We came back and put everything into practice that we've been learning. We knew that we were building something special and we've come here and put it all on show and come away as Paralympic champions."
Roberts is the third Afghanistan veteran to medal here following cyclist Jaco van Gass and powerlifter Micky Yule, who he met during his time in rehab.
"I think it shows a little bit of that military mentality," Robinson added. "You've got to work very well as a team, you are always looking out for each other. You could see that from not only our team but from how those guys came away with medals, too."
In the group stages, Great Britain were leading the USA by five tries but finally slipped to a narrow defeat; this time – with the pressure turned up to the max – they held their nerve.
Roberts joked he may just be the second best rugby player in Wales after top scoring in every game. "I'm not sure I'm the best Welsh player yet," he said. "That Alun Wyn Jones is still plugging away, isn't he? He hasn't retired yet."
Anyone who has seen the famous 2005 documentary film Murderball knows about the sport, players using their wheelchairs as battered bumper cars in an end-to-end game repeatedly punctuated by thrills and spills.
Rules are straightforward – carry the ball over the try line by any means possible. Players can't make physical contact with an opponent's body, but other than that, anything goes.
In Chuck Aoki, the USA have the sport's superstar, a scoring machine the British team brilliantly negated, forcing him to give up two decisive turnovers in a match in which the underdogs always had the momentum.
Just four years ago, the British team faced an uncertain future after their funding was cut, only to be partially restored in the build-up to this event.
For the four years before Rio they had a budget of £3million from UK Sport but that was axed overnight. The performance director – alongside the governing body's only full-time member of staff – were made redundant, and the head coach and support staff became unpaid volunteers.
For the 2018 World Championships in Sydney they were gifted £50,000, a last throw of the dice to prove their Paralympic credentials. They lost by nine points to the USA in the bronze-medal match but it was enough and the £500,000 that followed proved invaluable to prepare for this moment.
Whether that fired up the team more is up for debate but given they'd never won a medal in the sport, coming away with gold is some achievement.
"Losing that funding was very tough to take, I'm not going to lie," said co-captain Chris Ryan. "In many ways it brought us together as a team, we had a brilliant staff around us, some of whom work for very little pay and we all stuck with it.
"We did get some funding back towards the cycle, and that just really helped us make that final push. The quality was always there but to win gold after we've been through is just incredible."
This Murderball may be macho business but it's long been a mixed sport, though Great Britain's Kylie Grimes is the first woman to ever win a gold at the Games.
"I don't want a women's team, I want to stay with the boys," she said, when asked if she'd like to see the sport split along gender lines.
"I'd love it to always stay a mixed team. It is unique and brings different elements, I hope I can inspire girls to give it a go. Women can match the men. It's about tactics, skills and using the brain when you need it under pressure."
Join our new commenting forum
Join thought-provoking conversations, follow other Independent readers and see their replies