Rio 2016: Asha Philip determined to make it third time lucky and fulfil Olympic dream
100m sprinter can qualify for Rio this weekend
Matt Gatward
Thursday 23 June 2016 17:25 Comments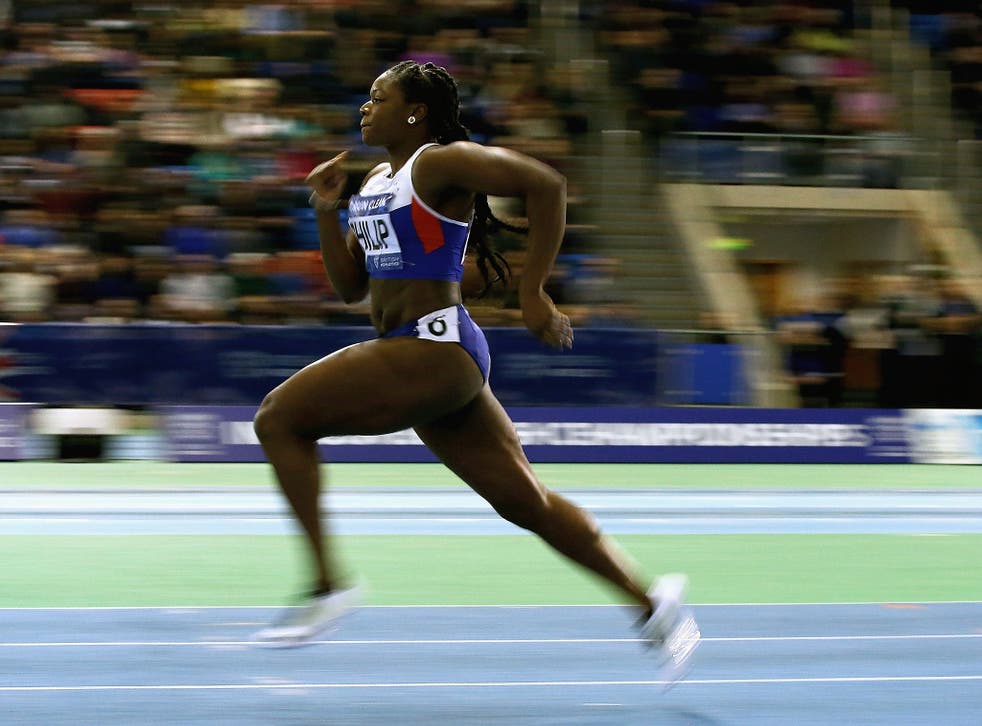 It is a big weekend for Asha Philip, one she is approaching with a determination to not let history repeat itself.
The 100m runner needs to finish in the top two at the British Championships in Birmingham to book a seat on the plane to Rio de Janeiro. And she will be on that flight. There is no two ways about it.
"All that matters is what happens at the trials. I am really confident," she says despite a mixed year. "I have no choice but to make it to Rio. I missed out on two Olympics through injuries which was so disappointing and heart-breaking. I cannot miss out on another one, knowing how healthy I am, how confident I have been. This is my chance."
The 25-year-old East Londoner is used to the ups and downs of top-level sport, especially as she started out as a trampolinist. She enjoyed the highs of being world junior champion in her teens but it was to be the event that first taught her the cruel lows of injury when she wrecked her knee during a bumpy landing. That put paid to Philip's hopes of running for Team GB at the 2008 Olympics in Beijing. They may have been slim but she had won the World Youth Championships 100m title the year before so were not beyond reach.
Following lengthy spells of rehab she returned and was set to take part in her home city Games only for disaster to strike again in the form of a torn hamstring while she was training in America in 2012. She supported the team, even went to watch some of the action at the Olympic Stadium – "it was a beautiful atmosphere, the night Bolt ran I think" - but essentially London passed her by. Hence her determination to reach Rio.
"Missing out on Beijing," she says, "was a massive setback. It would have been a great experience for me to grow up. To miss out on 2012 - that is my home town, a bus ride from my house - was so devastating. I thought I could turn it around, but [there wasn't time]. I didn't know how to manage my body. It was like a blur. My knee was fixed but everything around it was weak. I didn't strengthen it enough.
"It has happened twice. I cannot let it happen again. I don't know how my heart can handle it a third time. But as I am getting older, I am able to manage my body differently. I hope this weekend will put me out of my misery."
And it has been miserable – but her family have kept her running. "I can't lie, I was close to quitting," Philip adds. "My family is so supportive. I don't think I can get by day-to-day without their support. My mum, my auntie, if I have a problem, they will fix it. All our family are one heartbeat. They keep me sane."
Philip is bubbly and popular, so popular she was captain of the GB team in Portland for the World Indoor Championships at the start of the year – something she treasured. "I loved it," she says. "I was so excited. You had on the team the likes of Robbie Grabarz, Lynsey Sharp, all these top athletes. When Neils [de Vos, chief executive of UK Athletics] phoned me, I saw his name come up and I thought: 'Why is he calling me?' When he told me, I was sitting next to my mum. 'Mum, you'll never guess what?!' They knew I would do it and give them a good speech. I think I inspired a few people and gave them a few jokes."
There will be very little joking around with her mates this weekend though. Despite Philip being excited to compete in Birmingham ("It's lovely running at home, I wish I could put the fans in my pocket and take them to every race") she knows competition will be fierce. The list of exciting female British sprinters is long and Philip will have to be zooming to keep the likes of Louise Bloor, Desiree Henry and Dina Asher-Smith in her rearview mirror. Asher-Smith in particular has been a sensation. "She is stunning. It's good for British sprinting to be talking about her, especially women sprinting, as we are always overshadowed by the men."
But how does someone who is clearly such a team player handle the heat of competition against friends? "We do get on well [but] when you race, you race to win. I wish them all the best. Until we cross the line, we are all still best friends. It is just that when the gun goes, you cannot be friends. People will be devastated if they don't get automatic qualification. It will be a tough weekend. I know how hard you can work for your dreams not to come true."
Even if they do come true and Philip is Rio-bound, hopes of gold are probably far-fetched with the likes of the American Shelly-Ann Fraser-Pryce and Holland's Dafne Schippers setting the standards. "They are phenomenal athletes," Philip admits. "Every time I watch them run, I think: 'how do you do it?' But the UK are emerging, we have progressed."
And personally? "I just want to make the Olympic final. If I do qualify, then my stress is released. I can then train hard, focus on what went wrong in my previous races. I am determined to run a PB and sub-10 and make that final. From there anything can happen. You never know."
Philip admits she is accident prone – "I could walk outside, trip up and that would be it" – but hopes all that pain is behind her. And the happy chapter starts now. "As I get older, I seem to be blossoming. I am staying positive and believing that my dreams will come true."
For tickets to the British Championships please visit britishathletics.org.uk or you can purchase them on the day
Register for free to continue reading
Registration is a free and easy way to support our truly independent journalism
By registering, you will also enjoy limited access to Premium articles, exclusive newsletters, commenting, and virtual events with our leading journalists
Already have an account? sign in
Join our new commenting forum
Join thought-provoking conversations, follow other Independent readers and see their replies