Rio 2016: Caster Semenya says 'It's not about how we look or run' as she powers to Olympic gold in 800m final
Gold, silver and bronze medalists decline to say whether they have undergone testosterone treatment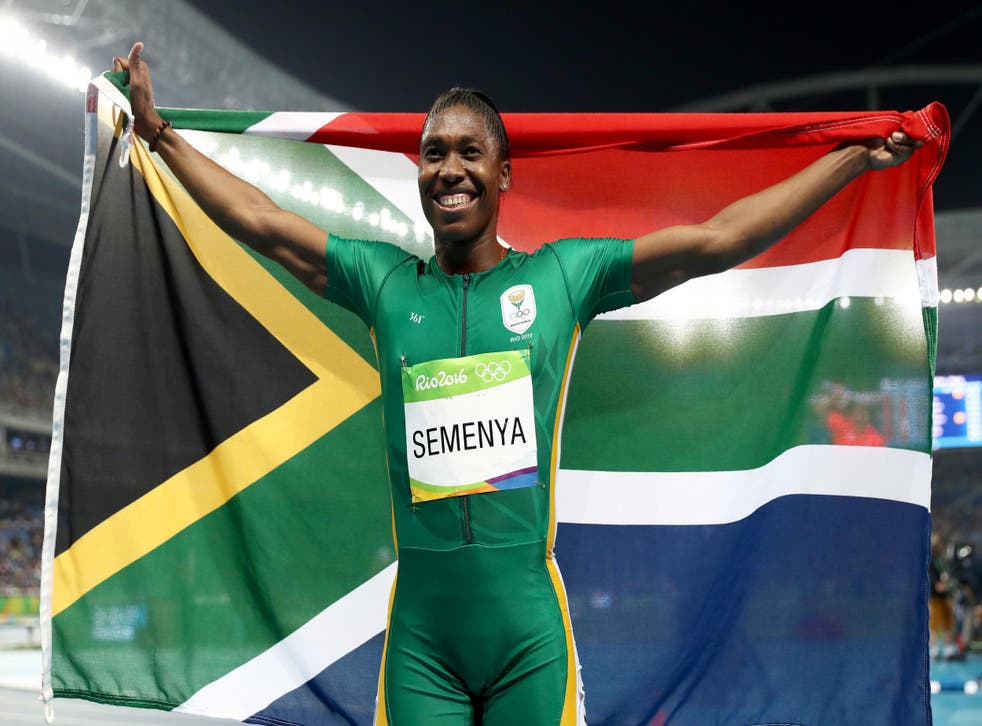 The new Olympic 800m champion Caster Semenya said on Saturday night that sport should not be about how people "look, speak and run" after all three podium finishers in her event were asked whether they have been encouraged to take medication reducing their testosterone levels.
Semenya, silver medalist Francine Niyonsaba and bronze medal winner Margaret Wambui have all been the subject of suggestions that they may have the hyperandrogenism condition which imbues them with high testoserone levels, and have been encouraged by athletics' governing body, the IAAF, to bring their testosterone levels down.
When the suggestion was put to the three podium athletes, Wambui said: "Let us focus on the performance of today. Let's not focus about the medication."
Then Semenya intervened to push the question away. "Excuse me my friend. Tonight is all about performance. We are not here to talk about IAAF and speculations. Tonight is all about performance. This press conference is all about the 800m we ran today. So, thankyou."
The fact that all three medals in the event went to women who may have the condition led the British athlete Lynsey Sharp, who finished sixth despite recording a personal best time, to say in a BBC interview on Saturday night that she and the other competitors were in a different race. Sharp then found herself attacked on social media.
Semenya's post-race press conference was her first high profile media appearance since she won silver at the London Olympics – an occasion when she said very little. But she was confident in the way she took command to prevent any of the competitors having to enter personal discussions.
The 25-year-old comfortably won her final in a personal best time of 1:55:29, setting a new record time for a South African and recording the fastest 800m time in the world this year.
She said of the focus on her identity and personal life: "I don't think it detracts. You just need to be a great leader. You just need to lead by example. I cannot focus on individuals. I just get the support I get from my people. I just focus on those things. Maybe these people are just united. It can be a great world so this is what I can say."
Semenya said after her win that "sport can unite" and later elaborated on that.
"It's all about loving one another," she said. "It is not about discriminating people and looking at people in terms of how they look, how they speak and how they have run. It's not about being masculine. It's about sports. When you leave your apartment you don't want to look at what you look like. You just want to do better. The message to people out there is to have fun and see what you can achieve. That's what I want to say."
"Today it was about pacing myself well and utilising my pace. My coach told me to go out there and have fun with the girls. Fortunately my last 200m were strong. The ladies were strong. It was great."
Semenya said her priority was to phone home because, she said, "my wife is waiting for my call." She married her longtime girlfriend Violet Raseboy last December.
.
Register for free to continue reading
Registration is a free and easy way to support our truly independent journalism
By registering, you will also enjoy limited access to Premium articles, exclusive newsletters, commenting, and virtual events with our leading journalists
Already have an account? sign in
Register for free to continue reading
Registration is a free and easy way to support our truly independent journalism
By registering, you will also enjoy limited access to Premium articles, exclusive newsletters, commenting, and virtual events with our leading journalists
Already have an account? sign in
Join our new commenting forum
Join thought-provoking conversations, follow other Independent readers and see their replies