Rio 2016 day one schedule: When are Chris Froome, Hannah Miley, Adam Peaty and James Guy in action?
Full schedule for day one at the Rio Olympics
Jack de Menezes
Saturday 06 August 2016 09:31 Comments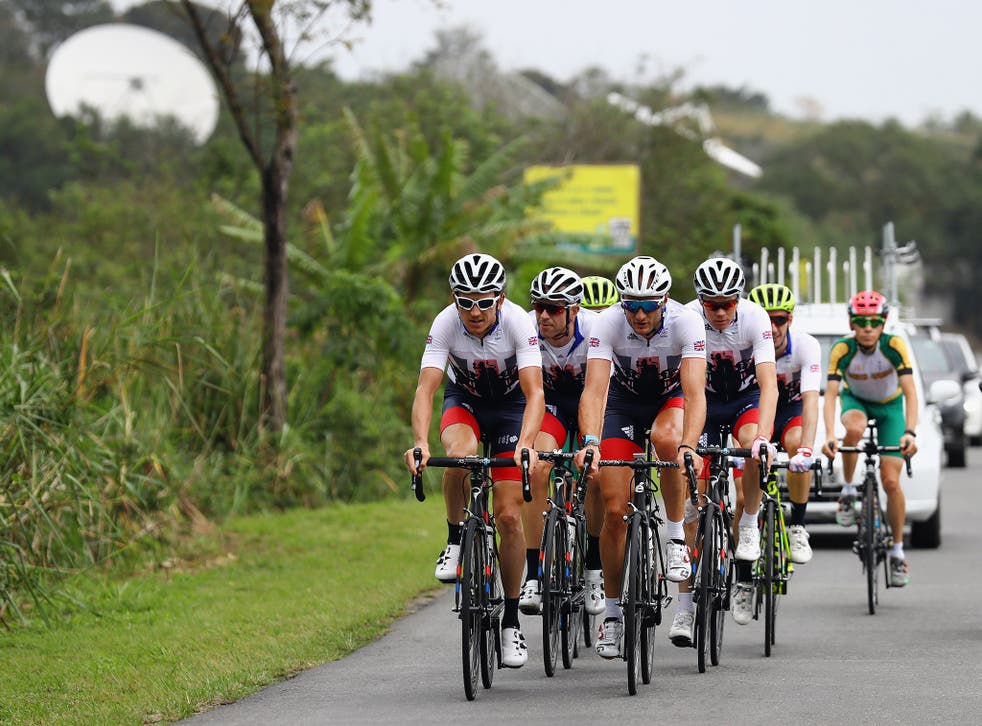 Day one of the Rio 2016 Olympic Games begins on Saturday morning with 12 gold medals available and a host of Team GB athletes hoping to culminate four years of gruelling training and sacrifice with victory.
The main event in terms of British interest will be the men's cycling road race as three-time Tour de France winner Chris Froome bids to add Olympic gold to his already extensive list of honours. He competes with fellow Britons Adam Yates, Geraint Thomas, Ian Stannard and Steve Cummins in a strong Team GB line-up.
Rio 2016 - Five highlights from the opening ceremony
The action in the pool will also be of importance as medal contenders Adam Peaty, James Guy and Hannah Miley all begin their campaigns in heat action, while the men's gymnastics team get their qualification efforts underway.
There's also British interest in the equestrian, judo, rowing and tennis, while rugby sevens makes its debut at the Olympics and the two-week long boxing schedule gets underway.
The action finishes with a crunch women's hockey match between old rivals Great Britain and Australia in what is sure to be a fiery encounter.
Full Olympic day one schedule
(All times local -4hrs BST, Team GB athletes in bold)
08:00 Tennis Order of play available evening before
08:30 Rowing Men's Single Sculls Heat 1
08:30 Shooting 10m Air Rifle Women's Qualification – JEN MCINTOSH
08:40 Rowing Men's Single Sculls Heat 2
08:50 Rowing Men's Single Sculls Heat 3
09:00 Table Tennis Women's Singles Preliminary Round
09:00 Table Tennis Women's Singles Preliminary Round
09:00 Table Tennis Women's Singles Preliminary Round
09:00 Table Tennis Women's Singles Preliminary Round
09:00 Archery Men's Team 1/8 Eliminations
09:00 Fencing Women's Epee Indiaividual Table of 64
09:00 Fencing Women's Epee Indiaividual Table of 64
09:00 Fencing Women's Epee Indiaividual Table of 64
09:00 Fencing Women's Epee Indiaividual Table of 64
09:00 Rowing Men's Single Sculls Heat 4 – TEAM GB
09:00 Water Polo Men's Preliminary Round: Group A: Serbia v Hungary
09:10 Rowing Men's Single Sculls Heat 5
09:20 Fencing Women's Epee Indiaividual Table of 64
09:20 Fencing Women's Epee Indiaividual Table of 64
09:20 Fencing Women's Epee Indiaividual Table of 64
09:20 Fencing Women's Epee Indiaividual Table of 64
09:20 Fencing Women's Epee Indiaividual Table of 64
09:20 Fencing Women's Epee Indiaividual Table of 64
09:20 Fencing Women's Epee Indiaividual Table of 64
09:20 Fencing Women's Epee Indiaividual Table of 64
09:20 Fencing Women's Epee Indiaividual Table of 64
09:20 Fencing Women's Epee Indiaividual Table of 64
09:20 Fencing Women's Epee Indiaividual Table of 64
09:20 Fencing Women's Epee Indiaividual Table of 64
09:20 Fencing Women's Epee Indiaividual Table of 64
09:20 Fencing Women's Epee Indiaividual Table of 64
09:20 Fencing Women's Epee Indiaividual Table of 64
09:20 Fencing Women's Epee Indiaividual Table of 64
09:20 Fencing Women's Epee Indiaividual Table of 64
09:20 Fencing Women's Epee Indiaividual Table of 64
09:20 Fencing Women's Epee Indiaividual Table of 64
09:20 Fencing Women's Epee Indiaividual Table of 64
09:20 Fencing Women's Epee Indiaividual Table of 64
09:20 Fencing Women's Epee Indiaividual Table of 64
09:20 Fencing Women's Epee Indiaividual Table of 64
09:20 Fencing Women's Epee Indiaividual Table of 64
09:20 Fencing Women's Epee Indiaividual Table of 64
09:20 Fencing Women's Epee Indiaividual Table of 64
09:20 Fencing Women's Epee Indiaividual Table of 64
09:20 Fencing Women's Epee Indiaividual Table of 64
09:20 Rowing Men's Single Sculls Heat 6
09:25 Archery Men's Team 1/8 Eliminations
09:30 Handball Women's Preliminary Group A: Norway v Brazil
09:30 Cycling Road Men's Road Race – CHRIS FROOME, ADAM YATES, GERAINT THOMAS, IAN STANNARD, STEVE CUMMINGS
09:30 Volleyball Women's Preliminary: Pool A: Japan v South Korea
09:30 Rowing Women's Single Sculls Heat 1
09:40 Rowing Women's Single Sculls Heat 2
09:45 Table Tennis Women's Singles Preliminary Round
09:45 Table Tennis Women's Singles Preliminary Round
09:45 Table Tennis Men's Singles Preliminary Round
09:45 Table Tennis Men's Singles Preliminary Round
09:50 Archery Men's Team 1/8 Eliminations
09:50 Rowing Women's Single Sculls Heat 3
10:00 Hockey Men's Pool A: Argentina v Netherlands
10:00 Judo Women -48 kg Elimination Round of 32
10:00 Rowing Women's Single Sculls Heat 4
10:00 Judo Men -60 kg Elimination Round of 64
10:00 Equestrian Eventing Team Dressage Day 1 – TEAM GB
10:00 Equestrian Eventing Individual Dressage Day 1 – TEAM GB
10:00 Beach Volleyball Women's Preliminary: Pool B
10:05 Judo Women -48 kg Elimination Round of 32
10:05 Judo Men -60 kg Elimination Round of 64 – ASHLEY MCKENZIE
10:09 Judo Women -48 kg Elimination Round of 32
10:10 Rowing Women's Single Sculls Heat 5
10:10 Judo Men -60 kg Elimination Round of 64
10:13 Judo Women -48 kg Elimination Round of 32
10:15 Archery Men's Team 1/8 Eliminations
10:15 Judo Men -60 kg Elimination Round of 64
10:15 Fencing Women's Epee Indiaividual Table of 32
10:15 Fencing Women's Epee Indiaividual Table of 32
10:15 Fencing Women's Epee Indiaividual Table of 32
10:15 Fencing Women's Epee Indiaividual Table of 32
10:17 Judo Women -48 kg Elimination Round of 32
10:20 Water Polo Men's Preliminary Round: Group B: USA v Croatia
10:20 Rowing Women's Single Sculls Heat 6
10:20 Judo Men -60 kg Elimination Round of 64
10:21 Judo Women -48 kg Elimination Round of 32
10:25 Judo Women -48 kg Elimination Round of 32
10:25 Judo Men -60 kg Elimination Round of 64
10:29 Judo Women -48 kg Elimination Round of 32
10:30 Gymnastics Artistic Men's Parallel Bars Qualification Subdivision 1 – TEAM GB
10:30 Rowing Men's Pair Heat 1
10:30 Gymnastics Artistic Men's Team Qualification Subdivision 1 – TEAM GB
10:30 Table Tennis Men's Singles Preliminary Round
10:30 Table Tennis Men's Singles Preliminary Round
10:30 Table Tennis Men's Singles Preliminary Round
10:30 Table Tennis Men's Singles Preliminary Round
10:30 Gymnastics Artistic Men's Vault Qualification Subdivision 1 – TEAM GB
10:30 Gymnastics Artistic Men's Floor Exercise Qualification Subdivision 1 – TEAM GB
10:30 Gymnastics Artistic Men's Pommel Horse Qualification Subdivision 1 – TEAM GB
10:30 Judo Men -60 kg Elimination Round of 64
10:30 Gymnastics Artistic Men's Qualification: Subdivision 1
10:30 Gymnastics Artistic Men's Rings Qualification Subdivision 1
10:30 Shooting 10m Air Rifle Women's Finals
10:30 Gymnastics Artistic Men's Horizontal Bar Qualification Subdivision 1
10:30 Gymnastics Artistic Men's Indiaividual All-Around Qualification Subdivision 1
10:33 Judo Women -48 kg Elimination Round of 32
10:35 Judo Men -60 kg Elimination Round of 64
10:37 Judo Women -48 kg Elimination Round of 32
10:40 Rowing Men's Pair Heat 2
10:40 Judo Men -60 kg Elimination Round of 64
10:41 Judo Women -48 kg Elimination Round of 32
10:45 Judo Women -48 kg Elimination Round of 32
10:45 Judo Men -60 kg Elimination Round of 64
10:45 Fencing Women's Epee Indiaividual Table of 32
10:45 Fencing Women's Epee Indiaividual Table of 32
10:45 Fencing Women's Epee Indiaividual Table of 32
10:45 Fencing Women's Epee Indiaividual Table of 32
10:49 Judo Women -48 kg Elimination Round of 32
10:50 Rowing Men's Pair Heat 3
10:50 Judo Men -60 kg Elimination Round of 64
10:55 Judo Men -60 kg Elimination Round of 64
10:56 Judo Women -48 kg Elimination Round of 32
11:00 Hockey Men's Pool A: India v Ireland
11:00 Beach Volleyball Women's Preliminary: Pool A
11:00 Judo Women -48 kg Elimination Round of 32
11:00 Boxing Men's Light Fly (46-49kg) Preliminaries
11:00 Judo Men -60 kg Elimination Round of 64
11:00 Rugby Sevens Women's Pool Round: Pool B: France v Spain
11:00 Rowing Women's Double Sculls Heat 1
11:04 Judo Women -48 kg Elimination Round of 32
11:05 Judo Men -60 kg Elimination Round of 64
11:08 Judo Women -48 kg Elimination Round of 16
11:10 Judo Men -60 kg Elimination Round of 64
11:10 Rowing Women's Double Sculls Heat 2
11:12 Judo Women -48 kg Elimination Round of 16
11:15 Boxing Men's Light Fly (46-49kg) Preliminaries
11:15 Judo Men -60 kg Elimination Round of 64
11:15 Fencing Women's Epee Indiaividual Table of 32
11:15 Fencing Women's Epee Indiaividual Table of 32
11:15 Fencing Women's Epee Indiaividual Table of 32
11:15 Fencing Women's Epee Indiaividual Table of 32
11:15 Table Tennis Women's Singles Round 1
11:15 Table Tennis Women's Singles Round 1
11:15 Table Tennis Women's Singles Round 1
11:15 Table Tennis Women's Singles Round 1
11:16 Judo Women -48 kg Elimination Round of 16
11:20 Judo Men -60 kg Elimination Round of 64
11:20 Judo Women -48 kg Elimination Round of 16
11:20 Rowing Women's Double Sculls Heat 3
11:24 Judo Women -48 kg Elimination Round of 16
11:25 Judo Men -60 kg Elimination Round of 64
11:28 Judo Women -48 kg Elimination Round of 16
11:30 Rugby Sevens Women's Pool Round: Pool B: New Zealand v Kenya
11:30 Boxing Men's Light Fly (46-49kg) Preliminaries
11:30 Judo Men -60 kg Elimination Round of 64
11:30 Handball Women's Preliminary Group B: Netherlands v France
11:30 Rowing Men's Double Sculls Heat 1
11:32 Judo Women -48 kg Elimination Round of 16
11:35 Judo Men -60 kg Elimination Round of 64
11:35 Volleyball Women's Preliminary: Pool B: China v Netherlands
11:36 Judo Women -48 kg Elimination Round of 16
11:40 Judo Women -48 kg QuarterFinal
11:40 Judo Men -60 kg Elimination Round of 64
11:40 Water Polo Men's Preliminary Round: Group A: Greece v Japan
11:40 Rowing Men's Double Sculls Heat 2
11:44 Judo Women -48 kg QuarterFinal
11:45 Boxing Men's Light (60kg) Preliminaries
11:45 Judo Men -60 kg Elimination Round of 64
11:45 Fencing Women's Epee Indiaividual Table of 32
11:45 Fencing Women's Epee Indiaividual Table of 32
11:45 Fencing Women's Epee Indiaividual Table of 32
11:45 Fencing Women's Epee Indiaividual Table of 32
11:48 Judo Women -48 kg QuarterFinal
11:50 Judo Men -60 kg Elimination Round of 64
11:50 Rowing Men's Double Sculls Heat 3
11:52 Judo Women -48 kg QuarterFinal
11:55 Judo Men -60 kg Elimination Round of 64
12:00 Beach Volleyball Men's Preliminary: Pool D
12:00 Boxing Men's Light (60kg) Preliminaries
12:00 Rowing Lightweight Men's Four Heat 1
12:00 Judo Men -60 kg Elimination Round of 64
12:00 Basketball Women's Preliminary Round Group A: Turkey v France
12:00 Rugby Sevens Women's Pool Round: Pool C: Great Britain v Brazil
12:00 Table Tennis Women's Singles Round 1
12:00 Table Tennis Women's Singles Round 1
12:00 Table Tennis Women's Singles Round 1
12:00 Table Tennis Women's Singles Round 1
12:05 Judo Men -60 kg Elimination Round of 64
12:10 Rowing Lightweight Men's Four Heat 2
12:10 Judo Men -60 kg Elimination Round of 64
12:15 Boxing Men's Light (60kg) Preliminaries
12:15 Judo Men -60 kg Elimination Round of 64
12:20 Rowing Lightweight Men's Four Heat 3
12:20 Judo Men -60 kg Elimination Round of 64
12:25 Judo Men -60 kg Elimination Round of 64
12:30 Boxing Men's Light Heavy (81kg) Preliminaries
12:30 Fencing Women's Epee Indiaividual Table of 16
12:30 Fencing Women's Epee Indiaividual Table of 16
12:30 Fencing Women's Epee Indiaividual Table of 16
12:30 Fencing Women's Epee Indiaividual Table of 16
12:30 Judo Men -60 kg Elimination Round of 64
12:30 Rugby Sevens Women's Pool Round: Pool C: Canada v Japan
12:30 Hockey Men's Pool B: Belguim v Great Britain
12:30 Rowing Men's Quadruple Sculls Heat 1
12:35 Judo Men -60 kg Elimination Round of 64
12:40 Judo Men -60 kg Elimination Round of 32
12:40 Rowing Men's Quadruple Sculls Heat 2
12:45 Boxing Men's Light Heavy (81kg) Preliminaries
12:45 Judo Men -60 kg Elimination Round of 32
12:50 Rowing Women's Quadruple Sculls Heat 1
12:50 Judo Men -60 kg Elimination Round of 32
12:55 Judo Men -60 kg Elimination Round of 32
13:00 Water Polo Men's Preliminary Round: Group B: France v Montenegro
13:00 Fencing Women's Epee Indiaividual Table of 16
13:00 Fencing Women's Epee Indiaividual Table of 16
13:00 Fencing Women's Epee Indiaividual Table of 16
13:00 Fencing Women's Epee Indiaividual Table of 16
13:00 Shooting 10m Air Pistol Men's Qualification
13:00 Rugby Sevens Women's Pool Round: Pool A: USA v Fiji
13:00 Beach Volleyball Men's Preliminary: Pool C
13:00 Boxing Men's Heavy (91kg) Preliminaries
13:00 Rowing Women's Quadruple Sculls Heat 2
13:00 Judo Men -60 kg Elimination Round of 32
13:00 Swimming Men's 400m Indiaividual Medley: Heats
13:02 Swimming Men's 400m Indiaividual Medley: Heat 1
13:05 Judo Men -60 kg Elimination Round of 32
13:07 Swimming Men's 400m Indiaividual Medley: Heat 2
13:10 Judo Men -60 kg Elimination Round of 32
13:12 Swimming Men's 400m Indiaividual Medley: Heat 3
13:15 Judo Men -60 kg Elimination Round of 32
13:17 Swimming Men's 400m Indiaividual Medley: Heat 4
13:20 Judo Men -60 kg Elimination Round of 32
13:22 Swimming Men's 400m Indiaividual Medley: Heat 5
13:25 Judo Men -60 kg Elimination Round of 32
13:26 Swimming Women's 100m Butterfly: Heats
13:28 Swimming Women's 100m Butterfly: Heat 1
13:30 Hockey Men's Pool B: Australia v NZL
13:30 Rugby Sevens Women's Pool Round: Pool A: Australia v Colombia
13:30 Judo Men -60 kg Elimination Round of 32
13:31 Swimming Women's 100m Butterfly: Heat 2
13:34 Swimming Women's 100m Butterfly: Heat 3
13:35 Judo Men -60 kg Elimination Round of 32
13:37 Swimming Women's 100m Butterfly: Heat 4
13:40 Judo Men -60 kg Elimination Round of 32
13:40 Swimming Women's 100m Butterfly: Heat 5
13:43 Swimming Women's 100m Butterfly: Heat 6
13:45 Fencing Women's Epee Indiaividual QuarterFinal 1
13:45 Fencing Women's Epee Indiaividual QuarterFinal 2
13:45 Fencing Women's Epee Indiaividual QuarterFinal 3
13:45 Fencing Women's Epee Indiaividual QuarterFinal 4
13:45 Judo Men -60 kg Elimination Round of 32
13:48 Swimming Men's 400m Freestyle: Heat 1
13:50 Judo Men -60 kg Elimination Round of 32
13:54 Swimming Men's 400m Freestyle: Heat 2
13:55 Judo Men -60 kg Elimination Round of 32
14:00 Judo Men -60 kg Elimination Round of 16
14:00 Archery Men's Team QuarterFinal
14:00 Swimming Men's 400m Freestyle: Heat 3
14:05 Judo Men -60 kg Elimination Round of 16
14:06 Swimming Men's 400m Freestyle: Heat 4
14:10 Judo Men -60 kg Elimination Round of 16
14:12 Swimming Women's 400m Indiaividual Medley: Heats
14:14 Swimming Women's 400m Indiaividual Medley: Heat 1
14:15 Basketball Women's Preliminary Round Group B: China v Canada
14:15 Judo Men -60 kg Elimination Round of 16
14:15 Basketball Men's Preliminary Round Group A: Australia v France
14:19 Swimming Women's 400m Indiaividual Medley: Heat 2
14:20 Judo Men -60 kg Elimination Round of 16
14:24 Swimming Women's 400m Indiaividual Medley: Heat 3
14:25 Judo Men -60 kg Elimination Round of 16
14:25 Archery Men's Team QuarterFinal
14:29 Swimming Women's 400m Indiaividual Medley: Heat 4
14:30 Gymnastics Artistic Men's Parallel Bars Qualification Subdivision 2
14:30 Gymnastics Artistic Men's Team Qualification Subdivision 2
14:30 Gymnastics Artistic Men's Vault Qualification Subdivision 2
14:30 Judo Men -60 kg Elimination Round of 16
14:30 Gymnastics Artistic Men's Floor Exercise Qualification Subdivision 2
14:30 Gymnastics Artistic Men's Pommel Horse Qualification Subdivision 2
14:30 Gymnastics Artistic Men's Qualification: Subdivision 2
14:30 Gymnastics Artistic Men's Rings Qualification Subdivision 2
14:30 Gymnastics Artistic Men's Horizontal Bar Qualification Subdivision 2
14:30 Gymnastics Artistic Men's Indiaividual All-Around Qualification Subdivision 2
14:30 Table Tennis Women's Singles Round 1
14:30 Table Tennis Women's Singles Round 1
14:30 Table Tennis Women's Singles Round 1
14:30 Table Tennis Women's Singles Round 1
14:34 Swimming Women's 400m Indiaividual Medley: Heat 5
14:35 Judo Men -60 kg Elimination Round of 16
14:40 Swimming Men's 100m Breaststroke: Heat 1
14:40 Handball Women's Preliminary Group B: Russia v South Korea
14:40 Judo Men -60 kg QuarterFinal
14:44 Swimming Men's 100m Breaststroke: Heat 2
14:45 Judo Men -60 kg QuarterFinal
14:48 Swimming Men's 100m Breaststroke: Heat 3
14:50 Archery Men's Team QuarterFinal
14:50 Judo Men -60 kg QuarterFinal
14:52 Swimming Men's 100m Breaststroke: Heat 4
14:55 Swimming Men's 100m Breaststroke: Heat 5
14:55 Judo Men -60 kg QuarterFinal
14:58 Swimming Men's 100m Breaststroke: Heat 6
15:00 Football Women's First Round: Group F: Canada v Zimbabwe
15:00 Volleyball Women's Preliminary: Pool A: Brazil v Cameroon
15:03 Swimming Women's 4 x 100m Freestyle Relay: Heat 1
15:11 Swimming Women's 4 x 100m Freestyle Relay: Heat 2
15:15 Archery Men's Team QuarterFinal
15:15 Table Tennis Women's Singles Round 1
15:15 Table Tennis Women's Singles Round 1
15:15 Table Tennis Women's Singles Round 1
15:15 Table Tennis Women's Singles Round 1
15:30 Judo Women -48 kg Repechage contest
15:30 Shooting 10m Air Pistol Men's Finals
15:30 Beach Volleyball Men's Preliminary: Pool C
15:30 Judo Men -60 kg Repechage contest
15:40 Judo Women -48 kg Repechage contest
15:40 Judo Men -60 kg Repechage contest
15:43 Archery Men's Team Semi-Final
15:50 Judo Women -48 kg Semi-Final of Table A
16:00 Fencing Women's Epee Indiaividual Semi-Final 1
16:00 Judo Women -48 kg Semi-Final of Table B
16:00 Rugby Sevens Women's Pool Round: Pool B: France v Kenya
16:00 Table Tennis Men's Singles Round 1
16:00 Table Tennis Men's Singles Round 1
16:00 Table Tennis Men's Singles Round 1
16:00 Table Tennis Men's Singles Round 1
16:11 Archery Men's Team Semi-Final
16:30 Fencing Women's Epee Indiaividual Semi-Final 2
16:30 Judo Men -60 kg Semi-Final of Table A
16:30 Rugby Sevens Women's Pool Round: Pool B: New Zealand v Spain
16:30 Beach Volleyball Women's Preliminary: Pool C
16:35 Judo Men -60 kg Semi-Final of Table B
16:39 Archery Men's Team Bronze Medal Match
16:40 Handball Women's Preliminary Group A: Montenegro v Spain
16:40 Judo Men -60 kg Contest for Bronze Medal A
16:40 Judo Women -48 kg Contest for Bronze Medal A
16:45 Table Tennis Men's Singles Round 1
16:45 Table Tennis Men's Singles Round 1
16:45 Table Tennis Men's Singles Round 1
16:45 Table Tennis Men's Singles Round 1
16:50 Judo Women -48 kg Contest for Bronze Medal B
17:00 Hockey Women's Pool A: Argentina v USA
17:00 Boxing Men's Light Fly (46-49kg) Preliminaries
17:00 Football Women's First Round: Group G: USA v France
17:00 Rugby Sevens Women's Pool Round: Pool C: Great Britain v Japan
17:00 Judo Women -48 kg Final: Gold Medal Contest
17:05 Volleyball Women's Preliminary: Pool B: USA v Puerto Rico
17:07 Archery Men's Team Gold Medal Match
17:10 Judo Men -60 kg Contest for Bronze Medal B
17:15 Boxing Men's Light Fly (46-49kg) Preliminaries
17:15 Fencing Women's Epee Indiaividual Bronze Medal Bout
17:20 Judo Men -60 kg Final: Gold Medal Contest
17:30 Beach Volleyball Men's Preliminary: Pool F
17:30 Boxing Men's Light Fly (46-49kg) Preliminaries
17:30 Basketball Women's Preliminary Round Group A: Brazil v Australia
17:30 Rugby Sevens Women's Pool Round: Pool C: Canada v Brazil
17:45 Boxing Men's Light (60kg) Preliminaries
17:45 Fencing Women's Epee Indiaividual Gold Medal Bout
18:00 Boxing Men's Light (60kg) Preliminaries
18:00 Football Women's First Round: Group F: Germany v Australia
18:00 Hockey Men's Pool A: Canada v Germany
18:00 Rugby Sevens Women's Pool Round: Pool A: USA v Colombia
18:15 Boxing Men's Light (60kg) Preliminaries
18:30 Boxing Men's Light Heavy (81kg) Preliminaries
18:30 Gymnastics Artistic Men's Parallel Bars Qualification Subdivision 3
18:30 Gymnastics Artistic Men's Team Qualification Subdivision 3
18:30 Gymnastics Artistic Men's Vault Qualification Subdivision 3
18:30 Beach Volleyball Women's Preliminary: Pool A
18:30 Gymnastics Artistic Men's Floor Exercise Qualification Subdivision 3
18:30 Gymnastics Artistic Men's Pommel Horse Qualification Subdivision 3
18:30 Gymnastics Artistic Men's Qualification: Subdivision 3
18:30 Gymnastics Artistic Men's Rings Qualification Subdivision 3
18:30 Gymnastics Artistic Men's Horizontal Bar Qualification Subdivision 3
18:30 Rugby Sevens Women's Pool Round: Pool A: Australia v Fiji
18:30 Gymnastics Artistic Men's Indiaividual All-Around Qualification Subdivision 3
18:45 Boxing Men's Light Heavy (81kg) Preliminaries
19:00 Boxing Men's Heavy (91kg) Preliminaries
19:00 Basketball Men's Preliminary Round Group A: China v USA
19:00 Weightlifting Women's 48kg Group A
19:00 Table Tennis Men's Singles Round 1
19:00 Table Tennis Men's Singles Round 1
19:00 Table Tennis Men's Singles Round 1
19:00 Table Tennis Men's Singles Round 1
19:30 Water Polo Men's Preliminary Round: Group B: Spain v Italy
19:30 Hockey Women's Pool B: Spain v Brazil
19:45 Basketball Women's Preliminary Round Group A: Belarus v Japan
19:45 Table Tennis Men's Singles Round 1
19:45 Table Tennis Men's Singles Round 1
19:45 Table Tennis Men's Singles Round 1
19:45 Table Tennis Men's Singles Round 1
19:50 Handball Women's Preliminary Group A: Romania v Angola
20:00 Football Women's First Round: Group G: Colombia v NZL
20:30 Table Tennis Women's Singles Round 2
20:30 Table Tennis Women's Singles Round 2
20:30 Table Tennis Women's Singles Round 2
20:30 Table Tennis Women's Singles Round 2
20:30 Volleyball Women's Preliminary: Pool A: Russia v Argentina
20:30 Hockey Men's Pool B: Great Britain v Australia
20:50 Water Polo Men's Preliminary Round: Group A: Brazil v Australia
21:00 Beach Volleyball Men's Preliminary: Pool F
21:15 Table Tennis Women's Singles Round 2
21:15 Table Tennis Women's Singles Round 2
21:15 Table Tennis Women's Singles Round 2
21:15 Table Tennis Women's Singles Round 2
21:50 Handball Women's Preliminary Group B: Sweden v Argentina
22:00 Beach Volleyball Women's Preliminary: Pool B
22:03 Swimming Men's 400m Indiaividual Medley Final
22:14 Swimming Women's 100m Butterfly Semi-Final 1
22:22 Swimming Women's 100m Butterfly Semi-Final 2
22:30 Swimming Men's 400m Freestyle Final
22:30 Basketball Men's Preliminary Round Group A: Venezuela v Serbia
22:35 Volleyball Women's Preliminary: Pool B: Serbia v Italy
22:49 Swimming Women's 400m Indiaividual Medley Final
23:00 Beach Volleyball Men's Preliminary: Pool D
23:08 Swimming Men's 100m Breaststroke Semi-Final 1
23:16 Swimming Men's 100m Breaststroke Semi-Final 2
23:24 Swimming Women's 4 x 100m Freestyle Relay Final
23:59 Beach Volleyball Women's Preliminary: Pool C
Register for free to continue reading
Registration is a free and easy way to support our truly independent journalism
By registering, you will also enjoy limited access to Premium articles, exclusive newsletters, commenting, and virtual events with our leading journalists
Already have an account? sign in
Join our new commenting forum
Join thought-provoking conversations, follow other Independent readers and see their replies