The Independent's journalism is supported by our readers. When you purchase through links on our site, we may earn commission.
Rio 2016: German twins who crossed marathon finish line holding hands spark outrage
Instead of being interpreted as sisterly love, the gesture was seen as a way of gaining 'media attention'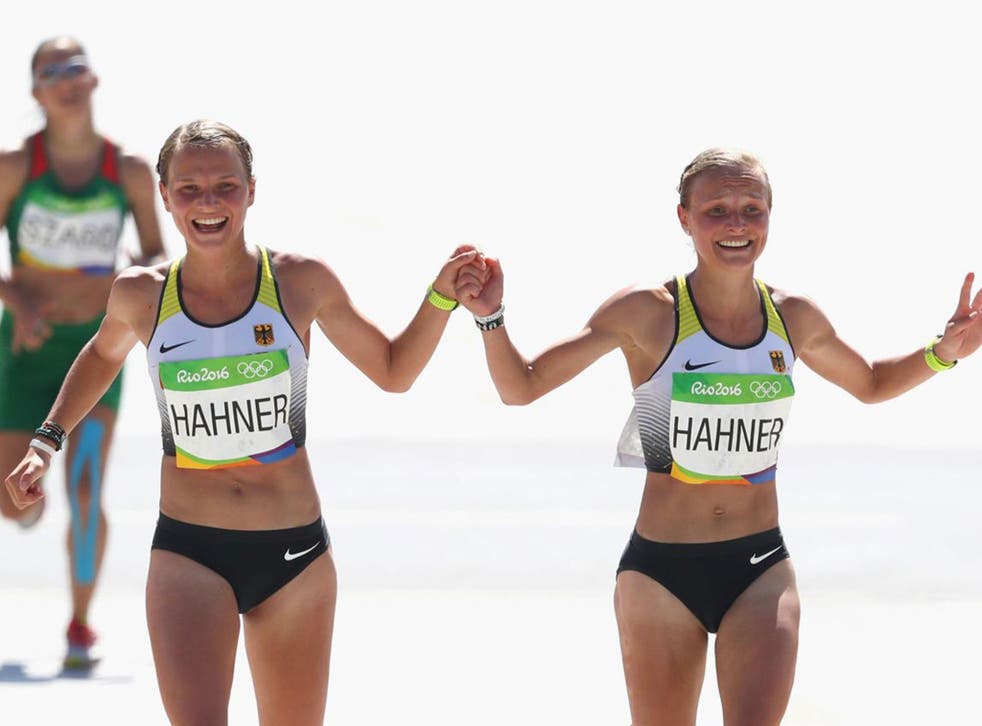 Two German twins, both participating in the women's marathon at the Rio Olympics, have sparked outrage after crossing the finishing line holding hands.
Instead of being interpreted as sisterly love, the gesture was seen as a way of gaining "media attention".
Anna and Lisa Hahner, both 26, finished 15 minutes under their personal best times, coming in 81 and 82 place respectively - giving further fuel to the criticism.
Sports director of the German Athletics Federation, Thomas Kurschilgen, highlighted their slow times and said the hand holding made the race look like a "fun run".
"Victory and medals are not the only goal," Mr Kurschilgen told the New York Times. "Still, every athlete in the Olympic competitions should be motivated to demonstrate his or her best performance and aim for the best possible result."
"Their main aim was to generate media attention. That is what we criticize."
Rio 2016: Yesterday's Highlights
If this was the twins' goal, it apparently succeeded - there was another German runner in the race, Anja Scherl, who came in 44th place but received little attention for her superior performance.
The Hahner sisters also received negative coverage in the German press. Columnist Lars Wallrodt said the act was "ingenious self-marketing".
"The Olympics is the meeting of the best athletes, measuring the peak performance of each country's best," Mr Wallrodt wrote in Die Welt. "If the Hahners jointly want to cross the finish line, beaming and holding hands, then they can - in the countryside home run in St. Pölten or the Miss-Braided run in Solingen."
However, the pair defended their actions. "We trained the last four years to participate in this marathon," Anna Hahner said. "Neither the time nor the position was what made us happy but to know that we did the best that was possible that day."
They insisted the hand holding was not planned but said it was "magical" that they could finish the marathon together.
Rio Olympics venue damaged by fire

Show all 6
Join our new commenting forum
Join thought-provoking conversations, follow other Independent readers and see their replies