Rio 2016: Joseph Schooling, the boy who beat Michael Phelps eight years after meeting his Olympic hero
21-year-old Schooling was just 13 when he met his idol. Now, he's beaten the most successful Olympian of all time and become Singapore's first ever gold medallist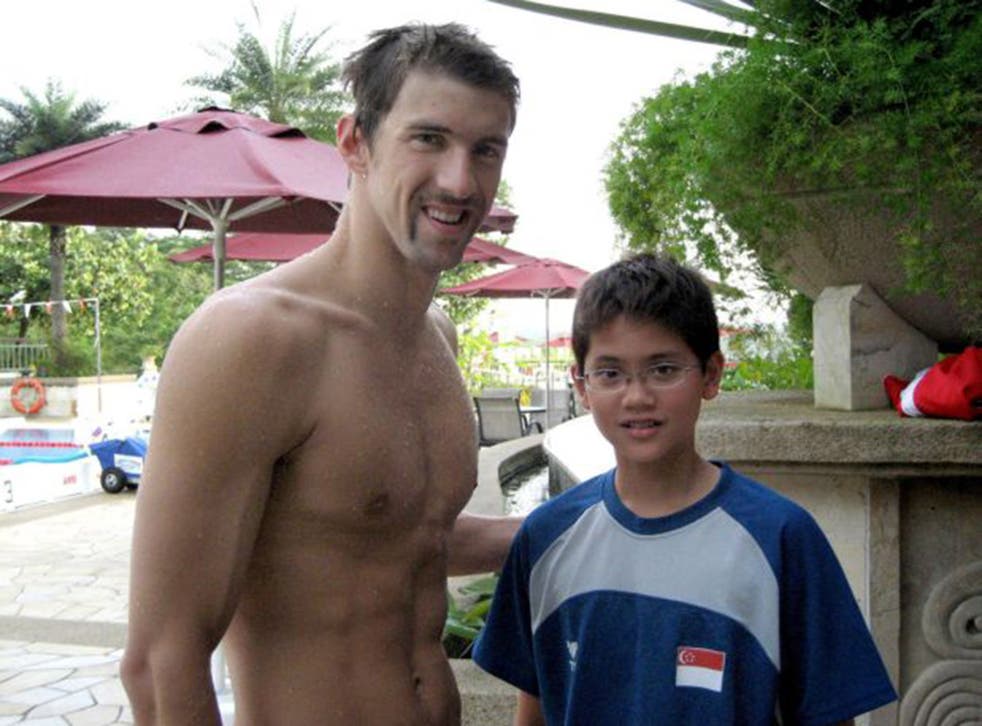 Joseph Schooling rocked the swimming world when he defeated the most successful Olympic athlete of all time in Michael Phelps, eight years after he met the 22-time gold medallist as a young boy.
21-year-old Schooling triumph in the thrilling 100m butterfly final that saw Singapore claim its first ever Olympic gold medal and three men share second place, with Phelps standing alongside rival Chad le Clos on the podium as well as Hungary's Laszlo Cseh.
Having already won four gold medals at the Rio Olympic Games, a fifth appeared to be a formality for 31-year-old Phelps, only for Schooling to upset the odds and turn the swimming world on its head.
Schooling shot out into a lead that he would not relinquish as he recorded a new Olympic record of 50.39 seconds, with Phelps, Le Clos and Cseh all clocking 51.14 to share the silver medal.
"I'm just ecstatic. I need it to sink in," Schooling told reporters afterwards.
"It feels great - kind of feels surreal right now, it's crazy," he said.
"I really can't describe how this moment feels. All the adrenaline is running through my veins right now. It's a dream come true."
Interview with a 15-year-old Michael Phelps
A picture of Schooling meeting Phelps back in 2008 was widely shared on social media that not only provided a heart-warming moment between the pair but also displayed Phelps's incredible longevity in the pool, having dominated the sport for the past 16 years.
Schooling was also hailed as a hero from his countrymen back home in Singapore, with Prime Minister Lee Hsien Loong taking to Facebook to congratulate the nation's maiden Olympic gold medallist.
Rio 2016 Olympics - in pictures

Show all 74
"This is Singapore's first Olympic gold medal ever and also our first medal for ‪the Rio Olympics," he wrote.
"My heartiest congratulations to Joseph Isaac Schooling for his historic gold medal win. It is an incredible feat to compete among the world's best - stay focused and emerge victorious.
"You made us very proud today."
Phelps confirmed after the race that will finally retire following the Rio Games, four years after he initially decided to call it a day having dominated the pool at London 2012. With Phelps set to compete in the United States' 4x100m medley relay team on Saturday night in his final Olympic race, he could bring the curtain down on his career with an astonishing 23 gold medals and 28 overall, should the US team claim a victory as expected.
However, Schooling wants Phelps to continue so that they can face-off once again in the hope that the Singaporean can get the better of his idol.
"I hope that Michael can stay around long enough for me to race him again. I'd love that."
Join our new commenting forum
Join thought-provoking conversations, follow other Independent readers and see their replies