Rio 2016: Laura Trott becomes first British woman to win four gold medals with omnium victory
The 24-year-old finished with 230 points, 24 clear of her nearest rival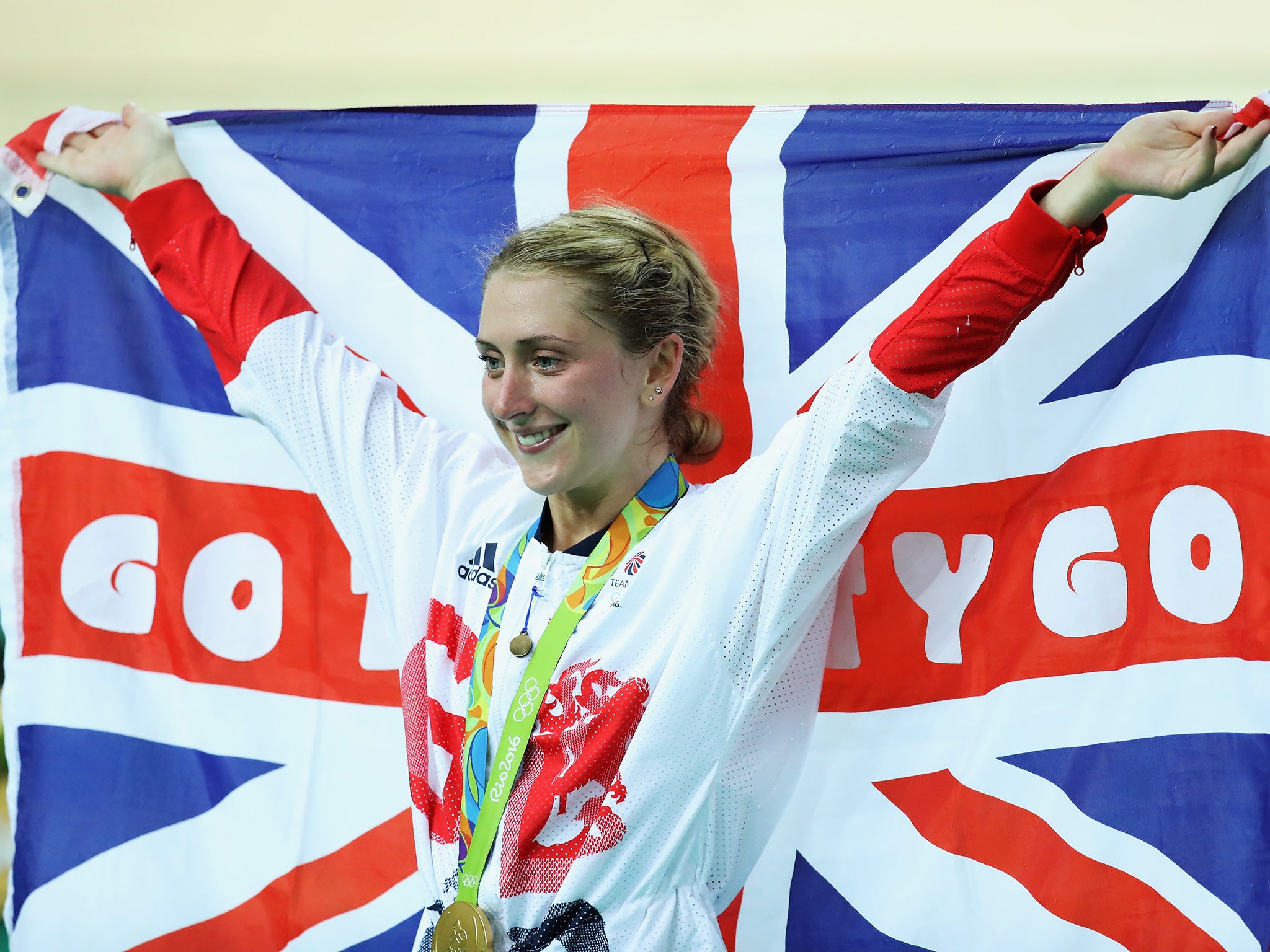 There you go my love, follow that. If Jason Kenny needed any inspiration in his push for a third gold at these games and a sixth in all fiancee Laura Trott provided it with history of her own, the first British woman to claim a fourth gold with victory in the omnium.
In a show of unremitting dominance to suggest that she and not the men of this parish might be the greatest British track cyclist in history Trott also became the first British female to defend two Olympic titles.
By far the most punishing detail for her rivals to contemplate is her age, just 24 years old. She could compete for at least two more Olympic cycles, wedding and children permitting. Mum and dad received the first hug as she skipped across the circuit to accept the acclaim. They wrapped her in a Union Jack, this diminutive blonde Boudica of the track.
Trott went into the final points race a vast 24 points clear of the field. The only woman on the track capable of breaching that kind of gap was Trott herself. Thus was the scale of the challenge facing those ranged against her, the omnium's final discipline reducing to an exercise in staying out of trouble.
If you didn't know they were loved up to the handlebars you might have thought cycling's power couple were negotiating that old species staple, the domestic. As she powered to glory he sat motionless, staring straight ahead in the Team GB hub.
It had been much the same in the build-up. Though occupying facing seats barely ten paces apart, neither saw the other. Trott's eyes were a blue haze of impenetrable focus. There she sat as if under hypnosis, ears enclosed beneath obligatory cans filling her head with the discs of the day.
Occasionally she would break the spell by reaching for her bottle of water, changing the spine angle from upright to bowed to contemplate the floor. Kenny rose to take his bike for a spin then resumed his chair without fuss.
Rio 2016 Olympics - in pictures
Show all 74
Trott threatened intimacy only when, 30 minutes before the fifth leg of her omnium race, she hopped on the stationary bike to prime those piston quads. Again zip. She did not acknowledge her betrothed and to him she had all the appeal of Nora the nit explorer.
This is how the greatest track cyclists of the age negotiate the tension before going for gold, me time with bells on, zoned out in a state of complex grace. Only those invited may approach, and they do so on tiptoes.
Trott was first into the action in the flying lap. So superior is Trott she could have gone around here in a chopper and not adversely affected her chances. The same goes for Kenny.
Britain's rivals have had a little moan wondering a how a squad that does not always shine at world championships never fails to peak at the Olympics. Questionable is the preferred observation, which of course implies some form of illegitimate intervention.
Life isn't fair folks. Team GB throws millions at the cycling project delivering best in class kit, clobber, expertise and support. Marginal gains is how cycling guru Sir Dave Brailsford once theorised the British rise to prominence. Others call it an arms race, the triumph of dollar over derring do. Either way the gains are no longer marginal but emphatic.
With 20 laps of the 100 to go pursuit of Trott was rendered facile. She had all angles covered, femininity with a razor's edge cutting the field to pieces not by increments but chunks.
Join our commenting forum
Join thought-provoking conversations, follow other Independent readers and see their replies