NBC broadcaster prompts backlash after crediting Rio world record to swimmer's husband
Hosszu recorded a time of 4:26:36 to win gold, beating the old record by nearly two seconds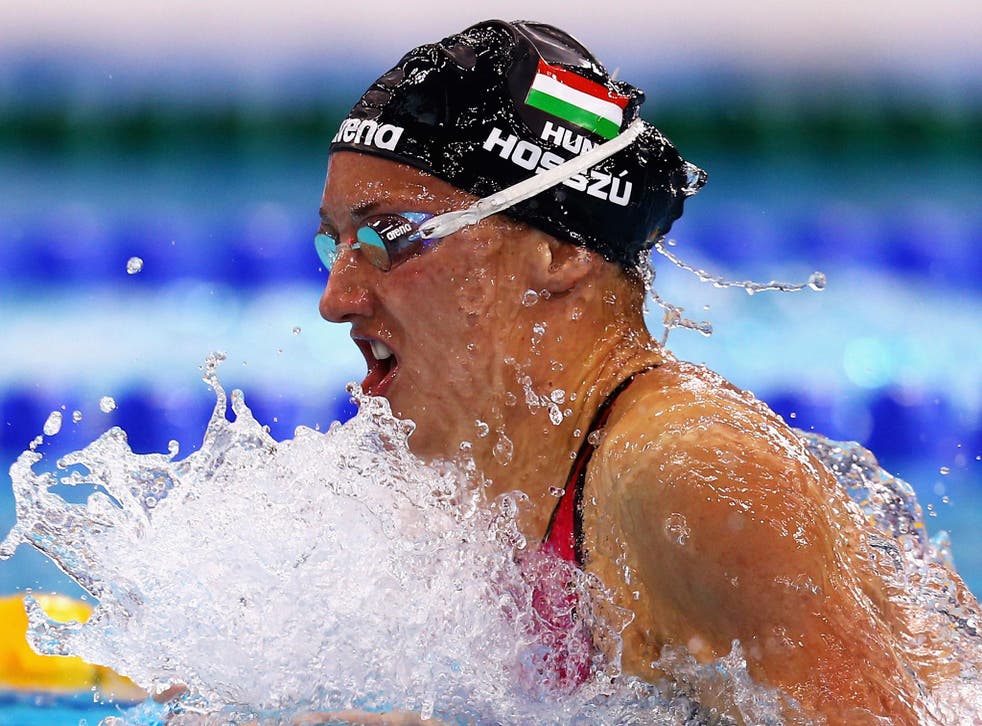 Hungarian swimmer Katinka Hosszu obliterated the world record in the 400-meter individual medley Saturday night, and her performance was immediately praised as one of the best of the still nascent Rio Olympic Games.
But the electrifying showing by the swimmer nicknamed the "Iron Lady" also stirred up plenty of buzz outside the pool, which began with controversial comments from NBC's telecast following the event.
Hosszu's husband, Shane Tusup, also serves as her coach and was on the pool deck wildly celebrating his wife's gold medal Saturday.
While their relationship has been well-documented and has invited scrutiny in the swimming world in the lead up to Rio, the Twittersphere erupted after Hosszu's performance on Saturday, with a number of Tweets blaming NBC announcer Dan Hicks for calling Tusup "the man responsible" for the record-breaking performance.
Hosszu recorded a time of 4:26:36 to win gold, beating the old record by nearly two seconds, although it looked as if the gap would be even larger than that early in Saturday night's race.
She was simply dominant. American Maya DiRado, who swims at Stanford, finished second for the silver medal, but she still finished nearly five seconds behind Hosszu. It also served as redemption for the Hungarian star, who won her first Olympic medal after a disappointing showing at the London Games in 2012. She had won nine medals, including five golds, in world championship competition but had yet to break through at the Olympics.
Tusup was on the deck pumping his fist and jumping around for much of the race, showing the kind of animation that has defined his personality since becoming Hosszu's coach in 2012. NBC's announcers came under attack shortly after.
Hosszu herself also became a lightning rod for scrutiny following her performance, as well. While she has had to defend herself against allegations of using performance-enhancing drugs in the past, including against claims made by former Canadian Olympian Casey Barrett in 2015 who Hosszu later filed a libel lawsuit against, she will likely have to continue defending herself after shattering the world record.
The speculation continued to rage in the far corners of Twitter on Saturday, and gained steam when Missy Franklin's coach, Todd Schmitz, retweeted a tweet by SwimVortex correspondent John Lohn.
"I never took performance-enhancing substances," Hosszu said in an interview with Rueters last year. "I would not sell my soul for money, fame or victory … Cheating is completely alien to me as is shrugging off a self-serving attempt to undermine my credibility by someone completely unknown to me."
Copyright: Washington Post
Register for free to continue reading
Registration is a free and easy way to support our truly independent journalism
By registering, you will also enjoy limited access to Premium articles, exclusive newsletters, commenting, and virtual events with our leading journalists
Already have an account? sign in
Register for free to continue reading
Registration is a free and easy way to support our truly independent journalism
By registering, you will also enjoy limited access to Premium articles, exclusive newsletters, commenting, and virtual events with our leading journalists
Already have an account? sign in
Join our new commenting forum
Join thought-provoking conversations, follow other Independent readers and see their replies