Rio 2016: Neymar was a 'monster' in Brazil's thumping win over Honduras, says Rogerio Micale
The Barcelona forward is coping with the pressure of carrying his nation's hopes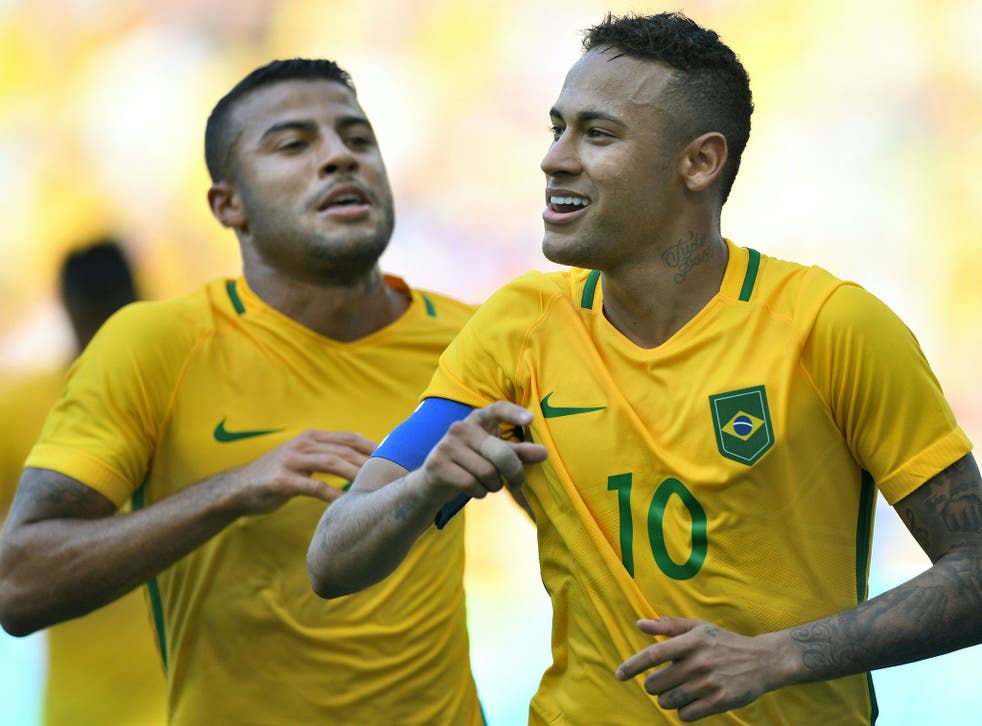 The Brazil coach described Neymar as a "monster" after he devoured Honduras and inspired his side to a 6-0 win in the Olympic semi-final on Wednesday.
Barcelona's Neymar scored in the first minute and the last and set up one other as he dictated Brazil's wonderful tempo on a red-hot afternoon at the Maracana. The home team have one more hurdle to clear in Saturday's final to win their first Olympic gold in their rich footballing history.
"Neymar is a monster – in the positive sense," Rogerio Micale said of his captain. "He has a gift for playing. He delights with his talent. I wish we could replicate what he does with other players but it is difficult, it is not an exact science. He is so gifted."
Seven days ago it was a different picture for Brazil who had drawn their first two matches in these Games 0-0 and this on the back of the World Cup on home soil two years ago when they were dumped out 7-1 by Germany. Neymar had come in for some hefty criticism in the Brazilian press – and he declined the chance to speak to journalists after Wednesday's win.
"Neymar is happy in the team and the team has embraced him," Micale said. "He is coping well with the pressure and demands. He is positive now as opposed to a week ago when there was lots of pressure. Our players respect him and are happy to have him by our side. He upsets the balance of a team in a positive way. But he is not alone in our team: we have Luan, Marquinhos, etc, etc.
"Brazilian football is not so dead. I still believe in Brazilian football. Brazil only have silver so far in these Games but we have a star like Neymar and you have to be grateful because he pushes us to a higher level."
Neymar was the architect of most of the clever things that Brazil did against Honduras although Luan and Gabriel Jesus were also impressive. Micale, though, opted to keep his captain on for the full 90 minutes despite the heat and the final being on Saturday.
"I did feel the temptation to take him off," Micale admitted, "but he is very lucky because he recovers quickly: 24 hours after a match he is recovered. I am much more concerned about getting him match fit, not resting him."
Although Brazil played some gorgeous stuff, Micale said the win was as much down to their work rate as the jogo bonito. "We are playing good football with ambition and showing our characteristics: the beautiful game. But it is not enough - the team has to fight. And they do that. They put pressure on the opposition. We were lucky enough to score right at the beginning but that was the fruit of Neymar's attitude and desire to fight. It is not just about quality but about sweating too."
Neymar scored after just 15 seconds for Brazil, taking advantage of some sloppy Honduran defending and Micale admitted that the early goal was key. "The early goal was a big help. When you know that you have to fight a team that is defensive with five at the back and four in midfield it is not easy. They want to play on the counter attack so to start like that is great."
Now Brazil are one step from gold, from adding that missing piece in their history and appeasing a public and media hungry for victory. "We knew there would be a lot of pressure and we are, for cultural reasons, desperate to win gold because we never have," Micale said. "But the Press and the public have been learning like we have that you can't change things overnight.
"We can ask if what is written is helpful to the Brazil team? But everything will change again it we lose the final. It is not the colour of the medal that will change anything, it is how we move forward."
Join our new commenting forum
Join thought-provoking conversations, follow other Independent readers and see their replies