Rio 2016: The map which shows all the countries whose athletes have been suspended for doping
While most media attention has been on Russia, a far bigger problem has gone unnoticed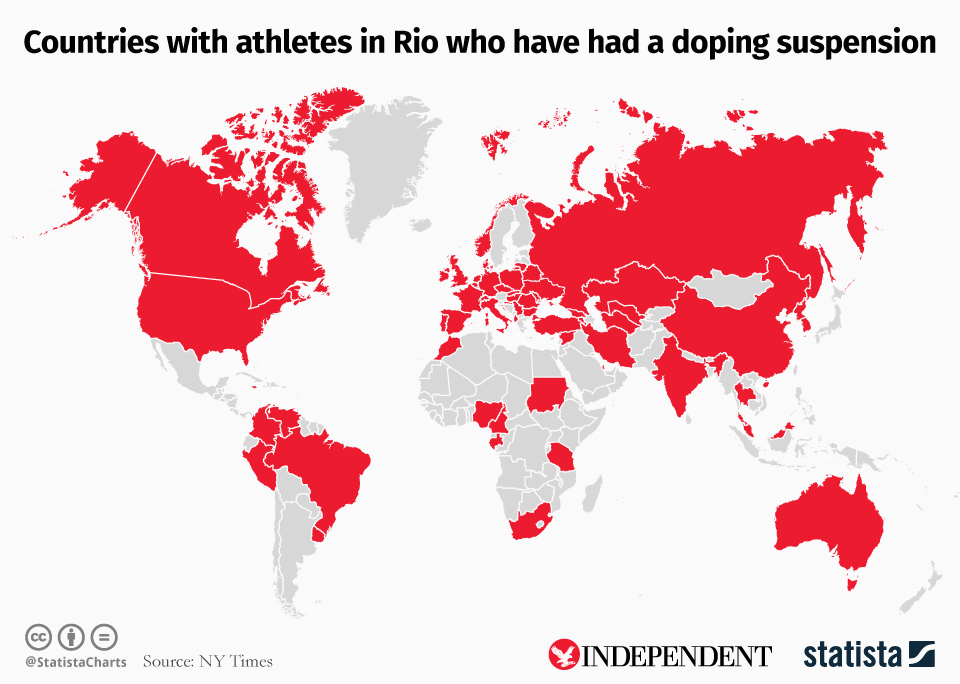 This is the map which shows the countries competing in the Rio games who have athletes which have served doping suspensions.
While most of the scrutiny around doping has been directed at Russia, this map, created by Statista for The Independent, demonstrates that athletes from the vast majority of countries have been guilty of doping at some point.
The British athletes competing who served bans are horserider Michael Whitaker and track and field athlete Christine Ohuruogu, who served bans in 2009 and 2006 respectively.
The issue of doping has cast a shadow over Rio 2016. The International Olympic Committee (IOC) toyed with the prospect of banning the entire Russian squad, following concerns over widespread, state-sponsored doping. However, the IOC eventually allowed the participation of some Russian athletes. The Paralympic Committee went a step further and completely banned the entire Russian squad.
During the Rio Games, the first athlete to be stripped of a medal because of doping was Izzat Artykov, a weightlifter from Kyrgyzstan. However, Mr Artykov is now planning an appeal. He tested positive for strychnine, a pesticide which can be used as a stimulant in small doses, after winning bronze in the men's 69 kilogram category, but was relieved of his medal a week later.
The Kyrgyz government's State Sports and Fitness Committee says in a statement that sports officials in the country are drafting an appeal against the Court of Arbitration for Sport's ruling to disqualify Mr Artykov.
Rio 2016 - Olympics opening ceremony
Show all 10
The committee has not specified the grounds for the appeal, but says it is demanding the World Anti-Doping Agency conduct repeat tests of Artykov's sample.
Russia, Kazakhstan and Belarus are also facing bans from the International Weightlifting Federation (IWF). Tamas Ajan, IWF chief, said he expected more countries to join the list in the near future, most likely Azerbaijan, Armenia, Moldova and Turkey.
Doping has overshadowed other events at Rio 2016, in particular the swimming. Dramatic spats between athletes caused controversy and entertained audiences around the world.
Australian swimmer Mack Horton very publically derided his Chinese rival, Sun Yang, telling a press conference he didn't "have time or respect for drug cheats", referring to Yang. The Chinese swimmer had served a three month doping ban in 2014.
In the women's swimming, American Lilly King was pictured wagging her finger at Russian Yuliya Efimova, who had served two previous doping bans and was only allowed to compete in Rio after a last minute ruling. King later told NBC: "You wave your finger 'No1' and you've been caught drug cheating … I'm not a fan". Efimova was often booed by audiences when she competed.
Join our commenting forum
Join thought-provoking conversations, follow other Independent readers and see their replies