Great Olympic Friendships: Aaron Peirsol, Markus Rogan and a silver for swimming, a gold for good grace
'He is one of my best friends and no medal is as beautiful as friendship,' Rogan said of Peirsol
Louis Chelsaw
Friday 05 August 2016 00:00 Comments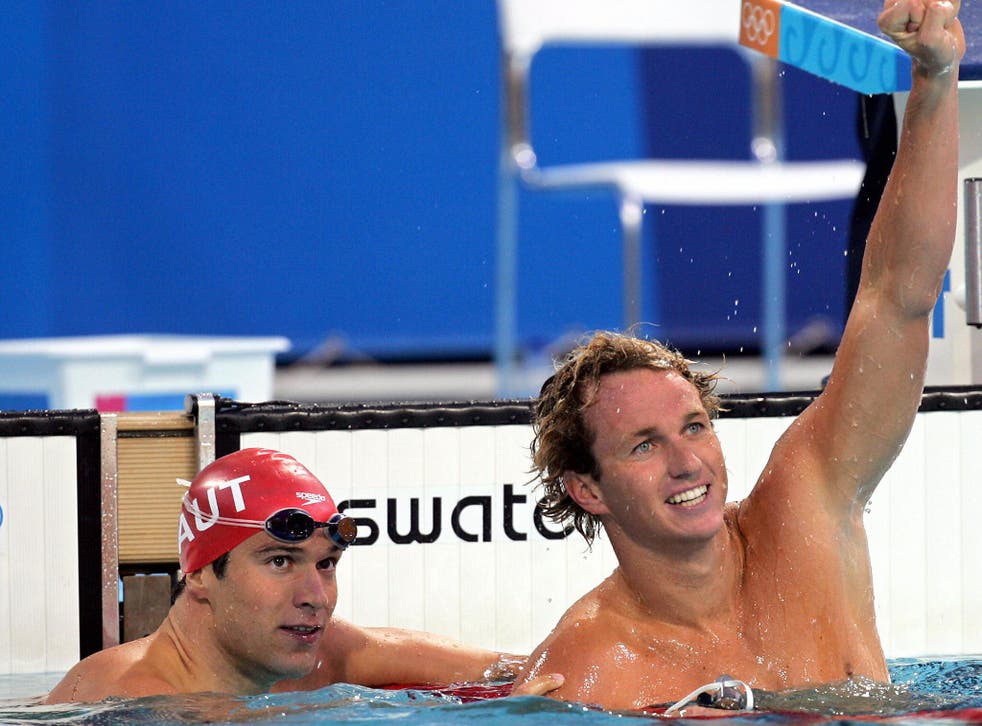 It's 2004, at the Olympics in Athens, and American swimmer Aaron Peirsol has taken a magnificent lead in the Men's 200m backstroke final. By the time he reaches the end of the race, he's set a new Olympic record, clocking in at just under one minute and fifty five seconds.
While still in the water, only just realising what he's achieved, a swimmer in a red cap grabs his arm, pulling him closer in congratulations. This red-hatted athlete's name was Markus Rogan, an Austrian who had just placed second to the man he was now desperate to congratulate. Peirsol shared a quick smile and high-five with Rogan, before beginning to punch the air in a celebration of his triumph.
All was well, until a review of the race shortly afterwards threw it all into question. The judges had decided that Peirsol had made an illegal turn on the final lap, and would be duly disqualified, instantly promoting Rogan to victor, and converting the fourth-placed British swimmer James Goddard, angry with himself at having lost a commanding lead to Romanian Razvan Florea, into a bronze medallist.
The United States instantly appealed against the decision, and twenty minutes later the situation again changed when the judges' call was overturned after the lane judge proved unable to show what exactly Peirsol had done wrong. Further confusion ensued when a statement from the judging body, Fina, noted that one of the factors in the call being overruled was that 'the detail of the reason supplied hadn't been made in the working language of Fina' - the English language. The drama was heightened when Rogan, in support of his close friend Peirsol, suggested that perhaps the decision to disqualify him had been a political one, referencing how a few days earlier Peirsol had found himself in the headlines for accusing Japan's Kosume Kitayima of cheating when he beat Peirsol's fellow American, Brendan Hansen, in the 100m Breaststroke final.
As for Peirsol, the American swimmer's first thoughts after reclaiming the Gold weren't for himself but for his fellow athletes. "I wasn't too worried," he told an interviewer afterwards. "I'm sad for those who thought they were on the podium and were thrown out of it after my race was made valid." Rogan was equally sportsmanlike in his interviews, explaining that he was happy with his silver medal, and that Peirsol was "a very honest person." He continued, "I am sure he swam fairly and it is just the way it should be. He is one of my best friends and no medal is as beautiful as friendship." And even though Rogan lost out on winning Olympic gold that day, he received what was perhaps to be an equally important trophy for him later that year, when he made his way on to a stage in his home country to be crowned Austria's Sports Personality of the Year.
Register for free to continue reading
Registration is a free and easy way to support our truly independent journalism
By registering, you will also enjoy limited access to Premium articles, exclusive newsletters, commenting, and virtual events with our leading journalists
Already have an account? sign in
Join our new commenting forum
Join thought-provoking conversations, follow other Independent readers and see their replies