Great Olympic Friendships: Joe Chan, Larry Lemieux, Siew Shaw Her and a bond forged from sacrifice at sea
'I could have won gold,' Lemieux later told Canada's Edmonton Journal, 'But in the same circumstances, I would do what I did again'
Adam Lusher
Friday 05 August 2016 00:00 Comments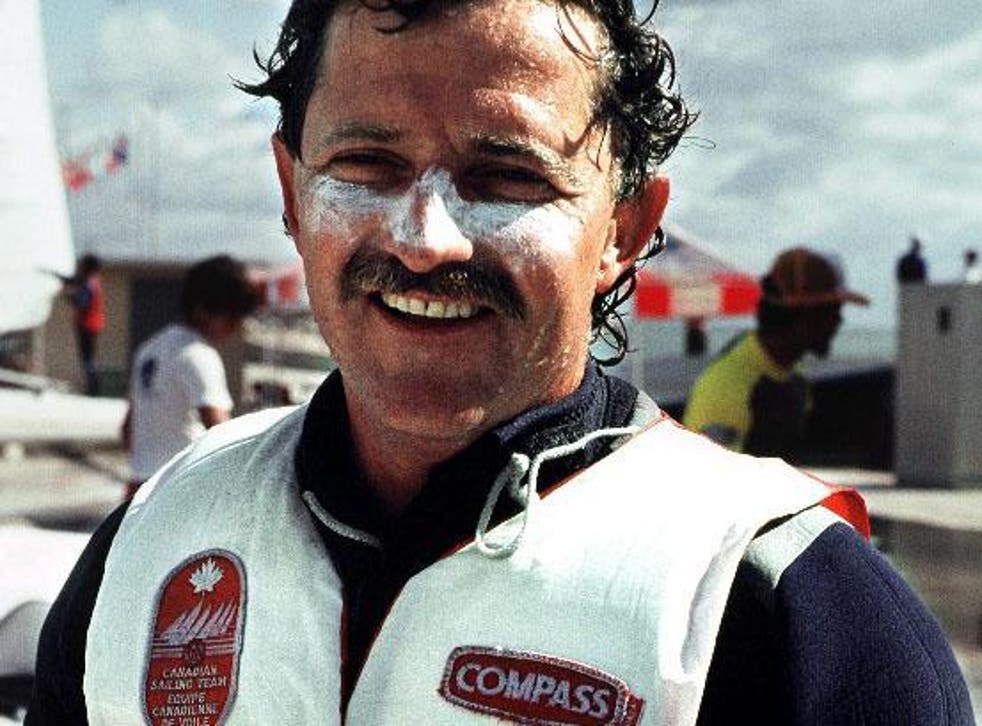 You would never have picked them out as friends.
They weren't even in the same competition.
Larry Lemieux, the Canadian, was sailing in the single-handed Finn class. The Singaporeans Siew Shaw Her and Joe Chan were competing in a 470 dinghy.
At the 1988 Seoul Olympics, Lemieux, 32, was a serious medal contender. The guys from Singapore, not so much.
Siew would later sum up the relative infancy of competitive dinghy sailing in Singapore at that time by recalling how, at an international regatta in England, he found himself unable to afford £40 for proper headgear to protect him from conditions that were "cold as hell." So he went out sailing wearing an old shower cap instead.
Unsurprisingly, "Everyone laughed at us."
The helmsman and his crewman Chan may have won gold at the 1987 South East Asian Games, but when it came to the Olympics, they were just happy to be there.
Anything else, Siew recalled, "Just seemed too unrealistic."
And in the normal course of things, nothing else would have happened. He and Chan would probably never have swapped two words with Lemieux. But the sea intervened.
Dinghy sailing was in its infancy in South Korea too. The Pusan sailing venue had been chosen because the data suggested it offered perfect light wind conditions. By the time it was realised the data had come from the airport, located in a sheltered valley, it was too late.
Rio 2016 Olympics - in pictures

Show all 74
On the morning of September 24 1988, the sailors began racing in a moderate 15-knot breeze. By race five of the day, they were facing a force 8 gale.
The 4m (13ft) waves were so high that Lemieux slipped from first to second place after missing one of the 2.5m (8ft)-tall fluorescent buoys marking the course because it was hidden in the swell.
He remained, however, in contention for a medal.
Until he spotted the upturned hull of a 470 dinghy.
The Singaporeans' boat had turned turtle in the heavy seas, and Chan was now about 20m (65ft) away from the relative safety of the hull, with the current carrying him ever further out to sea.
Lemieux looked at Chan, remembered how he had failed to spot an 8ft tall fluorescent orange buoy in the mountainous seas, and realised that "Looking for someone's head would have been like looking for a needle in a haystack."
He went to rescue, sacrificing the race, and his medal hopes.
"I could have won gold," he later told Canada's Edmonton Journal, "But in the same circumstances, I would do what I did again."
In no mean feat of seamanship, Lemieux succeeded, first, in using his boat's momentum to flip Chan on board. He then headed back to Siew, who was bleeding heavily from a cut to his hand, and stayed with the two Singaporeans, successfully keeping his dinghy in position until a Korean Navy boat arrived.
Then he returned to his race, finishing way down in 22nd place.
Larry Lemieux never won Olympic gold, silver or bronze. But that year he did win the Pierre de Coubertin medal, awarded by the International Olympic Committee to those who exemplify the spirit of sportsmanship.
Plenty of contenders have won an Olympic medal – 2,488 will be handed out at Rio alone. Only 19 people have won a Pierre de Coubertin.
A friendship forged in adversity is now renewed as the three sailors meet from time to time on the international circuit. Siew's daughter has followed him into competitive international sailing.
In June Chan was made Asian region development co-ordinator for the international governing body World Sailing.
And Lemieux has become an in-demand coach.
The 1988 Olympics may now be remembered mainly for ski-jumping failure-cum-national hero Eddie the Eagle and win-at-all-costs Canadian drugs cheat Ben Johnson, first across the line in the 100m final that became known as 'the dirtiest race in history'.
But between such extremes lies another Canadian. He still gets talked about as a man who embodies the true Olympic ideals of sportsmanship, competitiveness and friendship.
And as Lemieux himself has acknowledged, if he had just pressed on and won that medal, leaving his two friends in the lurch, who now would still be talking about a Canadian who won a medal in the sailing 28 years ago?
"I didn't win a gold," he once said, "But I've certainly gotten a lot of attention."
Register for free to continue reading
Registration is a free and easy way to support our truly independent journalism
By registering, you will also enjoy limited access to Premium articles, exclusive newsletters, commenting, and virtual events with our leading journalists
Already have an account? sign in
Join our new commenting forum
Join thought-provoking conversations, follow other Independent readers and see their replies