Rio 2016: A sport-by-sport guide to the Russian athletes at the Olympics
The IOC's decision not to impose a blanket ban on Russian athletes will see the nation represented in most of the sports at Rio 2016
Matt Slater
Thursday 28 July 2016 07:35 Comments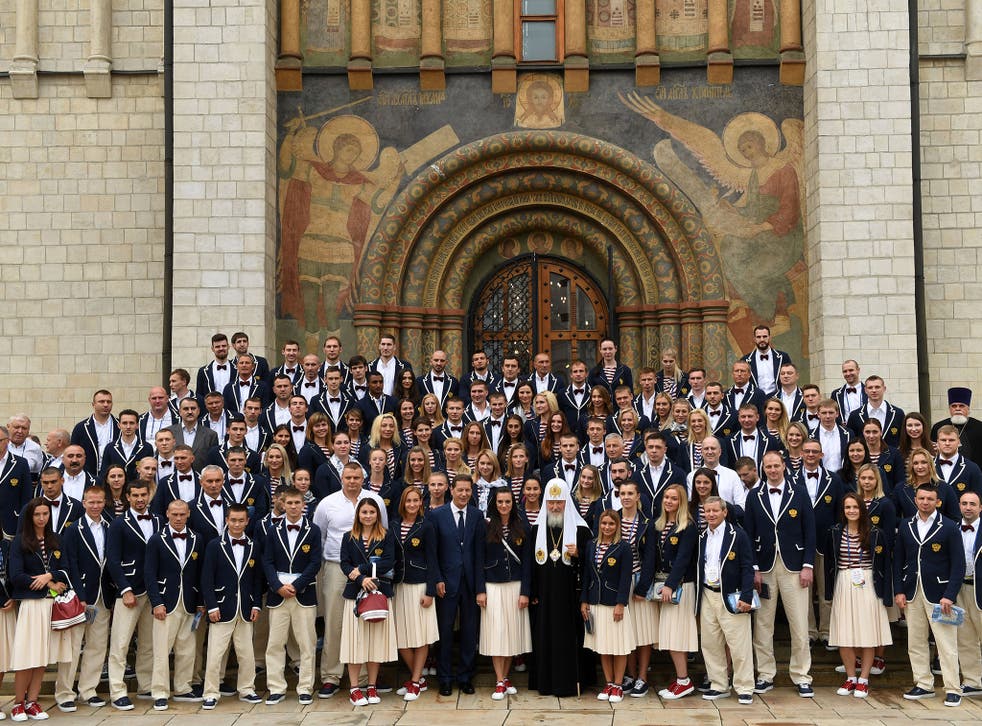 The International Olympic Committee's decision to let each sport decide how many Russians are eligible to compete in Rio has yielded some big decisions with the Games a little more than a week away.
Here, Matt Slater lists what each international sports federation has done regarding Russia's athletes, with the exception of basketball, football, hockey and rugby, for which Russia did not qualify.
AQUATICS
IN: 67
OUT: 7
Having already barred seven swimmers who fail to meet new anti-doping criteria, governing body FINA is subjecting the eligibility of the remaining team members to "specific additional criteria". The diving, synchro and women's water polo teams are not affected.
ARCHERY
IN: 3
OUT: 0
World Archery says Russia's three qualified archers have been "tested extensively" and are free to compete.
ATHLETICS
IN: 1
OUT: 67
The IAAF has banned all Russian track and field athletes from Rio, with the exception of long jumper Darya Klishina as she trains in Florida and has been subjected to testing outside of Russia's tainted anti-doping system.
BADMINTON
IN: 4
OUT: 0
The World Badminton Federation has cleared all four of Russia's badminton players.
BOXING
IN: 11
OUT: ?
Governing body AIBA is "reviewing and analysing, on a case-by-case basis, the anti-doping records of the 11 Russian boxers currently qualified for Rio".
CANOEING
IN: 11
OUT: 5
The International Canoe Federation has banned five Russian sprint canoeists from Rio after they were implicated in the McLaren report. Investigations are ongoing and additional bans are possible.
CYCLING
IN: 11
OUT: ?
No word from governing body the UCI but its president Brian Cookson says: "It would be difficult for us to ban an entire team."
EQUESTRIAN
IN: 5
OUT: 0
The International Equestrian Federation has cleared the five members of the Russian team to compete at the Games.
FENCING
IN: 16
OUT: 0
The International Fencing Federation said it has "re-examined" the nearly 200 tests taken by Russia's fencers over the last two years and found them all to be negative. It also said the team had been tested in 35 different countries, including at last month's European Championships in Poland.
GOLF
IN: 1
OUT: ?
World number 338 Maria Verchenova is the only Russian golfer in Rio. There has been no response yet from the sport's Olympics-affiliated body, the International Golf Federation.
GYMNASTICS:
IN: 20
OUT: ?
The International Gymnastics Federation is working "as soon as possible" to establish the "pool of Russian eligible athletes", although Russian media has reported the Russian federation saying it was confident all of its gymnasts would be okay.
HANDBALL
IN: 14
OUT: ?
The International Handball Federation has requested "urgent" information regarding the current location of the Russian women's team so its 14 players can be tested "as soon as possible".
JUDO
IN: 11
OUT: 0
International Judo Federation president Marius Vizer has indicated that none of the 11 members of the Russian judo team will be barred from the Games.
MODERN PENTATHLON
IN: 3
OUT: 1
One Russian athlete, Maksim Kustov, plus a reserve, Ilia Frolov, have been barred by the sport's governing body, the UIPM, after being implicated in the "false positive" scandal.
ROWING
IN: 6
OUT: 22
Governing body FISA banned Ivan Balandin for a "missing positive" and Anastasia Karabelshchikova and Ivan Podshivalov for having previously served doping bans. After individual assessments, 17 further rowers and two coxswains were ruled not to meet the IOC's conditions regarding testing outside of Russia.
SAILING
IN: 6
OUT: 1
Six members of the Russian sailing team have been provisionally cleared to compete by the World Sailing Board. One, Pavel Sozykin, has been barred due to him being named in the McLaren report but Russia can call up a reserve sailor.
SHOOTING
IN: 18
OUT: 0
The International Shooting Sport Federation's executive committee voted unanimously that all 18 Russian athletes should be allowed to compete, as none are referenced in the McLaren report.
TABLE TENNIS
IN: 3
OUT: ?
The International Table Tennis Federation (ITTF) is investigating table tennis' involvement in the McLaren report and will make a decision on the selected Russian athletes this week.
TAEKWONDO
IN: 3
OUT: ?
There has been no response from the World Taekwondo Federation (WTF), although the Russian federation has told national media that it thinks its athletes will be cleared to fight.
TENNIS
IN: 8
OUT: 0
The International Tennis Federation (ITF) says Russian players nominated for Rio have already been subject to a total of 205 drugs tests since 2014 and will be allowed to play.
TRIATHLON
IN: 6
OUT: 0
The International Triathlon Union said the three men and three women in Russia's team are all eligible under the IOC criteria.
VOLLEYBALL
IN: 30
OUT: 0
Governing body the FIVB said: "Russian athletes have been tested at the same level as all other countries and the majority of the testing analysis of Russian athletes has been conducted outside of Russia." This means the men's and women's teams in the indoor event, two teams in the men's beach volleyball and one in the women's beach volleyball are all eligible to play.
WEIGHTLIFTING
IN: 8
OUT: 2
Russia has already had two quota places removed for repeated doping violations. The International Weightlifting Federation will ratify the participation of the remaining team members on an individual basis, although there is still a good chance the entire team will be barred as a result of the reanalysis of samples from the Beijing and London Games. Eleven weightlifters - including four Russians - were suspended by the IWF on Wednesday evening after retested samples from London 2012 returned adverse analytical findings.
WRESTLING
IN: 17
OUT: ?
United World Wrestling says the Russian testing labs implicated in doping violations are not part of its testing protocol. It has requested more information and evidence regarding wrestlers said to be involved in "disappearing positive tests".
PA
Register for free to continue reading
Registration is a free and easy way to support our truly independent journalism
By registering, you will also enjoy limited access to Premium articles, exclusive newsletters, commenting, and virtual events with our leading journalists
Already have an account? sign in
Join our new commenting forum
Join thought-provoking conversations, follow other Independent readers and see their replies