The Independent's journalism is supported by our readers. When you purchase through links on our site, we may earn commission.
Tim Foster: 'This is it, this is what you have lived for. You can't stop'
Olympic Moments - No.9 Coxless Fours (2000): The Olympic champion recalls the searing pain involved in winning gold in Sydney – five in a row for a publicity-shy Steve Redgrave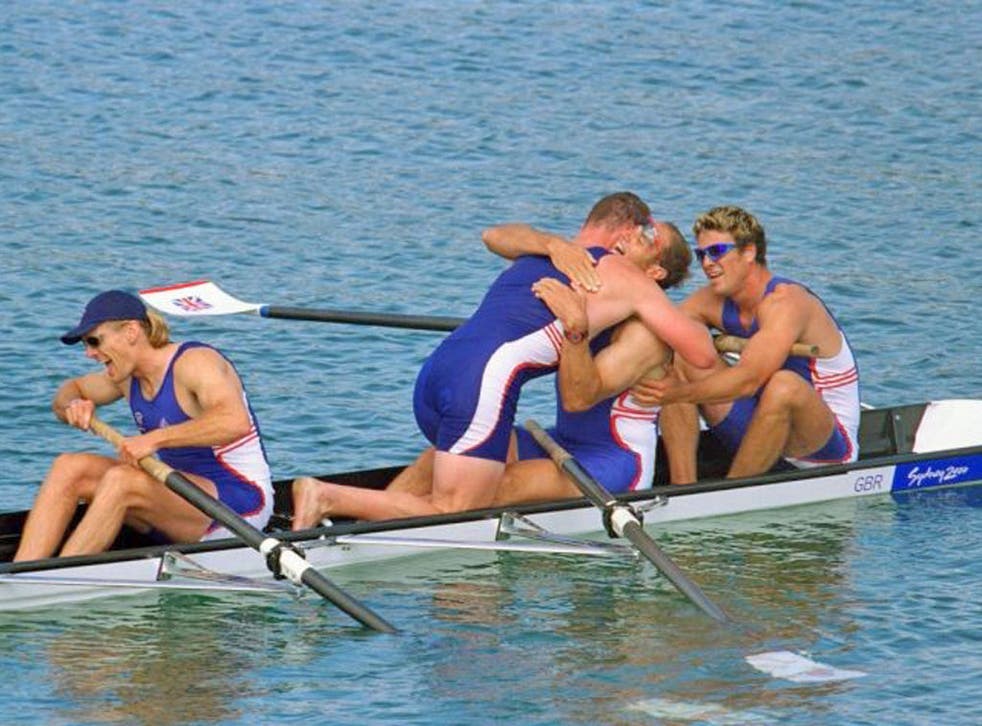 Matthew Pinsent was already a double Olympic champion and, in normal circumstances, he would have taken all the attention, but Steve Redgrave was in the boat...
Matthew enjoyed the publicity; Steve hated it with a passion. But with the prospect of five golds in the offering from five consecutive Games, it was him they always wanted. Steve refused to take the limelight. In the early days of the four, after James Cracknell and I came in, he would say, "If you want a photograph you either take one of the whole team or you don't get one at all".
On the day of the final, the banks were filled with British fans. Everyone knew what it meant to Steve. This was history in the making. But on the start line it was quiet, eerily so. The crowds were all gathered at the other end. I sat there waiting, trying to think of something inspirational.
We had practised so many times. We knew what we had to do. That is all you can do, focus on what you can control. Our tactics were very simple: get out in the lead early and dominate. That way we could see all the other boats and react to any spurt or move.
We knew what the Italians would do – they had done the same in every other race. They would keep in touch and then push on at the half-way point to try and take the lead.
We saw it, and reacted, but this time they kept coming, and coming. With about a minute to go, I vividly remember, having a devil on each shoulder. One was telling me: "Give up now, Tim. Your heart rate is 200. Your lungs are burning. Your legs are burning. It's not worth the pain. Ease up, ease up." And the other was saying: "Tim, this is it. This is what you have lived for it. You can't stop. It's just one more minute, keep going, keep going." Thankfully, the second devil won out.
A number of people have said since that had the race been 50 metres longer we would have lost. That may have been true, but it's an utter irrelevance. You train for the distance not a metre more and not a metre less.
Once the boat stopped, I collapsed exhausted. In the weeks, months and years leading up to the final, Steve and Matthew kept repeating that the pain goes away the moment you cross the line as an Olympic champion. They used that constantly to push myself and James on. But it was one big lie. Yes, there was the euphoria, but my abiding memory was the pain: the burning lungs and the burning legs.
But the realisation of what we had achieved was also immediate. I had spent 14 years building up to this one day. I had used it as a motivation tool. Every day I had imagined what it would be like to take gold. It was 10, 100 times better than that.
And then there was Steve. Matthew knew straight away what it meant – the true significance of five golds at five consecutive Games. I could barely move, but Matthew was determined to congratulate him. He climbed over me, he wanted to give Steve a hug. But Matthew was hot, sweaty and dressed in Lycra. He wasn't the most welcoming of sights. Steve was having none of it and pushed him into the water. In hindsight it was probably quite dangerous. We barely had the strength to pull him back in.
It made a huge difference to do it as a team. It is far greater than winning as an individual. I always compare it to going to see the best film ever, but going on your own. And then magnify that experience a million times. Having the team with you, makes it feel so much more special.
Then came the ceremony. I was belting out the anthem, but all the others didn't even know the words. You would have thought given all their previous success – Steve's four golds and Matthew's two – that they would have known it by now.
Every time I hear the national anthem now it takes me back to that moment; maybe that's a bit selfish, but I can't help it, it was that special.
This series is being run in conjunction with Richard House Children's Hospice. Richard House is based in the Olympic borough of Newham. It caters for children with life-limiting, life-threatening and complex healthcare conditions. Visit facebook.com/richardhousech
Register for free to continue reading
Registration is a free and easy way to support our truly independent journalism
By registering, you will also enjoy limited access to Premium articles, exclusive newsletters, commenting, and virtual events with our leading journalists
Already have an account? sign in
Register for free to continue reading
Registration is a free and easy way to support our truly independent journalism
By registering, you will also enjoy limited access to Premium articles, exclusive newsletters, commenting, and virtual events with our leading journalists
Already have an account? sign in
Join our new commenting forum
Join thought-provoking conversations, follow other Independent readers and see their replies