Russian Deputy Prime Minister dismisses Pussy Riot assault as 'provoked'
Dmitry Kozak accused Pussy Riot members of searching for conflict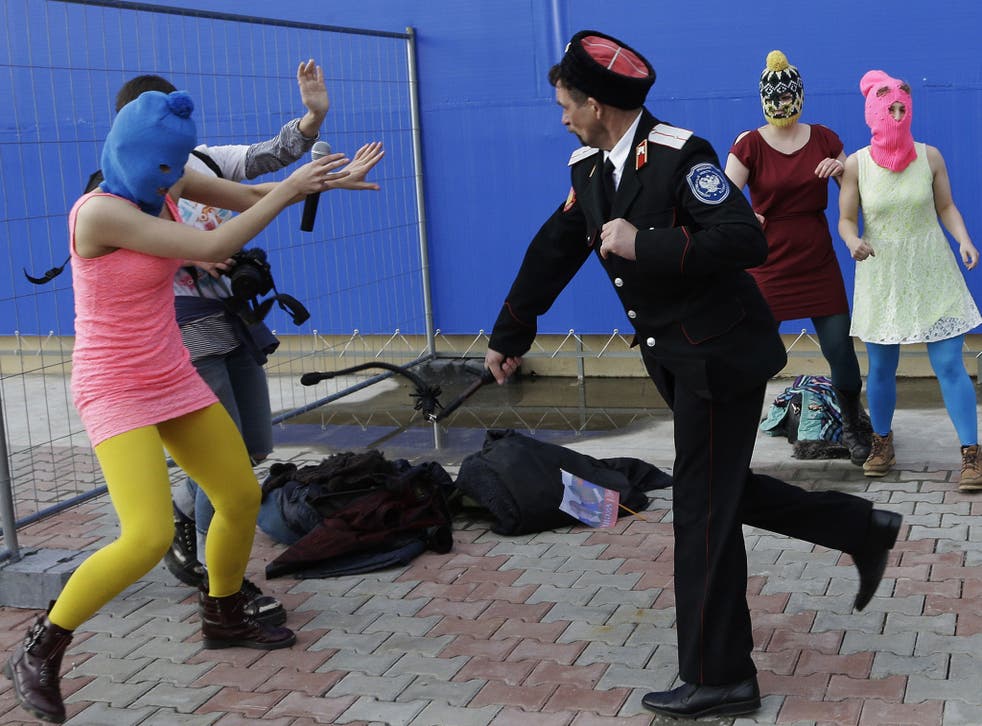 The Russian deputy prime minister has dismissed the recent attack on protest group Pussy Riot as they performed under a sign advertising the Winter Olympics, by accusing them of coming to Sochi "specifically to provoke conflict".
Dmitry Kozak said the incident, which saw five members of the group and a cameraman whipped by Cossacks, occurred because its members had been searching for conflict "for some time".
"The girls came here specifically to provoke this conflict," Mr Kozak said.
"They had been searching for it for some time and finally they had this conflict with local inhabitants."
One Cossack appeared to use pepper spray and another whipped several group members during Tuesday's attack. One Pussy Riot member was left with blood on his face, saying he had been pushed to the ground.
The Cossacks have been serving as volunteer security officials during the Games, where they were hired to patrol Sochi.
Pussy Riot: Story in pictures

Show all 27
His comments came during a press conference where he lauded the Sochi Winter Olympics for "breaking the ice of scepticism towards new Russia".
He praised Russia for delivering a world-class Games, according The Sydney Morning Herald, which he said has made the country "more appealing and understandable for the rest of the world".
He also described the "smiling police officers" and the additional security staff brought in to deal with increasing fears over safety during the Games following two suicide attacks in Volgograd as legacy of the Games.
"We were certain that our security forces would be able to complete the tasks given to them," he said. "All of us have fulfilled this task brilliantly."
Register for free to continue reading
Registration is a free and easy way to support our truly independent journalism
By registering, you will also enjoy limited access to Premium articles, exclusive newsletters, commenting, and virtual events with our leading journalists
Already have an account? sign in
Register for free to continue reading
Registration is a free and easy way to support our truly independent journalism
By registering, you will also enjoy limited access to Premium articles, exclusive newsletters, commenting, and virtual events with our leading journalists
Already have an account? sign in
Join our new commenting forum
Join thought-provoking conversations, follow other Independent readers and see their replies