Sochi Winter Olympics 2014: That's our Jenny Jones - the first British snow angel
Podium finish in snowboard slopestyle event comes on second day of the Games
Robin Scott-Elliot
Sunday 09 February 2014 12:21 Comments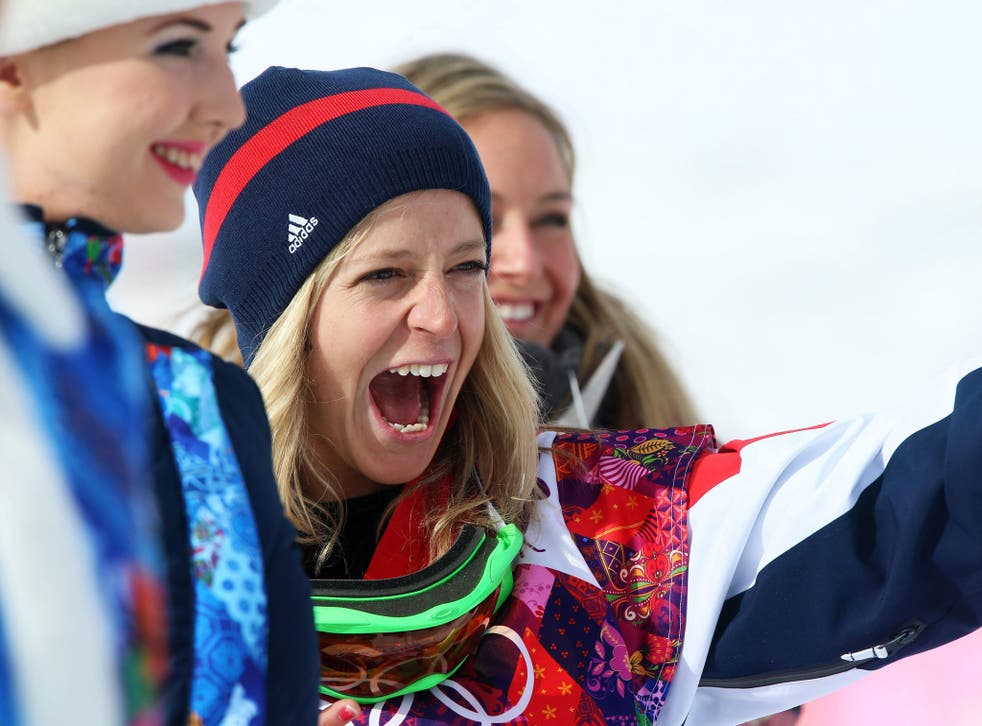 On Saturday evening Jenny Jones received a text from her mother. "I love you," it said and signed off with three kisses. She watched an episode of Downton Abbey and then went to bed. A big day lay ahead. It turned out to be the biggest of her life.
On Sunday morning she tucked her multi-coloured snowboard under her arm and set off on the 10-minute walk to the slopes from the athlete's mountain village and into the history books. By early afternoon Jones had claimed Britain's first medal of the Sochi Olympics, a bronze in the slopestyle, but her achievement went far beyond that.
In 90 years of trying, no Briton had won an Olympic medal on snow. The previous 22 winter medals all came on ice – provided by skaters, bobsleighers, curlers, skeleton athletes and ice hockey players. Last night in the Medal Plaza in the main Olympic Park, some 50 miles from the mountains where it had been won, a snow medal was hung around Jones's neck.
She betters the fourth place achieved by Gina Hathorn in the slalom in Grenoble in 1968. Hathorn was 0.03sec short of bronze; Jones won bronze by a quarter of a mark. These are tiny sporting margins.
Her moment came when the pre-event favourite, Anna Gasser, slipped while completing the final run. Jones was promptly enveloped by a fit of the giggles, her reaction to the abrupt freeing of tension of the final, the day – which had begun with her squeezing through the semi-finals – and even the four days since she struggled in qualifying.
Jenny Jones wins Olympic slopestyle bronze: in pictures

Show all 10
Eight of the dozen final places had been filled on Thursday, with the remaining four sorted out in what was effectively a repechage Sunday morning between 12 boarders. Jones took the penultimate place while her British team-mate Aimee Fuller crashed out.
As the 11th-ranked of the final 12, Jones was the second rider to go. Her first run scored 73 and put her in fifth position at the halfway. Her second was better, much better, and after an anxious three-minute delay while the judges made their minds up, earned 87.25. That was good enough to take her into gold medal position. Now all she could do was wait.
For 15 minutes she remained in gold, then Finland's Enni Rukajarvi scored 92.5. Time stretched out. Two riders fell. Out came Jamie Anderson, Jones's friend and sometime host when she stays in the US. To whoops from her American team-mates, Anderson bounced over the jumps and slid easily over the rails and was awarded 95.25.
There were two more to come – the running order sees the best qualifiers go last – and the medal was slipping from her grasp, but both Isabel Derungs and Gasser were to make crucial slips.
"All that waiting!" said Jones. "I was only the second person to drop and there were so many more girls to come. I absolutely knew I would drop down but it was just a question of how far I would drop down. As I was watching I was thinking, 'Oh gosh, she fell, oh no, but it means I'm still here'. When the last girl went and I realised she had messed the rail a bit, it was just like, 'Oh my goodness. I am on the podium'."
When she stepped onto that podium on Sunday night, watched by her mother, a midwife, and father, a retired fireman, it was the final step in a long and at times painful and gruelling journey. It began on a dry slope in Somerset but it was not until she was 18 that Jones first boarded on snow. Before heading to university she told her parents she was taking a year off and left to work as a chalet maid in France.
Her mother, Helen, told the story. "We tried to get in contact with her at the chalet and we couldn't contact her – she'd left. Eventually Pete got hold of her on the phone and asked her where she was and she said, 'Listen, I've chucked the job in, entered a snowboarding competition and I've just won the British junior championships'. That's the first we knew! That's Jen."
The early years were tough. A series of part-time jobs – working in a cardboard factory, flipping burgers in Vancouver, hotel work – kept her afloat off the slopes as she improved on it. In 2009 she won the first of two Winter X Games titles but while other snowboard disciplines were admitted to the Olympics, slopestyle remained on the outside.
"It was only two years ago that it was announced it was going to be in the Olympics and I was like, 'Gosh can I hang on that long?'," said Jones, now 33.
It is four years since her last X Games triumph. A medal in the World Cup last year demonstrated she could still have her moments. She was, though, no longer one of the big guns as a new, younger generation led by Anderson and her compatriot Karly Shorr emerged. Within the sport there were plenty who thought her best days were gone; slopestyle's debut was a Games too late for Jones.
In December she was concussed after crashing on a training run in Austria. Come Christmas she was still groggy. Her parents, and for a time Jones herself, believed the Games were gone. It was not until New Year's Eve that her neurologist gave her the all clear and the very next day she was on a flight to the States to Britain's pre-Games training camp.
As they soaked in their daughter's achievement on Sunday afternoon, her parents spoke of the single-mindedness that has always marked out their youngest child. After she struggled in qualifying they had tried to console her with the fact that at least she was an Olympian. Jones was having none of it.
"We know what Jen is like," said Pete Jones. "She likes the podium." Last night he saw his daughter step onto the Olympic one and into British Olympic history.
"It's ridiculous," said an ecstatic Jones. "That's me. Me from Bristol!"
Register for free to continue reading
Registration is a free and easy way to support our truly independent journalism
By registering, you will also enjoy limited access to Premium articles, exclusive newsletters, commenting, and virtual events with our leading journalists
Already have an account? sign in
Join our new commenting forum
Join thought-provoking conversations, follow other Independent readers and see their replies