Tarnished gold: Some of the 'great' Olympics cheats
Faster, higher, farther...sneakier? From non-disabled Paralympians to rigged fencing foils and badminton players intent on losing - here's our guide to the Olympians who fell far short of the high Olympic ideals...
Tarnished gold: Some of the 'great' Olympics cheats

Show all 5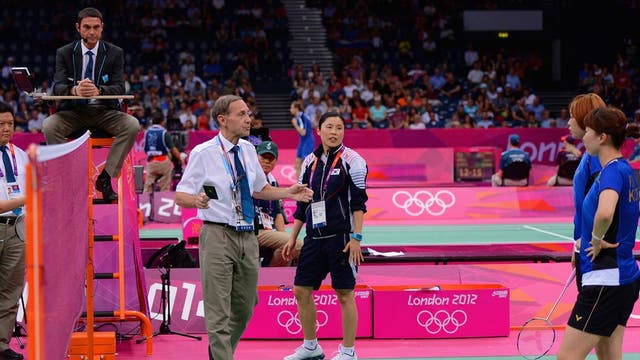 In the long history of Olympic cheating last night's effort (or rather lack of it) by badminton players at Wembley Arena is a little unusual.
Rather than attempting to win through the employing of devious methods the players from China and South Korea, in fact, appeared to be attempting to lose in order to manipulate a draw.
The farcical scenes that saw players booed, jeered, disqualified and then reinstated - have today led to the launching of disciplinary proceedings against the four players.
The fiasco began when Chinese top seeds Wang Xiaoli and Yu Yang started to show little interest in beating Koreans Jung Kyung-eun and Kim Ha-na to finish top of Group A.
Coming second would have meant avoiding compatriots and second seeds Tian Qing and Zhao Yunlei at least until the final.
Tian and Zhao had been sent off their natural path to the final as second seeds by defeat to Denmark's Kamilla Rytter Juhl and Christinna Pedersen earlier in the day.
The Koreans responded to China's antics by copying them and referee Thorsten Berg emerged to warn all the players and subsequently disqualify and reinstate them.
Though the desire to lose may have been unusual, mendacity, manipulation and outright cheating at the Olympic games are nothing new...
Ben Johnson, Seoul, 1988
There were drug cheats before, and there have been drug cheats since. But it took the downfall of Ben Johnson to demonstrate the apparent ubiquity of banned substances at the very highest level of sport.
On the evening of 24 September, the Canadian sprinter set a new world record of 9.79 seconds in the men's 100m final, lifting his hand in triumph as he crossed the finish line ahead of arch rival Carl Lewis and Britain's Linford Christie, in what a BBC commentator declared "the greatest sprint race in history".
Three days later, it became the most tarnished. Johnson was stripped of his medal, and had his record expunged after a sample of his urine tested positive for stanozolol, an illegal steroid. He initially denied cheating, but later confessed – arguing that drug use was endemic in top-tier athletics. In a way, he had a point: six of the eight finalists in that famous 100m race were at some point in their careers tainted by association with "juicing", and several, like him, served bans. But no one fell further, or harder, or more publicly than Ben Johnson. And somehow, the Olympic ideal would never feel quite the same.
Boris Onischenko, Montreal, 1976
At the height of the Cold War, when Olympic sports were a cipher for political clashes between East and West, the heavily-favoured Russians took on second-favourites, Great Britain, in the fencing leg of the Modern Pentathlon.
Onischenko, who had won silver in the previous two Games, and was desperate to go one better, easily dispatched the UK's Danny Parker. Then he won a baffling bout against Adrian Parker, in which the electronic scoreboard registered a hit, despite an apparent lack of contact between Onischenko's épée and Parker's body.
Next up was Jim Fox, a British Army captain. Early in their bout, the scoreboard once more lit up, suggesting a Soviet triumph. But Fox, who was sure he'd taken evasive action, was having none of it – and demanded an examination of his opponent's sword. "I thought the weapon was faulty," he later recalled.
That was only the half of it. Buried beneath the leather handle, judges discovered an intricate wiring system designed to register a "hit" when a small button was pressed. "It was a real engineering job," said Mike Proudfoot, the British team manager. "Not just a ham amateur's effort. They had to dismantle the weapon to discover it."
The Russian was disqualified, sent home in disgrace, and dubbed 'Dishonischenko' by the British tabloids. Fox and his colleagues eventually won gold, registering a victory for fair play, in the face of perhaps the most audacious piece of cheating in Olympic history.
Fred Lorz, St Louis, 1904
The 1904 men's marathon took place on a sweltering day, over a hilly dirt course made all the more gruelling by huge clouds of dust thrown up by the vehicles accompanying the runners.
Lorz, a New York bricklayer, triumphantly crossed the finish line in three hours and 13 minutes, roughly a quarter of an hour ahead of his nearest rival. He'd already been photographed with Alice Roosevelt, the President's daughter, and was preparing for the medal ceremony, when a spectator cried foul.
It soon emerged that Lorz had actually withdrawn from the race after just nine miles, before being picked up by his trainer and driven a further 11 miles. When their car broke down, he continued on foot back to the stadium – where the crowd greeted him as the winner. He decided to go along with it, he later claimed, as a "practical joke".
The gold medal eventually went to Thomas Hicks, another US athlete. But his victory was also tarnished: during the race trainers had twice given him a "tonic" of strychnine mixed with brandy, to counteract the effects of the hostile conditions.
Since performance-enhancing drugs were not illegal at the time, Hicks was allowed to keep the medal. But among purists, he is still regarded as the first Olympic drug cheat.
Ewa Klobukowska, Tokyo, 1964
After decades of nudges, winks, and unflattering rumours about Eastern Bloc shot-putters and their mysterious Adam's apples, the IAAF decided in 1967 to finally introduce gender testing for female athletes.
First to fall foul of the new regime was Klobukowska, a Polish sprinter who had taken bronze in the 100m final three years earlier, and was part of the country's gold-medal-winning 4x100m relay team. In a diplomatically-phrased statement, the IAAF declared that she'd been stripped of her titles after being found with "one chromosome too many".
Despite her masculine appearance, Klobukowska, who was born in Warsaw in 1946 (and had been raised a girl) was soon vindicated: in 1968, she became pregnant and successfully bore a son. It seems likely that she suffered a genetic abnormality, and was perhaps therefore dealt an injustice by the testing regime of the day.
The Olympian spirit might have been better served had the authorities been more pro-active against gender cheats a generation earlier. In 1936, Hitler's Germany cheered on Dora Ratjen, a deep-voiced, broad-shouldered high jumper who refused to share the showers with other female athletes. In later life, it was reported that 'she' had adopted a more appropriate first name: Herman.
Hans-Gunnar Liljenwall, Mexico City, 1968
Competitive pistol shooting requires a steady hand, and nerves of steel. Swedish Modern Pentathlete, Hans-Gunnar Liljenwall, found this relatively easy to achieve: shortly before stepping up to the oche, he steadied his nerves with a strong drink.
Alas, newly-introduced anti-doping laws meant that Mexico was the first Games at which athletes were tested for performance-enhancing substances. After being found with "excessive quantities" of alcohol in his system, Liljenwall confessed to competing under the influence of "two beers" and had to return his bronze medal.
The affair gave the Swede the dubious honour of being the first-ever Olympian to be disqualified from a Games for drug abuse. After a lengthy inquiry, it also saw his teammates forced to return their gongs.
In hindsight, they were perhaps hard-done-by: as many as 14 of Liljenwall's rivals are rumoured to have tested positive for tranquillizers during the pistol-shooting in Mexico. But they went unpunished, because tranquillizers were at the time not on the official list of banned substances.
Dong Fangxiao, Sydney, 2000
It was an Olympics to remember for Chinese gymnasts, who matched what was then their nation's best-ever record with a tally of eight medals, including overall gold for the men's team and bronze for the women. Central to the women's success had been Dong Fangxiao, a 17-year-old from Hebei who finished sixth on the floor, seventh in the vault, and 15th on the bars. She went on to clean-sweep the gold medals at the following year's East Asian games, before retiring the following year, at the age of 18.
Or not, as the case may be. Age falsification had been an issue in gymnastics since the 1980s, when the minimum age of Olympians was raised from 14 to 15 to protect developing athletes from injury (it was increased to 16 in the late 1990s). In 2010, amid rumours that most of the 2008 Chinese team were underage, the IOC launched an inquiry.
Official paperwork suggested Fangxiao's year of birth was indeed 1983. But sharp-eyed investigators noticed that her own blog claimed she was born in the Year of the Ox, which ran from 1985-6. Additionally, in accreditation forms for the Beijing games, where she'd been a coach, she'd entered her DOB as 23 January, 1986.
Claiming to be "unsatisfied" at the inconsistencies, the IOC struck Fangxiao's scores from the Olympic record and withdrew her team's bronze medal. Despite the scandal, when they investigated the 2008 team, the IOC could find no proof that China's suspiciously-youthful gymnasts were under 16.
Bertil Sandstrom, Los Angeles, 1932
Always the bridesmaid, Swedish dressage rider Bertil Sandstrom and his horse Sabel had won silver medals in 1920 and 1924 games. In 1932, he returned on a well-appointed mount called Kreta hoping to go one better.
It wasn't to be. Despite officially finishing in second place behind Frenchman Xavier Lesage, judges ruled that he had illegally encouraged Kreta during the contest by "clicking" at him. He was promptly demoted to last place.
At a subsequent hearing before the event's Jury of Appeal, Sandstrom claimed that the "clicking" noise heard by judges had in fact been his polished leather saddle creaking. They didn't buy his excuse, but did allow him to compete in the team event. True to form, he helped Sweden finish in second place.
Despite its respectable reputation, equestrianism has long been a forum for Olympic skulduggery. In 2008, four show-jumpers – from Germany, Ireland, Brazil and Norway – were disqualified after capsaicin was found in their horses. The painkiller, which boasts performance-enhancing qualities, had long been illegal. But a reliable test was only recently available.
Park Si-Hun, Seoul, 1988
No one can watch a recording of the famous light-middleweight boxing final between Korea's local hero, Park Si-Hun and a certain Roy Jones Jr, of the USA, without realising that it ended with the wrong man winning.
In three accomplished rounds, Jones does all but knock out his opponent, landing 86 punches, among them some ferocious left hooks, to Park's 32, and forcing the referee to administer two standing eight-counts. The Korean was twice warned that he faced disqualification if he failed to properly defend himself.
When the final bell went, the crowd waited expectantly for Jones to be crowned Olympic champion. Then, the unthinkable: three of the five judges, a Ugandan, a Uruguayan, and a Moroccan, scored the bout in Park's favour. As the referee held the Korean fighter's arm aloft, he turned to Jones. "I can't believe they're doing this," he said.
At the medal ceremony, a clearly embarrassed Park held the fist of his opponent aloft, while the crowd booed. Jones graciously said that he "didn't blame" his opponent for the fight being rigged.
Instead, he declared it to be the fault of the judges, who were promptly suspended.
Did Park cheat? Probably not. But someone clearly did. A subsequent IOC investigation found that all three of the dodgy officials had been wined and dined by Korean administrators in the run-up to the event.
However, despite rumours of bribery and strange betting patterns throughout the Games, it concluded that there was "no evidence of corruption" at the Seoul boxing events.
The Spanish Paralympic basketball team, Sydney, 2000
There are few more heart-warming celebrations of the human spirit than a Paralympic Games. Or at least there were, until Spain decided to make a serious play for gold in the blue-riband event of basketball.
The side performed remarkably well on their way to the 'intellectual disability' title. Too well, in fact: in the first round, coaches allegedly ordered them to allow opponents more shots at the basket, to help narrow a suspicious 30-point margin that had opened up by half-time.
Scandal erupted after the tournament finished, when photos of the victorious side appeared on the front pages. Several were swiftly recognised by friends as able-bodied club basketballers. Some had university degrees. Tests then revealed that only two of the 12 members of the team had an IQ of less than 75, the level required to be classified a Paralympian.
In the ensuing fallout, evidence of an organised conspiracy emerged. Desperate to secure sponsorship and lucrative government grants, well-renumerated Spanish administrators had simply cherry-picked a dream squad, from the ranks of their country's most accomplished amateurs. Fernando Martin Vicente, the mastermind of the extraordinary scam resigned, and athletes with alleged 'intellectual disabilities' banned from subsequent games.
Join our new commenting forum
Join thought-provoking conversations, follow other Independent readers and see their replies