Wheelchair rugby secures £500,000 investment for Tokyo 2020 as part of £3m Aspiration Fund
A total of 14 Olympic and Paralympic sports will benefit from the fund with skateboarding, surfing and softball also included for the first time by UK Sport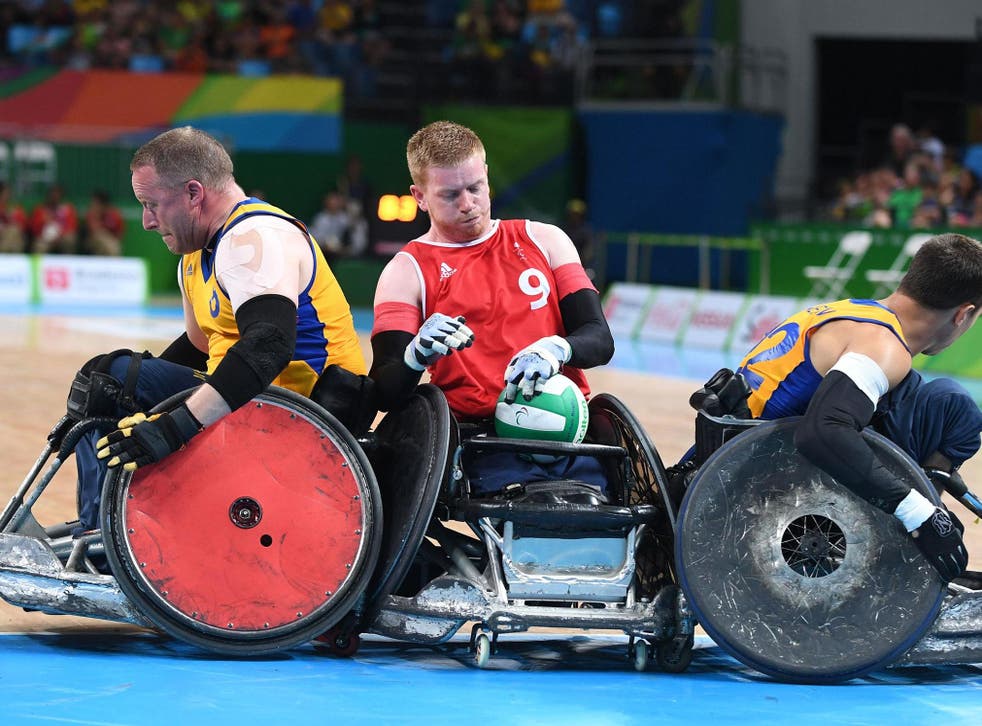 Wheelchair rugby is the big winner in terms of investment from a new £3m Aspiration Fund to support Tokyo 2020 Olympic and Paralympic ambitions.
The sport, which was previously unfunded, will receive the maximum £500,000 investment for a team sport.
UK Sport announced that a total of 14 sports have obtained funding, with table tennis and badminton each being awarded more than £250,000.
New Olympic sports of skateboarding, surfing and softball will also receive investment - the first time they have gained UK Sport funding - but those missing out include basketball, volleyball and handball.
The Aspiration Fund, which was announced by the Department of Digital, Culture, Media and Sport in October, aims to support sports that do not currently receive full UK Sport funding to develop plans to help teams and athletes realise ambitions for the Tokyo Games.
Rio 2016 Olympics - in pictures

Show all 74
Sports eligible to apply for the fund include all the unfunded summer Olympic and Paralympic sports, new sports for Tokyo 2020 and those currently in receipt of individual athlete medal support plan funding from UK Sport.
The first raft of investments follow a UK Sport board meeting this week, while just under £118,500 will be held by UK Sport to consider investments for sports to attend qualification events where appropriate, such as women's basketball.
UK Sport and the DCMS announced a funding support package of £500,000 for British Basketball seven months ago, which is currently being given to the sport in instalments.
Alongside their qualification plan, sports seeking funding were asked to submit details of how they will capitalise on the impact of competing at the Games and engage and inspire future generations.
And it represents a departure from UK Sport's usual no-compromise approach, with sports normally expected to have medal potential, rather than only qualification potential.
Aspiration Fund grants are capped at £500,000 for team sports and £275,000 for individual sports, and will run to the end of the Tokyo 2020 cycle.
UK Sport chief executive Liz Nicholl said: "This new Aspiration Fund is a fantastic opportunity for these athletes and sports to get on track for the Tokyo Games.
"Many of the sports we are currently unable to support, whilst further away from reaching the podium, have the potential not only to inspire through their performances on the field of play but also to inspire new audiences to engage in sport and activity."
And Sports Minister Mims Davies added: "The Olympic and Paralympic Games is the pinnacle for athletes across the world.
"This £3m fund will give more athletes in more sports the chance to compete at the very top in Tokyo."
List of investments, less programme running costs:
Archery - £192,500
Badminton - £259,679
Beach volleyball - £68,750
Climbing - £192,500
Fencing - £192,500
Goalball - £125,000
Karate - £68,750
Skateboarding - £166,825
Softball - £62,500
Surfing - £192,500
Artistic swimming - £192,500
Table tennis - £275,000
Weightlifting - £192,500
Wheelchair rugby - £500,000
Unallocated funds - £118,496.
PA
Join our new commenting forum
Join thought-provoking conversations, follow other Independent readers and see their replies