Tokyo 2020's worrying water quality a concerning issue that threatens to rain over Olympic parade
A survey was carried out this month where the Olympic triathlon and marathon swimming events will take place in 2020. The results were damning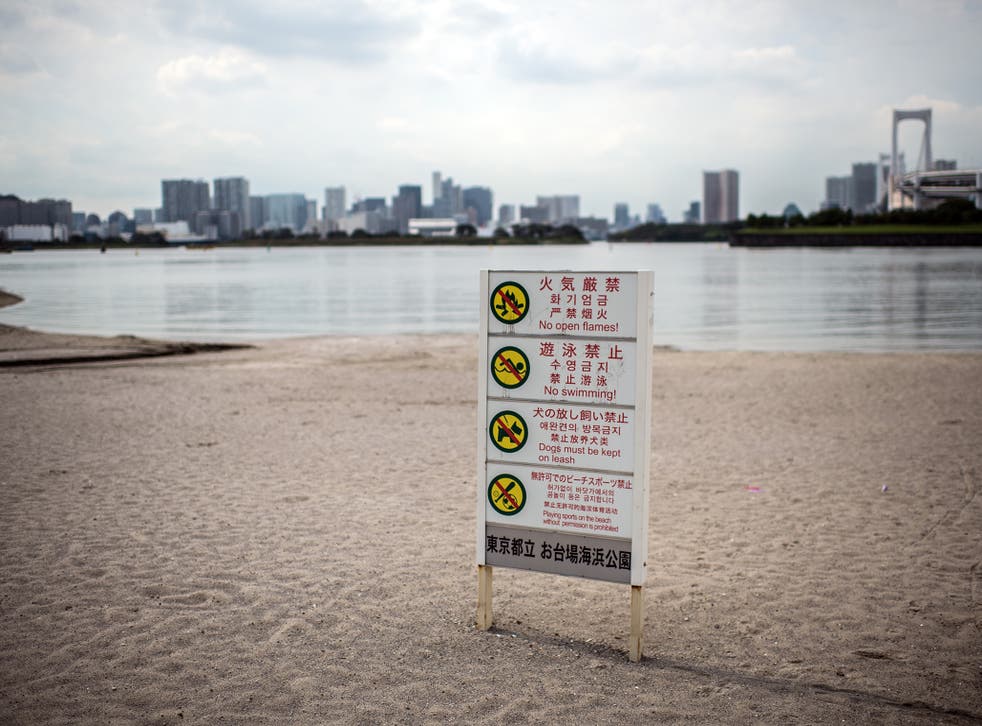 Bubble tea has become a widespread phenomenon in Tokyo. Outside Alley Lujiaoxiang toward the south of the city, locals flood on to the pavement to get a taste of the 'Bonsai Garden' special - an insipid camel coloured tea with a trowel's worth of imitate soil dumped on top. High in antioxidants, presumably high in E Numbers, but delicious so I'm told.
However, unfortunately, a real epidemic has soiled the water around the city's artificial island, Odaiba. A rather less sought after E number, E. Coli.
A survey was carried out this month where the Olympic triathlon and marathon swimming events will take place in 2020 to determine whether the water meets the criteria set by the sport's respective governing bodies. And the city so well known for being sparkling and sterile, ranging from its metallic towers to the automated toilets, performed to little more than archaic standards.
In the water there was, at points of testing, up to twenty times the required limit of E. Coli present, up to seven times the amount of detectable faecal coliforms and up to seven times the amount of the enterococci bacteria. Of the nine categories tested over the two events, the toxic brew was over concentrated in seven.
Rio 2016 Olympics - in pictures

Show all 74
Tokyo 2020 official, Hidemasa Nakamura, who is now faced with the unenviable task of effectively sieving this small patch of the Pacific Ocean, assured competitors that the boggy beach, described fifteen years ago by the Japan Times as "unsuitable for a sewer rat", will not be the type of mutative sludge which spawns cartoon characters come the Olympics.
"We will create an environment that will enable athletes to perform at their best with a sense of safety," he said at a press conference with a nose wrinkle of enthusiasm.
We are nauseatingly reassured that the reason for the water's contamination is 21 days of relentless rain last summer which caused the chronically overspilling sewage plants in Tokyo Bay to burst their ill-fitting confines before ebbing into the waters which surround Odaiba.
The solution, so we are told, is simple. Underwater screens can be installed as defensive fortifications against the invading faecal matter reducing levels by 90% during light rain. The date and timing of the Olympic events too can be altered to accommodate for the weather if a drizzle threatens to overload the 16,000 creaking pipes underneath Tokyo.
Except Odaiba's hapless 800 metre beach has never been a utopian tourist attraction. Ever since the 1945 firebombing raids, when the need to rebuild and rehouse trumped regulation and restriction, Tokyo Bay has been heavily polluted. For three decades all matter of industrial and domestic effluent leaked unbridledly into the ocean - even during this year's survey an oil film was present on the water on two days.
It made Odaiba distinctly undesirable, but then in 1990, the governor of Tokyo forged the fantasy of transforming the island into a futuristic village, which would hedge 100,000 people and a supernova of newfangled industry, to be flaunted at the International Urban Exposition like a concrete Chelsea Flower Show.
Over one trillion yen was spent on the reconstituted battery which now features a 115-metre high Ferris wheel, both real and virtual amusement parks and, of course, the artificial beach, all of which can be reached via suspension bridge on eerily silent driverless trains.
Yet, six years into the project and the island was in fact so futuristic that human life on it had practically become extinct. Vast numbers of new homes remained soulless and the specialist businesses which relocated there went bankrupt. Children were quickly crestfallen not only to see a sign prohibiting swimming on the beach, but warnings against even treading a toe in the emetic ale due to the pollution.
Even a state-of-the-art purification plant built in 2003, at a further cost of over £5 million, to filter and disinfect the sullied water came to little avail. Last March, the Pan Pacific Swimming Championships were moved from Odaiba to a separate beach 70 kilometres south.
Support free-thinking journalism and attend Independent events
And in August, the slice of sand now rebranded as Odaiba Plage in an effort to associate with its Paris contemporary only endured a six-day trial period - presumably a test to see if the world's elite athletes might experience any life-changing defects come 2020.
Before you could actually swim though, visitors were required to sign a 23-clause agreement, including one which instructed guests to keep their head above the water when swimming if a yellow flag was raised.
At least Odaiba's identity as a promising business paradise has been somewhat resurrected as of late as a batch of new corporations snatch the cheese instead of being stuck by the sewer's mousetrap.
The water, however, which in some cases isn't even transparent to the length of a standard ruler, still awaits a second wave. So desperate has the situation become that even admirably aged activists are devising their own miniature projects to cultivate oxygen-emitting seaweed to purify the portion of ocean.
All of a sudden, to Tokyo 2020's prospective athletes, the radioactive green of Rio may just seem rather tepid and the spaded soil of the 'Bonsai Garden' special rather appetising. Someone may want to warn dear Alistair Brownlee to bring a Hazmat suit as well as his snorkel.
Register for free to continue reading
Registration is a free and easy way to support our truly independent journalism
By registering, you will also enjoy limited access to Premium articles, exclusive newsletters, commenting, and virtual events with our leading journalists
Already have an account? sign in
Register for free to continue reading
Registration is a free and easy way to support our truly independent journalism
By registering, you will also enjoy limited access to Premium articles, exclusive newsletters, commenting, and virtual events with our leading journalists
Already have an account? sign in
Join our new commenting forum
Join thought-provoking conversations, follow other Independent readers and see their replies