Winter Olympics 2014: Business as usual in Sochi – Russia's gay capital
Arrest of more than a dozen LGBT activists in Moscow and St Petersburg served as a reminder of the growing discrimination gay people face in Russia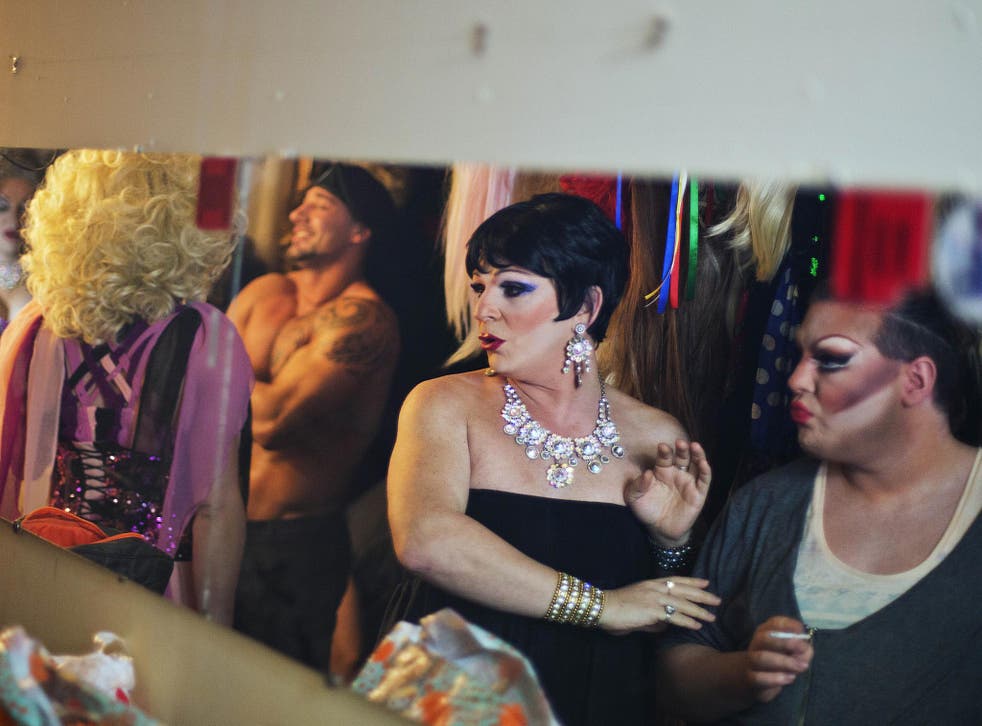 It's Saturday night in Sochi, and Roxanna and Dolores are preparing for their drag show in the dressing room of the gay club Zerkala, painting on sweeping, exaggerated eyelids and eyebrows.
A shiny Olympics shirt, with its patchwork of neo-folk-art patterns in all the colours of the rainbow, looks oddly appropriate on the heavily made-up Dolores, or Kostya, a thin, blonde gay man from Volgograd who has come for two weeks of nightly shows. Despite concern over how Russia's law against gay propaganda among children will affect LGBT people during the Games, this resort city is more accepting of homosexuality than his hometown, he said.
"It's more tolerant here," he said. "It's a little Amsterdam in Russia, but without the excesses."
But the arrest of more than a dozen LGBT activists in Moscow and St Petersburg on the opening day of the Olympics served as a reminder of the growing discrimination gay people face in Russia, and Sochi, which many people call the country's "gay capital," is no exception.
"Even here, you can't walk down the street holding hands with your boyfriend," Kostya said. "The mentality is not there, even in tolerant Sochi."
President Vladimir Putin often depicts Russia as a bastion of "traditional values" against the moral corruption of the West, and the propaganda law he signed in June has inflamed already widespread homophobia and encouraged violence against gay people, LGBT activists say.
On the opening day of the Games, four activists were arrested in St. Petersburg while holding a sign quoting Principle 6 of the Olympic Charter, which prohibits discrimination. Ten protesters were detained on Red Square in Moscow while singing the Russian national anthem and holding a rainbow flag and said they were later beaten by police.
Meanwhile, three American "Street Preachers" greeted huge crowds of Olympic fans and volunteers at Sochi train station on Friday with signs reading "Homo sex is sin" and "God bless Putin for his stand against the sin of homosexuality." The three men were taken to a police station that afternoon, but were reportedly allowed to return to the busy square after they promised to put the "God bless Putin banner" away.
This was despite the fact that the Russian authorities, after initially banning protests in Sochi during the Olympics, have stipulated that all demonstrations be pre-approved and confined to a remotely located "protest zone."
Although Sochi has little history of LGBT activism, the city has been a popular vacation spot for gay Russians since Soviet times, when gay-friendly bars and even an unofficial gay nude beach first opened up. In those days, LGBT people would meet at a local Lenin monument they dubbed "Grandma Lena."
"In Soviet times, Sochi was the gay capital," said Andrei Tanichev, owner of Club Mayak, which attracts more of a mixed crowd than Zerkala for its nightly drag shows featuring mostly lip-synched pop hits interspersed with racy crowd banter. Tanichev moved from Moscow to Sochi 15 years ago with his boyfriend "because we were struck by the tolerance here," he said.
That atmosphere of tolerance has been somewhat preserved thanks to the city's tourism-based economy, said Olga Noskovets, a local environmental and LGBT activist.
"When you pay them money, they don't care" about sexual orientation, Noskovets said. "But as a result of the gay propaganda law, people here are closing themselves off."
"Now I can't imagine that [gay men] would show their feelings openly. Earlier they could," she said.
Patrons and staff see the two gay clubs, where customers have to buzz to be let in through heavy doors, as oases of tolerance and freedom.
"Putin doesn't interfere with the gay clubs; he gives us freedom. The gay propaganda law is a different thing," said Roxanna, a transgender drag queen who performs at both straight and gay venues in Sochi.
"There aren't any problems here in this bar. If you go out on the street everything could be different," said Mikhail, a Mayak patron who declined to give his full name. "They beat people, insult people" over their sexual orientation, he said.
Noskovets plans to leave Sochi after the Olympics to join her girlfriend in the actual Amsterdam. Like many, she anticipates a crackdown on local activists and non-conformers, including members of the LGBT community, after the Games.
"In a month [the journalists] will leave, and then we'll see what we're really made of, what it's really like," she said.
Register for free to continue reading
Registration is a free and easy way to support our truly independent journalism
By registering, you will also enjoy limited access to Premium articles, exclusive newsletters, commenting, and virtual events with our leading journalists
Already have an account? sign in
Register for free to continue reading
Registration is a free and easy way to support our truly independent journalism
By registering, you will also enjoy limited access to Premium articles, exclusive newsletters, commenting, and virtual events with our leading journalists
Already have an account? sign in
Join our new commenting forum
Join thought-provoking conversations, follow other Independent readers and see their replies