Winter Olympics: Women lead in the run-up to Sochi
Next year's winter Olympics could be a rerun of 2012 when it comes to British success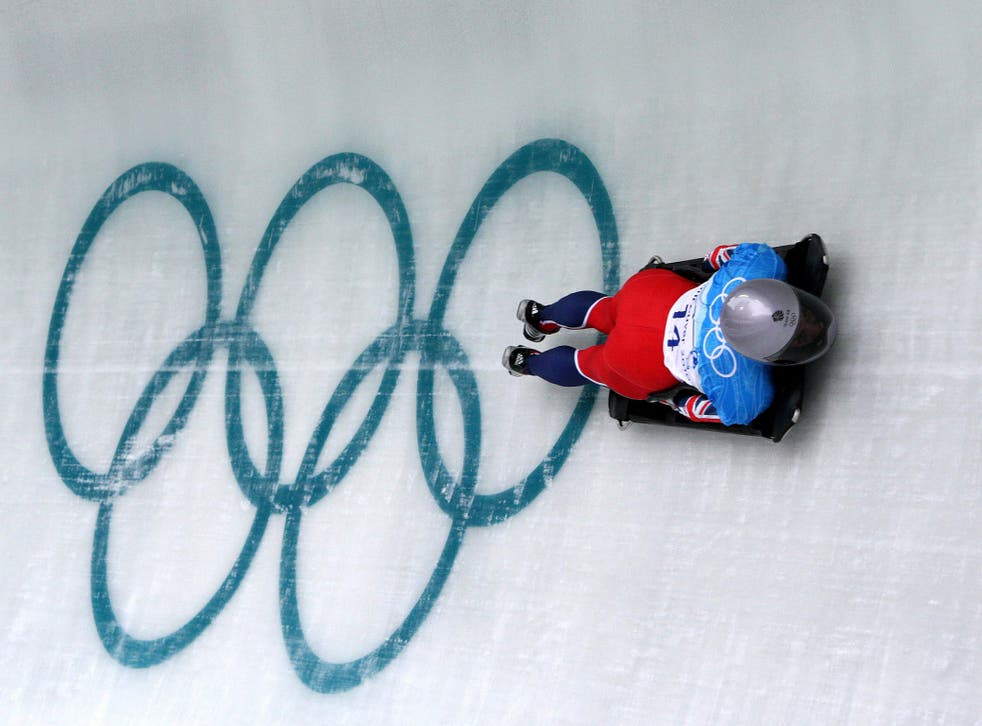 With the Winter Olympics in Sochi exactly one year away, the story of London 2012 is being repeated, with British women setting the pace on the fast track to gold.
Shelley Rudman has a skeleton in her cupboard, one that is certainly a bit of a bone-shaker – 40kg of hi-tech machinery which, when put on ice, goes like a bomb, exploding into 60 seconds of sheer terror at 90mph.
In contrast, Elise Christie hurtles around in circles, going hell- for-Lycra, arms sweeping like windscreen wipers in a frenetic 35mph glide for glory.
Both currently lead the world in their respective sports. The bob skeleton ace Rudman, a shock Olympic silver medallist in Turin seven years ago, won a historic first world championship in St Moritz last weekend, a month shy of her 32nd birthday; a few days earlier in Malmo, the short-track speed skater Christie, 10 years Rudman's junior, became a double European champion, over 1500 and 1,000 metres, and is world No 1 after yesterday's World Cup win.
So what makes British women so successful, particularly in pursuits which demand the ultimate in fitness, skill and above all unbounded bottle?
"It's a good question," says Amy Williams, whose own skeleton victory in Vancouver three years ago was Britain's first individual Olympic winter gold medal in three decades. "Do we train that bit harder, do our brains think in a different way because we are women? Maybe there's something extra inside us that tells us we have to prove to ourselves that we can be as good as the men, and that there's nothing they can do in sport that we can't. Also, one woman's success inspires another's."
Christie offers her own theory about why women are doing so well in sport. "I think these days a lot of girls don't want to be girly. We want action and excitement. I prefer to pull on a jumper and get out on the ice rather than get all dolled up and go out partying."
Whatever the reason, the British Olympic Association are determined to preserve it, appointing Williams, who has retired at 30 after a series of injuries, as a Games ambassador and team motivator. "Fantastic," is how she describes her one-time rival Rudman's result in St Moritz.
She adds: "I hope she can stay up there and medal in Sochi. We have other girls, like Lizzy Arnold, who finished fourth, who can do well too. There's such strength in depth."
Theirs is a sport in which triumph or disaster can be determined by the twitch of a single muscle. Zigzagging along a 1500m ice tunnel on what resembles a tin tray may seem like a slippery slope to insanity, but for exponents such as Rudman, mother to five-year-old, Ella, there's method in this form of madness.
The skeleton, derived from the Norwegian word for sled, skelor, is a cousin of the luge and the bobsleigh. The early sleds also looked like a construction of human bones, but these days they are formed from a highly technical combination of steel and plastic.
Rudman's model is designed by her partner, Kristan Bromley, himself a former world champion and current GB team member, known as Dr Ice. He says that when he was first introduced to the sport, he thought Bob Skeleton was a bloke...
Incredible as it seems, the British, who used to practise in car parks and alleyways, now sit atop the skeleton mountain.
"I think one reason we do so well is actually because we don't have any tracks here," says Rudman. "So we feel we have to prove ourselves to the rest of the world on their own tracks. It gives us more incentive." Rudman is currently taking part in an international event in Sochi, testing the Russian resort's Olympic track.
"Winning the World Championship is a real motivation for the Olympics," she says. "I really feel it has set me up for gold."
There are 18 curves on a skeleton run, all of them dangerous. "At first there's just this incredible silence inside your helmet," says Rudman, "then all you can hear is the clattering as you're going down.
"When you do a corner, well it's a great feeling, a tremendous thrill – whoosh! Then you seem to float your way down. A fraction of a second can be the difference between first and last."
So too in speed skating, which can look a touch eccentric, with racers crouched low almost in imitation of Groucho Marx. Christie turned to it from figure skating as a 16-year-old in Livingston, Scotland, because "you are more in control of things than in a subjective sport [one with marks for artistic impression]. If you cross the line first, you've won. You don't have to rely on judges."
Williams says that preparing for an Olympics is about "waiting and praying for that perfect day when it all comes together". If it does in Sochi for these intrepid sportswomen, Britain will again be whooshing on a star or two.
GB's other winter warmers
James Woods leads the ski slopestyle world standings after winning two World Cups this season. Billy Morgan and Jenny Jones made their mark in the recent World Snowboard Slopestyle Championships in Canada with fourth and sixth places respectively.
The men's curling team are world No 2 and the women, who won gold in Salt Lake City in 2002, are ranked seventh after winning a silver medal in last year's European Championships.
In the bobsleigh, Pilot John Jackson's four-man team are also world No 7. Jackson also competes with former top sprinter Craig Pickering in the two-man bob.
Snowboarder Zoe Gillings, who made her Olympic debut in 2006, is ranked eighth in the world.
The GB ice hockey team, Olympic champions in 1936, have just failed to qualify after losing their first two matches in a final qualifying competition. They play their final game today.
Cross-country skier Andrew Musgrave has had a promising season, finishing ninth in the Tour de Ski sprint.
Ice dancers Penny Coombes and Nick Buckland were placed fifth in the recent European Figure Skating Championships in Croatia.
Register for free to continue reading
Registration is a free and easy way to support our truly independent journalism
By registering, you will also enjoy limited access to Premium articles, exclusive newsletters, commenting, and virtual events with our leading journalists
Already have an account? sign in
Register for free to continue reading
Registration is a free and easy way to support our truly independent journalism
By registering, you will also enjoy limited access to Premium articles, exclusive newsletters, commenting, and virtual events with our leading journalists
Already have an account? sign in
Join our new commenting forum
Join thought-provoking conversations, follow other Independent readers and see their replies