When North met South: Unified Korean hockey team makes history ahead of Winter Olympics
A crowd of 3,000 enthusiastic spectators piled into the Seonhak International Ice Rink on Sunday to witness the joint team take on Sweden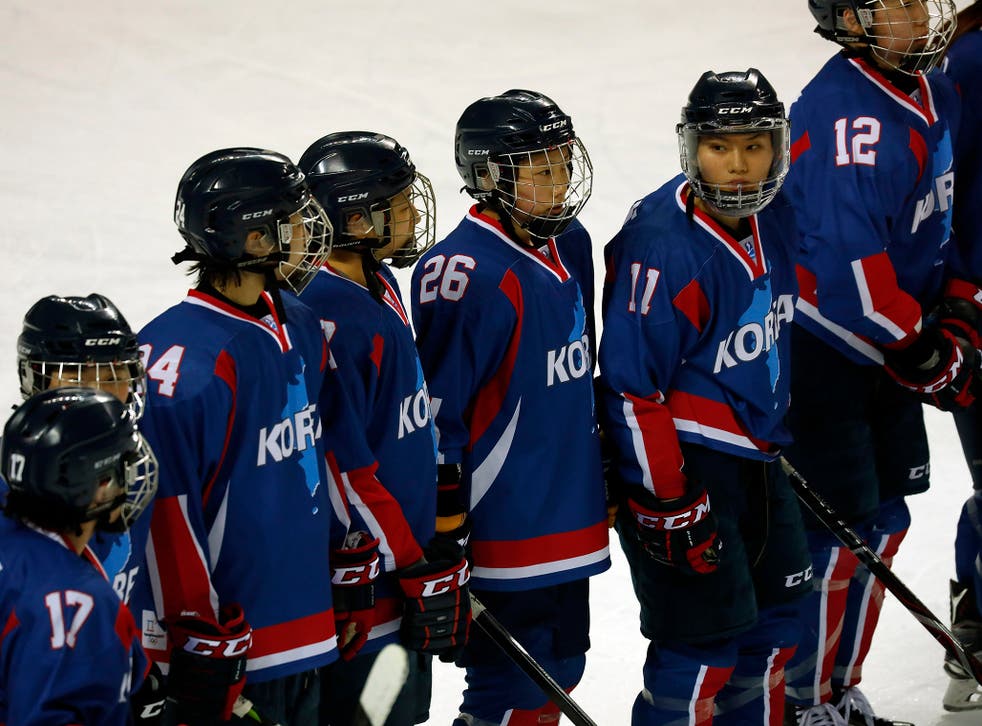 They don't much care for ice hockey in South Korea. The men's national team are ranked 21st in the world by the International Ice Hockey Federation, while the women are 22nd in their rankings, and neither side has ever competed at the Winter Olympics. The sport's popularity lags far behind the likes of football, baseball and basketball.
But that didn't stop 3,000 curious spectators from piling into the Seonhak International Ice Rink on Sunday afternoon, to watch a unified Korean team – comprised of players from the war-separated North and South – take part in their first ever match, ahead of the start of the Pyeongchang games. They were convincingly beaten 3-1 by the Swedish women's team, but then the result was never truly important. Not when history had already been made.
The combined team was only formed as part of conciliatory measures taken by the two Koreas ahead of the Olympics, which the South sees as an opportunity to revive meaningful communication following a terse period of extended animosity and diplomatic statement over the North's nuclear programme. And so far the usually isolationist state has played ball, with their participation in the Games optimistically interpreted as a show of reconciliation.
North Korea has committed to sending hundreds of its citizens to the Games, including athletes from a variety of sports, officials, creatives and a 230-member dance troupe, named the 'army of beauties'. And while the athletes will fight against the odds to finish on the podium, the all-female beauties– comprised of daughters of well-connected families, all in their late teens or early 20s – will set about portraying a somewhat softer side of one of the most oppressive and violent dictatorships in the world.
But it is the unified hockey team which has generated the most publicity – and controversy. The announcement generated heated debate in the South, with many conservative commentators aghast that members of the team are being unfairly jettisoned to make way for their new Northern team-mates, who are seen as less skilled and far less experienced.
A startling clash of styles hasn't much helped, something first flagged by the Canadian head coach of the South Korean team, Sarah Murray. She initially suggested that the North Koreans' robust, hard-hitting approach would be best suited to her fourth line – a group of players tasked with providing intensely physical play in short bursts, while leaving the goal-scoring to the more talented members of the team – which, naturally, didn't go down all that well with their neighbours.
Not that Sunday's loud, good-natured capacity crowd was all that hung up on such tactical nuances. Waving miniature flags displaying a unified Korea energetically throughout the match, and chanting "We are one" at increasingly regular intervals, the entire arena erupted in applause when forward Park Jong-ah made a slice of history in the first period, cutting the deficit to 2-1.
There was plenty to cheer about. On the surface at least, the Korean players appeared to be getting along famously, arriving at the arena together before a team warm-up session which culminated in loud cries of "Team Korea! Team Korea!" And they stood together as the traditional Korean tune Arirang played instead of the respective national anthems, which earned yet another round of warm applause from the giddy crowd.
"I don't even care about the results, I just want to cheer for them and see them work together and help each other out on the ice," a fan named Kim Hye-ryeon said before the match. Another, Kim Won-jin, had travelled for several hours with his wife and infant son to attend the match, and said he was proud to be in attendance while history was being made.
"If we ever get unified again, these young players of the South and North will be able to look back and be proud that what they did contributed to a historic change," he said.
While the crowd were not concerned by technicalities, Murray certainly was. Along with North Korean coach Pak Chol Ho, she has a tough job on her hands. The Olympics begin on Friday, and the friendly with Sweden was their only chance to experimental with potential line-ups ahead of their opening fixture against tournament dark horses Switzerland.
Fortunately, Murray was encouraged by what she witnessed.
"I think that the North Korean players played really well — this is one of the biggest crowds they played in front of," she nodded after the exhibition. "Being added 12 days ago and not getting to practice together all that much, they played our system pretty well, so I am proud of them.
"The North Koreans are certainly eager to learn and get better. We have been having team meetings with them and they ask so many questions. The meetings are supposed to be 15 minutes, and an hour later we are still talking and we are still watching video."
But outside the ice rink, amid a heavy police presence, dozens of anti-Pyongyang activists braved the elements to denounce the joint team by determinedly waving South Korean and US flags. Unification flags were ripped up and a picture of North Korean leader Kim Jong-un was stamped on. A reminder, as if it was needed, that the war-torn region's problems will not be solved on the ice rink.
(Additional reporting by AP)
Join our new commenting forum
Join thought-provoking conversations, follow other Independent readers and see their replies