Winter Olympics: Kim Jong-un and Donald Trump impersonators call for peace before being thrown out
The fake Mr Kim thinks the leaders would get along in real life since 'they're pretty much the same person'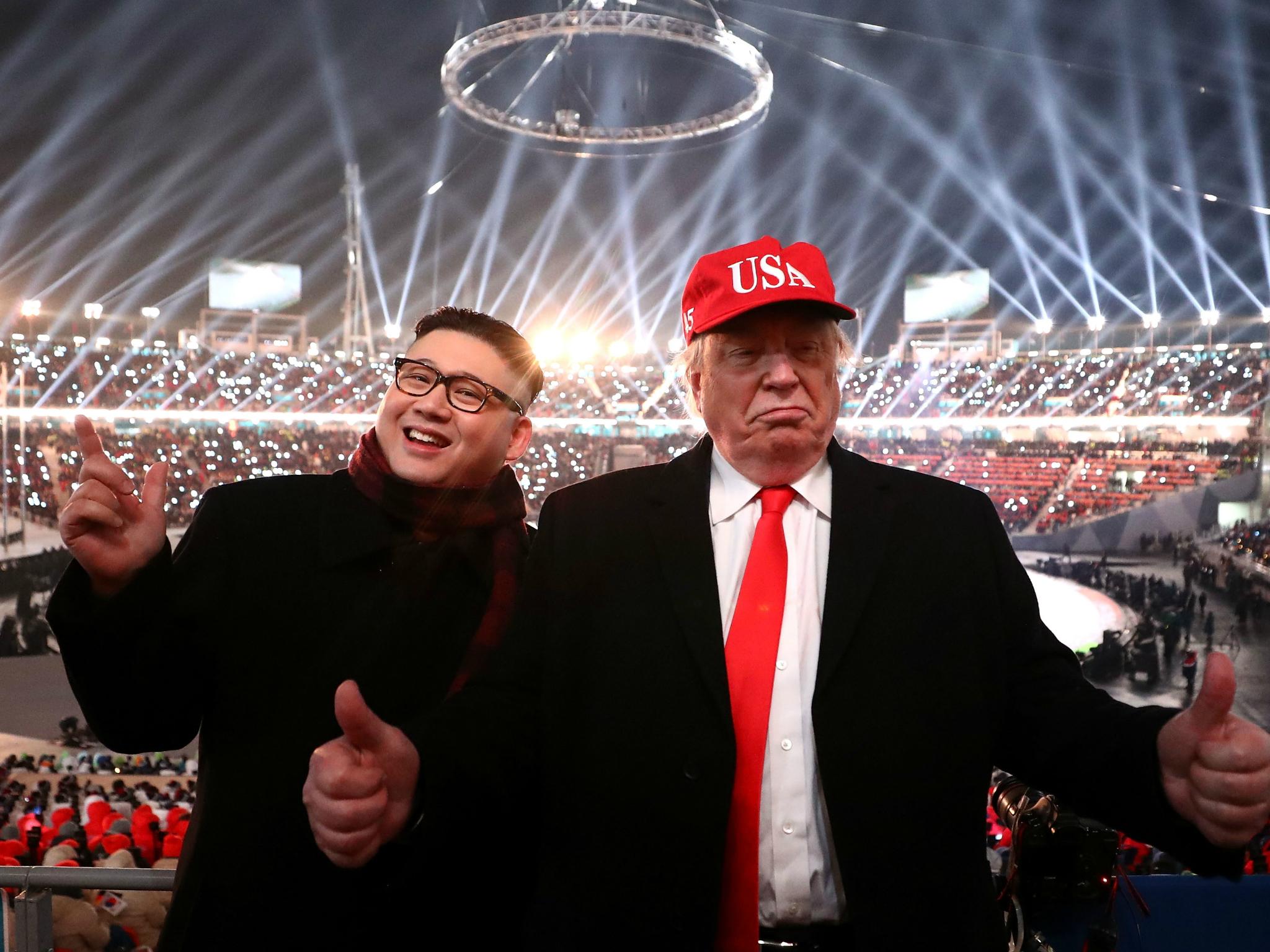 Impersonators of US President Donald Trump and North Korean leader Kim Jong-un called for peace at the Winter Olympics just before being thrown out by security.
The doppelgängers made a brief appearance in the stands of the main stadium in Pyeongchang, South Korea to greet the crowd.
The impersonators - who both declined to give their real names - came to the opening ceremony "to show the world, this is what peace could look like when two leaders get along," the fake Mr Kim said.
The faux Mr Trump donned the real President's signature red baseball cap, but it said "USA" not "Make America Great Again," his oft-repeated slogan.
He also donned an incredibly long red tie in the manner of the President.
Mr Kim's pretender wore the mercurial and isolated leader's black glasses and looked the part with a young, round face coupled with the awkward haircut sported by the real despot.
While being escorted out, he asked: "did my sister get the same treatment?" The real Mr Kim's sister, Kim Yo Jong, is the first member of the dynasty to set foot in South Korea since the Korean War ended in 1953.
She was on hand for the opening ceremony which saw the Korean teams enter under a unified flag.
He also commented that he thought Mr Trump and Mr Kim would get along well should they ever meet in person "because in my opinion, they're pretty much the same person."
In reality, tensions between Pyongyang and Washington continue to increase as North Korea has steadily been developing its nuclear weapons programme despite several rounds of strict sanctions on oil, textiles, and seafood products from the UN and the US.
The pair have publicly traded insults with him, giving him the nickname "Rocket Man" and referring to him as such during the president's speech in front of the United Nations General Assembly.
Winter Olympics 2018: 9 British medal hopefuls to watch
Show all 9
He adding that the North Korean leader was "on a suicide mission" in continuing to develop a nuclear weapons programme.
Mr Kim's state news agency then issued a statement in which they referred to Mr Trump as a "dotard."
In an effort to limit the fiery rhetoric of both leaders, the US and South Korea agreed to suspend military exercises in the region for the duration of the Olympics.
Seoul also announced that it would begin direct talks with Pyongyang.
South Korean President Moon Jae-in ran his presidential campaign last year with the promise and goal of a "sunshine policy" towards North Korea; more open economic relations and direct negotiating to achieve peace.
Join our commenting forum
Join thought-provoking conversations, follow other Independent readers and see their replies