Camelot's Classic sweep faces being bogged down
Today's Irish Derby will be no easy addition to Ballydoyle star's CV in heavy Curragh going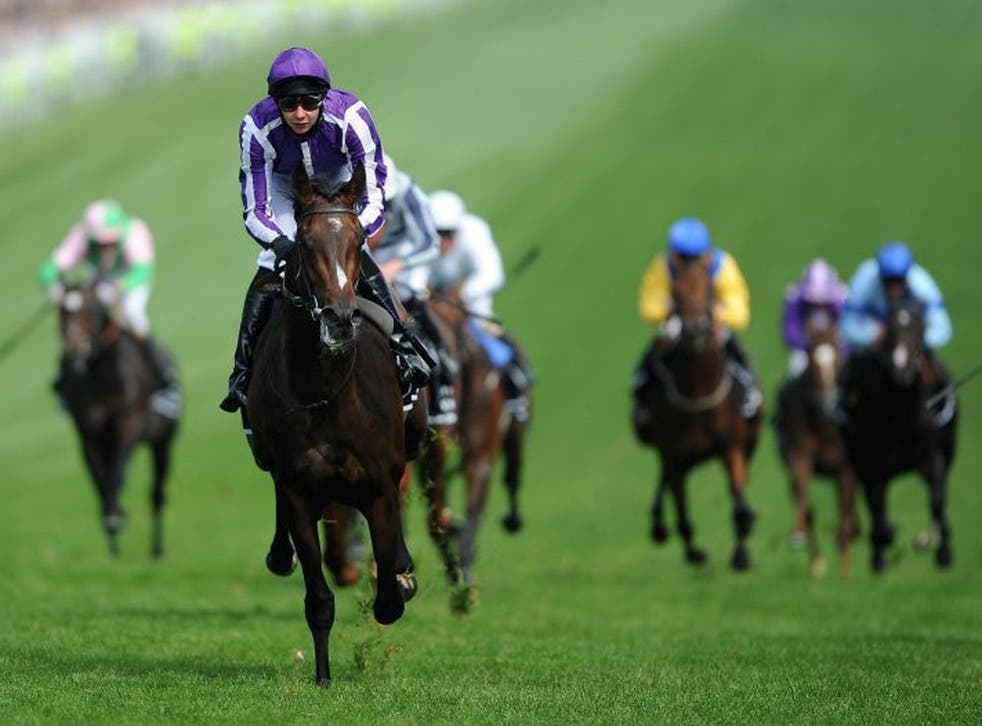 This is turning into a season of vintage performers, sooner than vintage races, and that theme is likely to be elaborated today when Camelot makes his first appearance on home soil since his debut. At the very least, however, he can set his seal upon a radical departure for the Dubai Duty Free Irish Derby – run on a Sunday for the last 25 years, but now the final race of a matinee card at 7.40pm.
It is worth remembering the British sport's heartache when the Epsom original was moved from Wednesday to Saturday, 17 years ago. Traditionalists were so provoked that the further sacrilege of staging the race in the evening was never going to make it beyond the margins of the debate. But one or two militant, imaginative voices did persuasively depict the City of London decanting hot, thirsty workers for a barbecue on the Downs, on one of the summer's longest Friday evenings – not to mention an uncontested, primetime TV slot.
While the move to Saturday has proved broadly successful, the Irish are about to give us some idea how things might otherwise have worked out. In these difficult times for their sport, such enterprise certainly deserves congratulation – not to mention better weather than what has produced very difficult conditions at the Curragh.
In such deep ground, and potentially against one or two better colts than those he dominated at Epsom, Camelot is too short a price even for the most dauntless punters. You can only stand by, and hope that all goes well. For the more substance Camelot can give his reputation, as the dominant colt of his generation, the more epoch-making opportunities may beckon later in the season.
It already seems impossible, admittedly, to imagine his owners having the nerve to take on Frankel at York in August. The consolation, for the sport, is supposed to be a first Triple Crown since Nijinsky – and today's race, if nothing else, should provide all the evidence necessary that he can match his brilliance with the doughty qualities demanded by the longer distance of the Ladbrokes St Leger.
Camelot has come a long way very quickly, and has still made only three starts since his maiden win. Even against so few rivals, this could well prove rather harder work than the odds anticipate – on account not only of the conditions, but also his generous effort in stretching five lengths clear at Epsom.
Astrology, his stablemate, gave his all when third that day and duly bombed out at Royal Ascot. It seems mildly astonishing to see him turned out yet again today, but none would presume to doubt their trainer, Aidan O'Brien, who has won the last six runnings of this race. It is the other Ballydoyle colt, Imperial Monarch, who may prove more eligible to join Camelot on the podium. He encountered desperate traffic problems in the Prix du Jockey-Club, obliged to circle the field in the straight, but his determined rally and stout pedigree corroborate the suspicion that he will cut the mustard at Group One level over this longer distance.
Proven in the conditions, Imperial Monarch could be Camelot's toughest opponent yet, albeit O'Brien did warn the colt has a minor foot problem. "We hope to run, but when we were shoeing him he just had a slight little pulse in his foot," he said. "We hope that doesn't turn into anything."
His main concern for the favourite, needless to say, is the going. "Camelot is a very good-actioned horse," he said. "He won the Guineas on slowish ground but it was lovely, fast ground at Epsom. We would obviously have concerns if it went very soft."
O'Brien drops another Epsom Classic winner, Was, to 10 furlongs in the Barclays Pretty Polly Stakes on tomorrow's card. Seamus Heffernan keeps the ride as O'Brien's son, Joseph, perseveres with Maybe, who did not seem to get home in the Oaks.
The wretched weather will make the John Smith's Northumberland Plate more gruelling than ever, assuming the card survives an inspection this morning. But Motivado showed plenty in heavy ground on his debut, and there is a taking air of purpose to the way his trainer, Sir Mark Prescott, has targeted this valuable prize for what is both his first appearance of the season – gelded in the meantime – and first thorough test of stamina.
Turf Account
Chris McGrath's nap
Motivado (3.20 Newcastle)
Next Best
Ironically (8.45 Doncaster)
Join our new commenting forum
Join thought-provoking conversations, follow other Independent readers and see their replies