Collet heaps high praise on Verse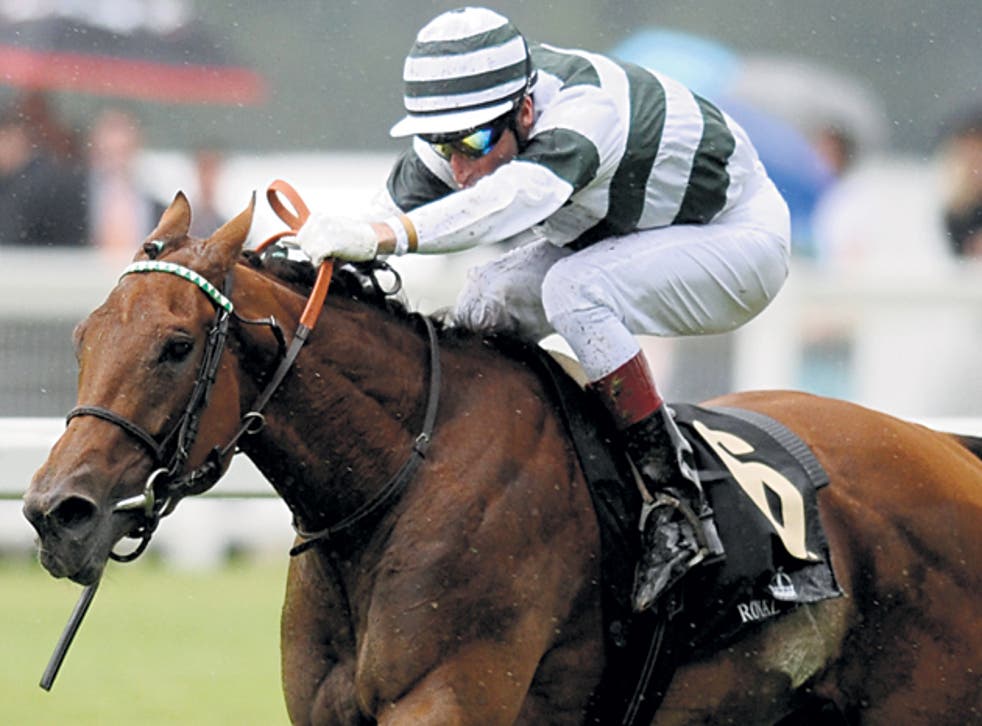 It was a singular entertainment, for a Monday, but otherwise provided exactly what you might expect of a race involving Goldikova – acceleration like a razor's cut from an outstanding female miler. This time, however, its author was not the one who had already accumulated a record tally of Group One wins.
Instead it was Immortal Verse, building on her breakthrough success in the Coronation Stakes at Royal Ascot, who confirmed herself an authentic new star in the European firmament by outpacing a very strong field in the Prix Jacques Le Marois at Deauville. Goldikova none the less managed to get closer than any of the colts and, having been beaten by Makfi in the same race last year, retains every right to an unthinkable fourth success at the Breeders' Cup, granted a return to fast ground on a turning track. Coral quote her at 2-1.
Freddy Head was not making excuses, shrugging that Goldikova is now six years old. But she may have lacked the winner's freshness, having had barely a fortnight to recover from her 14th elite success, and nor was her cause helped by the dead ground, or having to challenge wide.
Regardless, the winner's veteran trainer – who once won the Breeders' Cup Mile himself, with Last Tycoon – suspects that he might never have trained a better horse. Robert Collet is now toying with the possibility of taking on Frankel in the Queen Elizabeth II Stakes back at Ascot in October, and so potentially rescue the new Champions' Day card from a mere lap of honour for the champion colt.
Immortal Verse was always travelling easily under Gérald Mossé and settled the race in a trice, closing smoothly from last place before quickening through to lead 300 yards out. She was always holding Goldikova, a length in it at the line, and the favourite ultimately only just held second from Sahpresa, who completed an all-female podium. Dick Turpin and Cityscape never landed a blow for Britain, seventh and eighth respectively, but at least they beat Mutual Trust, who surrendered his unbeaten record very meekly.
Earlier on the card Goldikova's half-sister by Galileo, Galikova, had continued her own rise with a fluent Group Two success over 10 furlongs. Caught out by a false pace in the Prix de Diane, she reversed form emphatically with the winner, Golden Lilac, this time and could do better again when tried over a mile and a half in the Prix Vermeille. Ladbrokes cut her to 12-1 from 16-1 for the Prix de l'Arc de Triomphe.
Back on home soil, the fallout continues from the bitter end to Howard Johnson's training career. Johnson was given a four-year suspension on Friday as a result of giving his horses prohibited surgery and medication, and does not envisage resuming. His patron, Graham Wylie, yesterday disclosed the destination of the 20 horses he will retain, while the rest of his string is dispersed at the sales.
Wylie has divided them between the champion trainers of Britain and Ireland, 13 going to Paul Nicholls and the remainder to Willie Mullins. Those going to Somerset include the talented but wilful Tidal Bay, while Mullins will be welcoming the exciting Back In Focus. "It's great to have Graham on board," Nicholls said. "Tidal Bay is getting on a bit, but it will be nice to have him in the yard and we might train him for the National. There are some nice youngsters coming down as well."
Mullins, who has a record of discovering dramatic improvement in recruits from elsewhere, was diplomatic as usual. "I'm delighted to have been considered," he said. "And I'm hoping I have as much luck for Mr Wylie as Howard Johnson had for him. Mr Wylie told me which horses were coming over this morning and I recognise most of them: there seems to be some good quality there."
Native Khan, beaten only two lengths in the Derby, will not run again this season. "Clearly, Epsom took more out of him than we originally thought, as he did not reproduce that form in the Irish Derby," Ed Dunlop, his trainer, said. "I have spoken to the owners, and we have drawn stumps and will bring him back next season. We always thought that he would make an even better four-year-old anyway."
Turf Account
Chris McGrath's Nap
Blown It (2.45 Musselburgh)
Another to thrive for his rookie trainer, still with room for manoeuvre in the handicap and capable of better still after meeting traffic when first and second on his two latest starts.
* Next best
Law To Himself (3.45 Musselburgh)
Down to a fair mark, and second in a better race than this last time, suggests he will be taking advantage soon – perhaps today, with extra furlong likely to suit.
* One to watch
Astrology (Aidan O'Brien) looks another potential star at Ballydoyle judged on his impressive debut at Leopardstown last Thursday, going right away at the finish.
Join our new commenting forum
Join thought-provoking conversations, follow other Independent readers and see their replies