Godolphin principles prove subject to change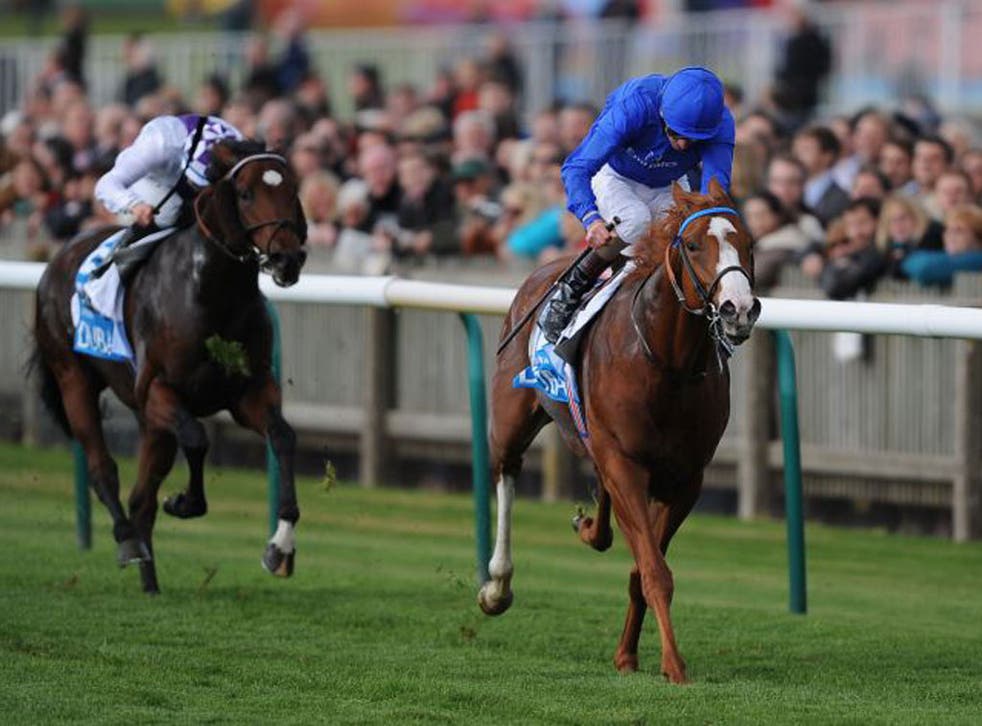 Everyone else might take a different view, as fatal fissures seem to emerge in his long partnership with Frankie Dettori, but Sheikh Mohammed himself knows that Godolphin's riding arrangements are fairly incidental. Paying such wages, he will never lack a world-class jockey. More fundamental changes are afoot, however, in the supervision of his horses away from the racecourse. And if the Sheikh is relieved that an implied admission of failure is receiving far less attention, then that indulgence is perhaps the least he deserves for quietly grasping some pretty painful nettles.
Confirmation that Dawn Approach is to remain with Jim Bolger, following his success in the Dubai Dewhurst Stakes at Newmarket on Saturday, represents one more gust of desert wind erasing the pioneering tracks of Godolphin. One by one, the stable's defining precepts have been abandoned.
Its management has already repented of the theory that Classic contenders might gain some advantage by wintering in the Sheikh's homeland. Nowadays, Al Quoz houses chiefly those horses being aimed at the Dubai Carnival. The core of the Godolphin team for the European campaign remains in Newmarket, and so can only be nominally in the care of Saeed Bin Suroor or Mahmood Al Zarooni. It makes abundant sense, then, for Dawn Approach to remain under the daily watch of such a master as Bolger, rather than some anonymous lieutenant in Newmarket.
In the process, however, the original tenets of Godolphin become ever more faded. Its website proudly lists 13 Group One winners round the world this year, a very respectable haul that testifies to wholesome renewal in the Sheikh's bloodstock empire – both through his own young stallions, and the Coolmore genes circuitously obtained (having been pointedly rejected at public auction) through such purchases in training as Dawn Approach himself.
Of these 13, five were saddled by Kiaran McLaughlin in the United States. Two are now credited to Bolger, another to André Fabre in France. (The decision to lease Reckless Abandon back to his vendors disqualified Clive Cox from adding his name to the list in the Middle Park Stakes, the other Group One prize on Saturday's card.) Since Al Zarooni saddled two in Dubai, meanwhile, he has added Encke and Certify during the European season; and Bin Suroor has contributed just Colour Vision at Royal Ascot.
Promoting Mickael Barzalona to immediate parity with Dettori hardly seemed to get to the root of such years of underachievement as 2008, when the stable mustered a solitary Group One success in Europe. Spreading the training burden, however, seems to be yielding dividends – even if it makes it harder to distinguish between the Godolphin adventure, with its elaborately political self-image, and the pragmatic operation of the other great powers on the Turf.
When the Sheikh bought New Approach, the sire of Dawn Approach, he likewise left him in Bolger's care. But that colt ran in the colours of the Sheikh's wife, Princess Haya, rather than the royal blue that seemed rather incongruous on Kevin Manning, Bolger's son-in-law and stable jockey, on Saturday. Had Manning worn the same silks on New Approach, of course, Godolphin would have been able to claim the Derby itself in that same, excruciating 2008. Raven's Pass, equally, was registered in Princess Haya's name when sold to the Sheikh the same year, and proceeded to win the Breeders' Cup Classic for John Gosden.
Perhaps that experience accounts for the Sheikh's current strategy. Kept with their original trainers, New Approach and Raven's Pass delivered the two races on the planet most likely to produce a stallion, and both now stand on the Darley roster. New Approach has made a particularly impressive start, no fewer than three members of his first crop scoring at Royal Ascot. One of those is now champion two-year-old elect, having emulated his sire to extend Bolger's astonishing Dewhurst record to five wins in seven years.
That spree began with Teofilo, likewise sold to the Sheikh as a precious conduit to Galileo. Teofilo's son, Trading Leather, should possibly be counted a more eligible Epsom contender than Dawn Approach after beating a very strong field in a lesser grade later on Saturday's card. For the time being, at any rate, he remains in Bolger's ownership. The colour of his silks will remain irrelevant to anyone tempted by odds of 16-1 for the Investec Derby, so long as his trainer remains the same. And it seems very much as though the Sheikh is coming round to their point of view.
Turf account
Chris McGrath's Nap: Jocasta Dawn (3.35 Windsor)
Still unexposed after just three handicap starts, proven in these conditions, and freshened up following a disappointing effort on quick ground last time.
Next best: Future Wonder (1.40 Musselburgh)
Not long with Brian Ellison and excuses for two recent reverses, short of room before staying on last time, and starts handicaps on a fair mark.
One to watch: George Cinq (Michael Bell) ran into a good one when second on his nursery debut at Kempton last week, but had been held up in traffic and looks ahead of his mark.
Register for free to continue reading
Registration is a free and easy way to support our truly independent journalism
By registering, you will also enjoy limited access to Premium articles, exclusive newsletters, commenting, and virtual events with our leading journalists
Already have an account? sign in
Register for free to continue reading
Registration is a free and easy way to support our truly independent journalism
By registering, you will also enjoy limited access to Premium articles, exclusive newsletters, commenting, and virtual events with our leading journalists
Already have an account? sign in
Join our new commenting forum
Join thought-provoking conversations, follow other Independent readers and see their replies