Gordon Elliott: British Horseracing Authority condemn 'totally unacceptable' photo of trainer and dead horse
The image was posted and widely shared on Twitter on Saturday and appeared to show Elliott sitting on a dead horse on the gallops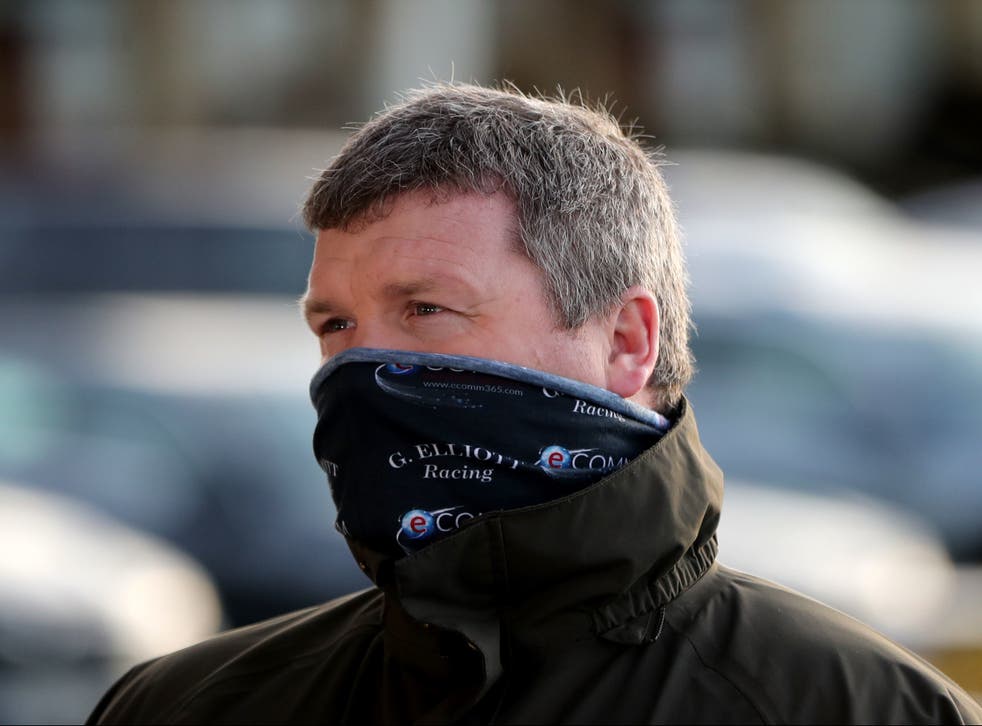 The British Horseracing Authority are "appalled" by a photograph that shows three-time Grand National winning trainer Gordon Elliott appearing to pose with a dead horse.
The image was posted and widely shared on Twitter on Saturday and appeared to show Elliott sitting on a dead horse on the gallops.
And while many people commented on social media that it looked fake, the County Meath handler confirmed it was genuine late on Sunday.
Elliott is licensed in Ireland, but the British Horseracing Authority says it is "considering its own regulatory options".
A statement read: "Following confirmation from Gordon Elliott that an image circulating of him on social media over the weekend is authentic, the British Horseracing Authority (BHA) has today issued the following statement:
"The BHA is appalled by the image that appeared this weekend. We expect all those in our sport to demonstrate respect for horses, on the racecourse, in the training yard, on the gallops, and wherever they have horses in their care. People who work in our industry believe their values – of caring for and respecting our horses – have been deeply undermined by this behaviour. On their behalf, and on behalf of all horse-lovers, we say unequivocally that British horseracing finds this totally unacceptable.
"The BHA is considering its own regulatory options, recognising that the Irish authorities license Mr Elliott and are carrying out their own investigation."
The Irish Horseracing Regulatory Board has launched a full investigation, and a spokesman said on Monday that the matter will be dealt with "as quickly as possible".
Through his Gigginstown operation, Michael O'Leary has been one of Elliott's biggest supporters - with the pair most notably combining to win two Grand Nationals at Aintree with the hugely popular Tiger Roll.
In a statement issued on Monday, O'Leary - who together with Elliott also won the 2016 Cheltenham Gold Cup with Don Cossack - described the photograph in question as "unacceptable", but said he accepted the trainer's "sincere, profound and unreserved apology".
Horse Racing Ireland said it "unreservedly" condemned the photograph.
A statement read: "This image does not reflect the care, attention and respect that racehorses receive, and does a disservice to the thousands of people who look after their horses on a daily basis. Horse Racing Ireland notes and supports the IHRB investigation into the circumstances around the photograph.
"From a disciplinary perspective, the matter is in process, so any further comment on the matter or the detail of the case at this time would not be appropriate."
On Monday morning Betfair - for whom Elliott has been an ambassador for several years - confirmed that it was to cut ties with the trainer.
"While we recognise that Gordon deeply regrets and apologised unreservedly for his poor judgement, his actions are completely at odds with the values of the Betfair brand and that of our employees.
"With that in mind, we have decided to discontinue our association with Gordon with immediate effect."
Additional reporting by PA
Join our new commenting forum
Join thought-provoking conversations, follow other Independent readers and see their replies