Grand National 2014 results: Pineau De Re's beano proves small miracle
Little outsider from obscure yard and trainer team up with veteran jockey who came back from retirement to produce a fairytale finish, writes Sue Montgomery at Aintree
Sue Montgomery
Saturday 05 April 2014 23:01 Comments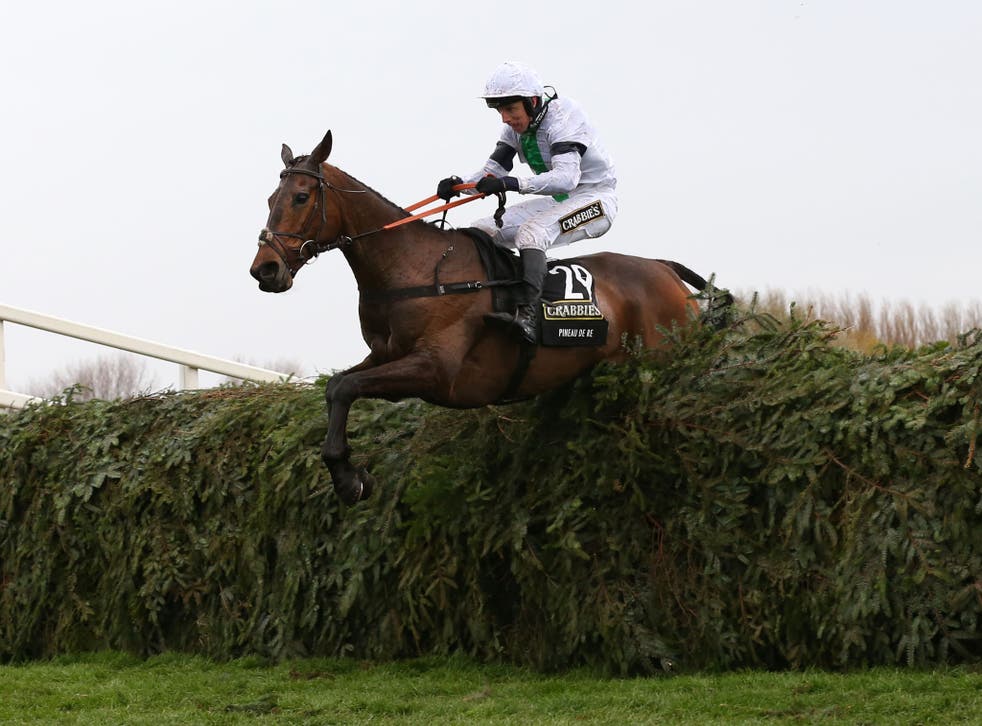 If ever a Grand National could be described as routine, perhaps this was the one. The thrills and spills that inevitably go with a 40-runner steeplechase over such unique fences were there, and the required fairytale result.
The 25-1 winner, Pineau De Re, is trained by Richard Newland, who has a string of only a dozen at his Worcestershire stable and who was still a practising GP less than a year ago. In fact, it was all just what the doctor ordered. And the vets, too, for last night all the horses were safely back in their stables.
Pineau De Re led before the last fence and stretched stoutly five lengths clear of 14-1 shot Balthazar King, Double Seven, one of the 10-1 joint favourites, Alvarado at 33-1 and Rocky Creek. And his rider, Leighton Aspell seemed curiously underwhelmed for a man who had just won Britain's first £1 million jumps race. No punching the air, not even a smile of exultation.
Grand National 2014: The day's action at Aintree

Show all 23
Be in no doubt, however, that he was pleased with his afternoon's work. Aspell, 37, had retired from the saddle seven years ago and gone to work behind the scenes for Flat trainer John Dunlop. But he so missed the camaraderie of the weighing room and the buzz of competition that he returned to the saddle four years ago. He came close to National victory on his first ride in the race, when Supreme Glory beat all bar Monty's Pass in 2003. Pineau De Re was his sixth ride since then, and yesterday was the first time he had sat on the gelding in public.
"I think when I crossed the line it was a combination of tiredness and adrenaline," he said, "but inside the feeling was elation. This is what we do it for, and what I came back for.
"At my age, I won't have many more chances to win. I've been watching the National since I was a very young boy. To get a ride in the National – which I did after a bit of jockey-hopping after injuries at Cheltenham – is a great thing, to get on one with a chance is even better. For as much as you enjoy sharing your colleagues' success, you crave a bit of it too."
Yesterday was Pineau De Re's second victory in a Grand National, having won the Ulster version, a three-and-a-half-mile contest over regulation fences, at Downpatrick a year ago. That success caught the eye of Newland and the gelding's owner, John Provan, when they were looking for an Aintree type. Provan, a former amateur jockey and now successful businessman, was instrumental in helping Newland set up his training operation.
The 11-year-old – the third of his age in a row to win – booked his place in the field when he won a veterans' chase at Exeter in January, and warmed up with a close third over hurdles at last month's Cheltenham Festival. He did not instantly take to the fences yesterday, with a couple of mistakes in among the pack, but Aspell sat tight and his mount warmed to his task.
"I was very conscious that over nearly four-and-a-half miles I didn't want to be in front too soon," said Aspell. "He's only a small horse, so he has to try very hard with his jumping, and the worry was lack of daylight in among runners. But once we got daylight in the closing stages, from the Canal Turn, he really enjoyed himself. He is small, but he's a terrier."
Pineau De Re went past Rocky Creek and Double Seven after the penultimate obstacle and had enough of a lead to fend off the last to challenge from those behind, Balthazar King. "I waited for Noel [Fehily, on Rocky Creek] for a furlong, and then from two out I aimed for the middle of the last, and that was my route home," Aspell explained. "I met the last really well, but you're never certain of winning up that run-in, even when you reach The Elbow."
Of the fancied runners, last year's third, Teaforthree, unseated at The Chair, Tidal Bay did the same at the eighth, Long Run fell at the ninth and Monbeg Dude completed in seventh place. Perhaps the unluckiest exit concerned Across The Bay, who was in a clear lead when he was carried off the course after a circuit by a loose rival heading for the stables. Of the 39 who set out – outsider Battle Group planted himself after a false start – 18 finished, with Hawkes Point the lanterne rouge.
Newland combines training – which he does most successfully with his limited resources, having scored at the Cheltenham Festival soon after taking a licence – with his day job running a Birmingham medical practice. "The horses are just a hobby, really," he said. "I feed them in the morning, harrow the gallop and leave instructions. I go out with the horses when I can, but quite often I have to leave it to the team.
"John [Provan] is my oldest friend in racing and we've been coming here together for 20 years, long before I owned or trained horses. It's always been our dream to have a National runner. And we love taking on the big guys."
Which they did in style yesterday. It was definitely David's day.
Jockeys ignore inquiry
All 39 Grand National jockeys who started the race declined to attend a stewards' inquiry into a false start, or to send a representative. The British Horseracing Authority (BHA) said the inquiry has been adjourned, to be held at their headquarters in London.
The BHA said an assistant starter, Simon McNeill, was knocked down as the riders moved towards the start. He was not thought to be badly hurt. Of the 40 jockeys who originally lined up, only Brendan Powell – the rider of Battle Group – was not involved in the dispute, because his horse planted itself and would not approach the start.
Doctor's perfect prescription
Dr Newland trains a small stable of horses at Claines in Worcestershire having retired as a GP, but continues to run a medical practice. "We are so lucky to have such a lovely horse. It's a dream come true," he told the BBC. "Leighton [Aspell] is a top-class jockey – he had a plan and delivered it superbly. One of the reasons I put him on the horse was because he's had a bit of a comeback season. I just thought maybe, with his confidence high, he could go one better."
Register for free to continue reading
Registration is a free and easy way to support our truly independent journalism
By registering, you will also enjoy limited access to Premium articles, exclusive newsletters, commenting, and virtual events with our leading journalists
Already have an account? sign in
Join our new commenting forum
Join thought-provoking conversations, follow other Independent readers and see their replies