Our national love affair: a history of the betting shop
Stan Hey explains how bookmaking went from wagers in the backstreets to pleasure palaces in the high street
Saturday 05 April 2008 00:00 BST
Comments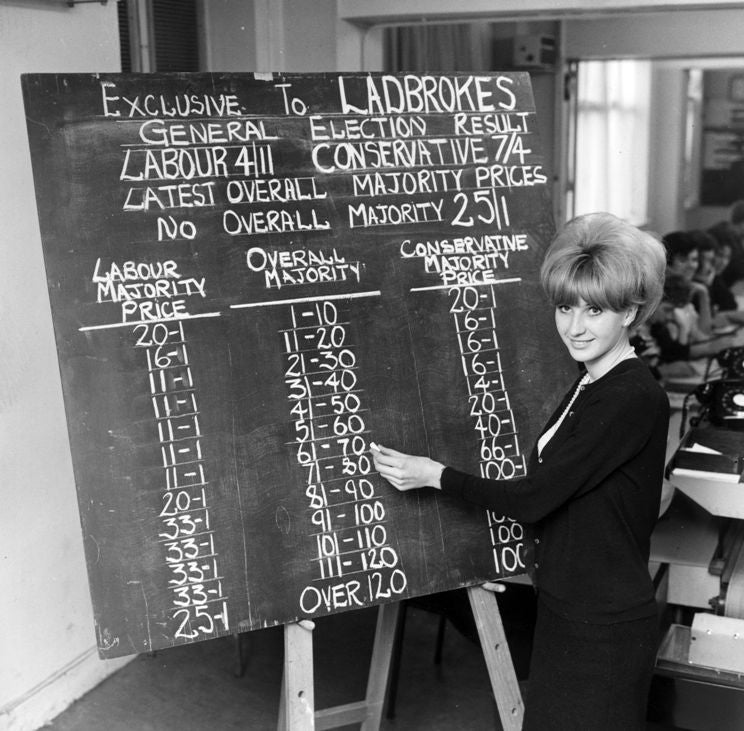 Depending on your point of view, they are either the equivalent of the wardrobe through which you enter a Narnia of wealth and enchantment, or of Dr Caligari's Cabinet, full of horrors and disturbing visions. The former was represented in February by the £1m-winning, eight-horse accumulator of Mr Fred Craggs, placed at the William Hill shop in Thirsk. This was the biggest betting-shop payout in history. The latter was embodied by punter Graham Calvert, who lost a High Court action to recover £2m of losses incurred, he claimed, after his bookies had failed to enact his "self-exclusion" request to stop him betting.
The betting shop is neither extreme, of course, but its supporters and detractors are equally fierce in their praise or condemnation. Today – when the Grand National generates the biggest betting draw of the year, with Britain gambling an estimated total of £300m, mostly in betting shops – will polarise the pro and anti camps.
Supporters will point to the harmless entertainment the shops provide to people who, otherwise trapped in drudgery, can pop in to watch a bit of sport and try to win some money. The naysayers will point to the real possibilities of addiction and to dark pits of debt for people trying to escape whatever their plight may be by gambling. An element of this constituency was also infuriated by the recent opening of betting shops on Good Friday for the first time, even though there was no racing in Britain to bet on – punters had to get their fix from French and German courses, football and greyhounds. The prohibitionists and religious observants have lost the battle, for with the global reach of shops and betting websites, gambling in Britain is now a 24-hour activity, worth more than £30bn annually to the economy.
When betting shops were legalised on 1 May 1961, up to 10,000 opened within the first six months. Nearly 50 years on, there are scarcely fewer in operation and nearly every high street in the country seems to have at least one, most of them modernised and respectable, standing cheek by jowl with the butchers, chemists and building society branches. Like it or not, betting shops are now an established facet of the British landscape.
"I climbed the rickety wooden stairs to Jack Swift's first-floor betting office in Dover Street, off Piccadilly. On that first day of legal betting shops, this tiny emporium was glorious bedlam, packed out with punters shouting their horses home. The place was filled with cigarette smoke but that day a breeze of fresh air wafted into the lives of British punters. Gambling was being dragged out of the Dark Ages, when the only legal bets were made on the racecourse, or the phone. Street betting had been rampant and everyone knew it. Bookies' runners ferried bets between punters and bookmakers, collecting in pubs and clubs (commonly in the urinals), and on street corners."
This is how Channel 4's ebullient betting guru, John McCririck, recalls that moment in 1961 when betting shops came into being. OK, it's not exactly Martin Luther King's "Free at Last" speech but it does give a flavour of how Britannia began to loosen her corset from the 1960s onwards. And this first act of social reform came from a Tory home secretary, "Rab" Butler.
Big bookmakers rushed to open shops and take advantage of the legislation that had knocked their street-based competitors out of business at a stroke. Some of the illegal bookies made it through the new vetting procedures, established by the 1960 Betting and Gaming Act, but a lot of them found that the capital required to set up premises, pay staff and "go straight" was beyond them.
The existing betting firms had run their businesses for on-course clients and for those with the financial (credit) and technical (telephone) means to place off-course bets. Scotland's most famous bookmaker, the Glaswegian John Banks, was in no doubt about the value of being on the high street, however: "Betting shops are a licence to print money."
Not all of them wanted to embrace the world of mass betting, partly because of the capital investment required. One of the godfathers of English bookmaking, William Hill, who had started his business in 1934, wanted nothing to do with betting shops, only buying into them in 1966.
The other source of the reluctance was Rab Butler's insistence that betting shops should have "dead windows", blacked-out or shuttered with no visible enticements to prospective punters. Butler noted in his memoirs that "the House of Commons was so intent on making betting shops as sad as possible, in order not to deprave the young, that they ended up more like undertakers' premises".
A small personal narrative kicks in here. My father worked for English Electric in Liverpool, a vast factory on the East Lancashire Road that in the late Fifties/early Sixties employed around 15,000 workers. One summer night, when I was about eight, he took me for a ride in his Ford Popular from our house in Dovecot to an art-deco pub called The Bow & Arrow in the sedate suburb of West Derby. He left me in the car for a moment as he went inside, carrying a small bag. I saw more cars pull up and more men go inside. Moments later, a scene reminiscent of the Keystone Cops ensued, as men fled from the pub, with many of them jumping out of windows.
I never did find out exactly what had happened that night but my best guess is that a delivery of punters' money was taking place to a bookmaker when tax officials decided to make a raid. I had clearly been used as a decoy, as no one would suspect a man with a small child in tow of such skulduggery.
The fact that one of dad's best friends at the factory left to set up two betting shops, and for whom he went to work as a settler (the person who works out the winnings of a bet) on Saturdays, convinced me that they had been in cahoots as runners inside English Electric. (I should also add that there wasn't a family holiday that didn't take in a trip to a racecourse en route.)
What clinched the case, however, was my dad's objection to having a betting shop open about 10 yards from our house. I can remember him saying: "I know the sort of people who'll be in there ... and I don't want them next door."
This element of seediness was assigned to betting shops at birth, some of it wilfully imposed by authorities, some of it inevitably inherited from the association of betting with rough behaviour and fecklessness. No wonder many bookmakers opted for the euphemism "turf accountant".
Inside, the betting shops of the 1960s were no brighter than their front windows. A mesh grille would guard a Formica counter, behind which the bookie would sit, smoking. The racing pages of the Sporting Life or The Daily Mirror would be pinned up around the walls. And somewhere would stand the "board-man". It was his job to mark up the results, and also the prices for races as they drew close to the off, so that punters could "take" a price if a horse's odds were shortening. The board-man, and everybody else for that matter, got their information from "the blower", a wire service from Extel, which relayed the prices from the racecourses and added a commentary.
Once the "off" was called, punters stared up at the speaker, imagining themselves to be out of their dull, urban world and away in the fresh air of a countryside racecourse. The commentaries from the blower were nothing like the frenzied, breathless accounts we get in betting shops today when, ironically, we can now see what is taking place, but rather bland, staccato bursts of information, without any hint of drama or emotion – perhaps that was another secret directive from government: don't get the punters excited.
It wasn't until 1986 that further gambling legislation allowed betting shops to be "improved" – the provision of hot drinks, albeit from a machine; brighter interiors, with seats for comfort; and, best of all, television pictures from the racecourses.
By this time, four major firms had grown to dominate the betting-shop market – William Hill, Ladbrokes, Coral and Mecca. The Tote, the state-owned on-course pool-betting facility – about to be put up for sale by the Government – was also buying shops in the high street. Such was the success of these operators that they became the subject of corporate mergers and takeovers, the sort of event that happened to industrial or retail companies.
Mecca, owned by Grand Metropolitan, merged with William Hill in 1988, while Ladbrokes' chief executive, Cyril Stein, was making a name for himself as an aggressive, almost renegade City operator. Ladbrokes would eventually tie up with Hilton Hotels. In 1989, William Hill was acquired by the film and leisure conglomerate Brent Walker. Further takeovers in the 1990s, first by Nomura and then by the venture capitalists Cinven/CVC for £825m set up the company for a public flotation in 2002, at 225p a share. By 2004, William Hill was in the FTSE 100. Less than 40 years on from the world of "rickety wooden stairs", betting shops had become a seriously big business.
"I joined William Hill in 1973 and worked as a member of the now extinct species of board-man, chalking or writing up the odds and results on the shop's display boards. I even invented a method of writing up an 'in-running' commentary on the race itself for my customers before I became a settler, and then a manager. This was a job I enjoyed for two or three years before moving into the PR and media side of the company."
Graham Sharpe's journey from the boards to being the most high-profile of all bookmaking PR men (he hosts and sponsors the annual William Hill Sports Book of the Year awards, and produces a regular list of wacky bets for the public to nibble on) reflects the assimilation of betting shops into our culture and also the way their employees could rise into management from the shop floor.
Mr Sharpe, and his counterpart at Ladbrokes, Mike Dillon, are smart enough to have succeeded in any business, and they are both well-enough respected to have the ear of racing's authorities. They could probably seek high office, but both love the daily rough and tumble of betting, having cut their teeth in the shops.
"I met some splendid characters while working in the shops," says Mr Sharpe, "not least the bus driver who would park his vehicle outside and then come in to place his bets, leaving his passengers wondering when they would reach their destination. On another occasion a manager came back from a long lunch, slightly on the woozy side, to find a crowd of punters wanting payouts from unsettled bets – he promptly started a cake-throwing fight with them!"
Matters were not so frivolous in betting shops when the National Lottery, and its attendant scratchcards, started in 1995. "The lottery had a significant adverse affect on profits," Mr Sharpe observes. Those who had two or three quid bets in the shops hoping to win 10 back could now bet for jackpots of over a million pounds. The lottery created hysteria for a while, with people who had never placed a bet in their life queuing up in their corner shops before the Saturday-evening deadline. Indeed a recent government survey on gambling revealed that among people who bet, 57 per cent still use the lottery, and 20 per cent buy scratchcards, with 17 per cent loyal to horseracing.
In the past decade, several measures have been taken to rebalance the nation's gambling instincts. Tax on betting-shop wagers was cut from 10 per cent to 9 per cent (creating a live Sudoku puzzle for punters and settlers alike), and then eventually abolished in 2002, in favour of a tax on the bookies' gross profits.
Rules regarding betting on football were relaxed – the "minimum trebles" stipulation, whereby punters had to include at least three matches on their coupon, was dropped, allowing bets on single matches. With the growth and reach of satellite coverage, football betting became a major element of the gambling constituency, especially with big hitters in the Far East who think nothing of having a £100,000 bet on a live Premiership game. Clients such as these usually have huge deposit accounts, from which the firm draws their stakes, and they deal directly with the bookmakers' trading rooms, not with their shops. If you look in most betting-shop windows now, the advertising they display mostly features odds for football games.
More recently, betting shops have been allowed to install what the trade calls FOBTs (fixed-odds betting terminals) and what some would still call fruit machines, or more graphically, one-armed bandits. And then there is "racing" from such computer-generated courses as Portman Park (a gag, I guess, about Portman Square, former home of the Jockey Club) to fill time before the real racing starts.
By the turn of the century, the betting shop had developed a cyber-twin as most of the big bookmaking firms began to realise the potential of online betting, and the betting exchanges – Betfair, Betdaq – opened up.
Victor Chandler, the smartest of British bookmakers, both sartorially and intellectually, had been at the front of the march into the digital age. His wholesale move to Gibraltar, rendering his clients' bets offshore, and therefore tax-free, forced the Treasury into their adjustments on betting duty. The volume of telephone business was soon matched by trade on the internet – Mr Chandler went on to sell 41 of his betting shops to Coral but at the same time, invested heavily in two up-market "betting lounges", all marble-floors and leather chairs, one off Park Lane in London, the other in Dublin.
"There seemed to be a gap in the market for an upmarket shop, where customers could spend an afternoon betting in the height of comfort," Mr Chandler said, though he confirmed a continuing interest in the high street betting shops.
But could Mr Chandler's underlying instinct be right? There is a new generation of punters who only know web, electronic or telephone betting. They sit up all night gambling on distant tennis matches, or playing online poker, or jousting in a cyber-casino. To these guys, a betting shop is a relic of a former age. Who needs cash in a cashless society? When their money counts most, when they reach executive positions, will the betting shop be finished?
The figures suggest not – the four biggest companies still seem strongly committed to betting shops. William Hill currently runs more than 2,250; Ladbrokes has 2,350; Coral owns 1,600; and totesport manages 540. And there are groups of expansive firms showing no loss of appetite for shop-based betting. Betfred won the bid to have several units inside the new Wembley Stadium. Perhaps the biggest mover on the scene is Paddy Power. Formed in 1988 by the merger of three Irish bookies, they have, according to one business analyst, "done about all they can in Ireland, and are looking to England for their future development".
Power, which has 58 British shops, mostly in and around London, announced profits of £55.2m for 2007, half of this coming from online operations. But its UK shops also made money and it wants twice as many by 2011. Power has come a cropper with some of its advertisements. A poster showing two old ladies crossing a road in front of an oncoming truck, captioned "What are the odds?", drew general complaints. But there was an absolute storm when an advert depicted Jesus at the Last Supper sitting in front of a pile of gambling chips. Yet Power prospers.
"Betting shops will survive, even in a competitive market and a tougher era of regulation," says Tom Kelly, of the Association of British Bookmakers. "People like betting offices. There's a clubby atmosphere, human contact, the thrill of watching sport, and inter-relating with shop staff."
"They are still very much the main part of our business," Mr Sharpe emphasises, "and are likely to remain so for the foreseeable future. They are more comfortable and well-equipped than ever before. The personal touch, mingling with like-minded people, betting, and especially being paid out in cash, all these things appeal to the public; as for the smoking ban, it has probably increased custom rather than diminished it."
Typically, Mr Sharpe can't resist offering me a bet: "The shops have been going since 1961, so you can have 1,000-1 with me that they will have disappeared before 2061..." Yes, but Graham, I'll be 110 by then.
Grand National runners and riders, sport, pages 74-80
These I have loved
Kirkby Stephen, A tiny, one-man shop in a Cumbrian village
I was watching a film being made near by but nipped in here for the first day of the Cheltenham Festival in 1986 to place a £5 win patent, a seven-bet combination. When the first leg, River Ceiriog, won the Supreme Novice Hurdle at 40-1, £205 was running on two more selections. I worried that I might put the shop out of business. They lost, and the shop was saved.
William Hill, Charlotte Street, London
Between the late 1970s and mid-1980s, my co-writer, Andrew Nickolds, and I worked near Charlotte Street. This was our local bookie. Apart from the odd win, we learnt swear-words from Greek tailors and Italian waiters.
Surrey Racing, Chiswick High Road, London
The scene of one of my best wins. Three legs of a "Lucky 15" (one accumulator, four trebles, six doubles, four singles) came up in January 1989, winning £1,360. The settler killed the euphoria by telling me it would have been over 18 grand if the fourth horse had managed to win. To this day, I have still never won a complete "Lucky 15".
H Backhouse, Silver Street, Bradford-on-Avon
Back in 1990, my new home town's betting shop was a throwback to 1961, with bare walls, mesh-grille, ancient board-man, and a one-bar electric fire.
Janet, the first woman bookie in England, glowered at her clientèle if small bets or badly written slips were proffered. This was the scene of my most traumatic near-miss, involving a £10 win, 11-match accumulator on European Cup games.
The two early kicks-offs that I rushed to include went down – but the other nine results were right. Had I left the first two off the coupon, I'd have won more than £87,000 – £87,567.08 to be precise.
Fortunately, the shop has since moved to smart, new premises, so the physical reminders have gone.
Ladbrokes, Paddington Station, London
Gaudy and over-lit, but an essential venue on trips to London. Bet on arrival in the morning, collect – occasionally – on the way back in the evening, and you might be able to afford First Great Western's ludicrously expensive walk-on fares.
Roby Racing, Derby Lane, Old Swan, Liverpool
This was the shop where my dad worked on Saturdays.
Bob Paisley, the assistant-coach and later Liverpool's most successful manager, was a regular customer. This connection enabled me to get interviews with Paisley early in my sports-writing career, but the great man kept his racing tips to himself.
How to place a bet on the Grand National
*Most betting shops will be open early today, from 9 or 9.30am, and the earlier you bet the more the staff will appreciate it on their most testing day of the year. You can also help them by making sure you spell the name of your choice correctly; make clear what your stake (the amount you're betting) is, and whether it is a win bet, or each-way (win-and-place).
*On Grand National day, most punters bet each-way, with the bookies paying out on the first four horses home, at a quarter-odds for the places – some may even offer terms for five places, so ask the counter staff. Write the time and place of the meeting next to your bet: "4.15 Aintree".
*Finally, if you want to back the horse at its current price, rather than starting price, ask the clerk. Then hand the slip over; you will be given a receipt. Don't lose this! It is a stressful enough day as it is for the staff without somebody saying "I backed the winner but I can't find my slip" – you would have to provide a sample of handwriting at the very least, to prove your case.
* If you do win, don't charge into the shop; the settlers will have thousands of slips to wade through. Give it an hour or so or even go back in on Sunday morning, after you've been to church to say thanks.
More on the Grand National:
Click here to view the Grand National course at Aintree
Click here to view the Grand National runners and riders
Join our commenting forum
Join thought-provoking conversations, follow other Independent readers and see their replies