Pat Eddery: Racing figures pay tribute after legendary jockey dies aged 63
Eddery was crowned champion 11 times, claimed four Prix de l'Arc de Triomphes and won over 4,600 races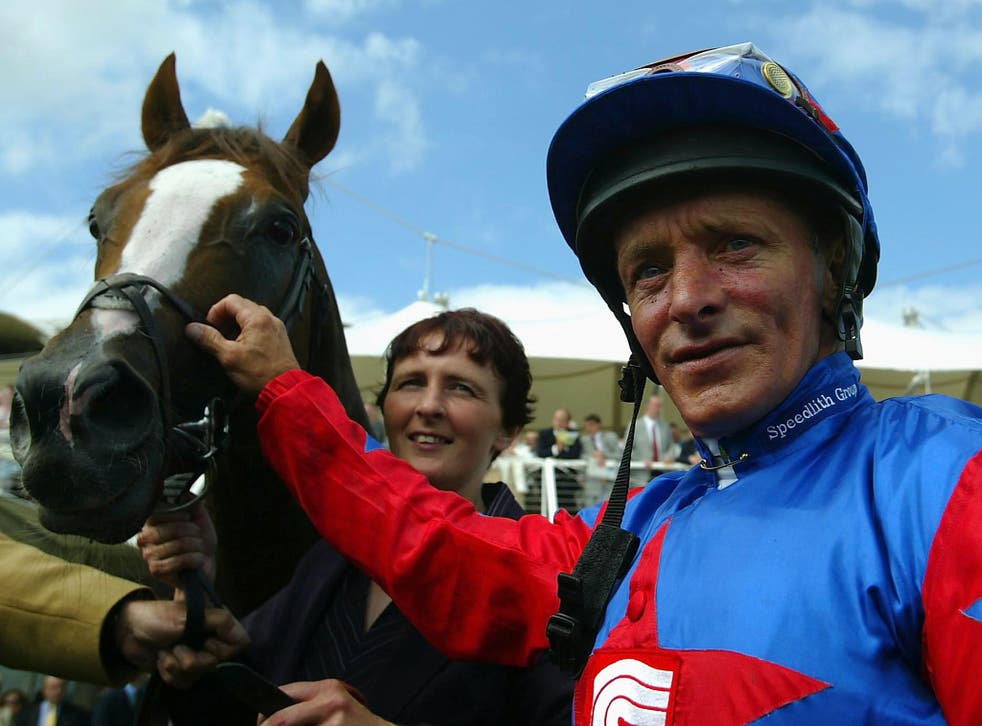 Legendary jockey Pat Eddery has died at the age of 63.
Eddery was crowned champion 11 times, claimed four Prix de l'Arc de Triomphes and won over 4,600 races before his retirement in 2003.
Confirming the news, Teddy Grimthorpe, racing manager to Prince Khalid Abdullah, in whose silks Eddery had some of his greatest days, said: "It is extremely sad news.
"Everyone at Juddmonte is very shocked and saddened by it."
Eddery's achievements put him on record as one of the greatest jockeys of all time.
He won 14 British Classics, including three Derbys aboard Grundy (1975), Golden Fleece (1982) and Quest For Fame (1990).
However, his performance aboard Dancing Brave in the 1986 Prix de l'Arc de Triomphe is widely regarded as one of the most memorable of his career.
In one of the classiest fields ever assembled, Eddery made his challenge last, down the centre of the track, to snatch victory.
Other famous successes include those of Pebbles at the Breeders' Cup, Silver Patriarch in the St Leger - which marked his 4,000th winner - and Zafonic in the 2000 Guineas.
Grimthorpe believes Eddery's championship tally was testament to his abilities in a perceived golden era for jockeys.
"He spanned the greatest era for jockeys ever. Lester Piggott, Steve Cauthen, Willie Carson, all were exceptional yet Pat's ability was unquestioned," said Grimthorpe.
Eddery, who had been suffering from ill health of late, began a training career following his retirement, with the highlight being the victory of Hearts Of Fire in a Group One in France.
Bruce Raymond, a former weighing room colleague, described Eddery as a "fun guy" and "ultra competitive"
"It's very sad. He'd been unwell for a long time. I just knew him as a good, fun guy. Everybody knows he was a great jockey," said Raymond.
"We used to play cards and have lots of fun. I can't imagine anyone being in his company and not enjoying it.
"I was with him abroad - Hong Kong, Italy, Germany, everywhere. We travelled together. He was good, fun guy and very generous.
"He was blooming tough to ride against and cool. He was ultra competitive. He would beat you in a photograph and laugh about it afterwards."
Clive Brittain trained Pebbles and used Eddery when he was an up-and-coming apprentice.
"It's a sorry day. He was a great friend and an integral part of my success at Carlburg," said Brittain.
"He was at the top of the tree for so long, but he was a green kid when I first started using him.
"You always got 100% from Pat, be it in a Classic or a Brighton seller.
"I never used to discuss tactics with him really and I certainly didn't with Pebbles. She was drawn 14 at the Breeders' Cup and it was all people were talking about.
"Pat just said 'it's a race, the best horse will win' and she did. He never panicked and gave her a brilliant ride. He was just so confident in everything he did.
"He made so few mistakes, like Ryan Moore today, and that's what sets the best apart from the others.
"He came to me as an apprentice on the advice of Frenchie Nicholson and he ended up riding my three biggest winners."
Willie Carson, an contemporary of Eddery's and arch rival in the saddle told Sky Sports News: "We are all going to be very sad that we have lost one of our real champions in the racing industry."
Eddery was the main man in the jockeys' room when Michael Hills began his riding career.
"He was just a fantastic character. He was a legend and we all looked up to him," he told At The Races.
"Being in the weighing room with him on a daily basis was just such fun.
"I was 13 when I first met Pat and he was first jockey to Peter Walwyn. He took me and my twin brother Richard under his wing.
"He was great to me and was a person I would always turn to for advice. He would always give you a great opinion and was always for you. He was a fantastic man.
"He had an amazing racing brain and horses loved to run for him."
Dancing Brave was trained by Guy Harwood for whom Eddery rode many big-race winners when he was retained by Khalid Abdullah.
When Harwood retired, his daughter Amanda Perrett took over at Pulborough and she found Eddery a big help as she set off on her training career.
Perrett said: "Dad held him in the highest esteem. He was one of the greatest jockeys of all time.
"His win on Dancing Brave in the Arc was a truly phenomenal ride.
"From my point of view, Pat was instrumental in helping us when I took over from dad and he rode a Group One winner for me in Indian Lodge in the Foret.
"Pat and dad were a great combination when he was riding for Prince Khalid.
"It was a sad day when he stopped riding.
"He was a wonderful horseman and a great friend to us throughout his riding career."
PA
Register for free to continue reading
Registration is a free and easy way to support our truly independent journalism
By registering, you will also enjoy limited access to Premium articles, exclusive newsletters, commenting, and virtual events with our leading journalists
Already have an account? sign in
Register for free to continue reading
Registration is a free and easy way to support our truly independent journalism
By registering, you will also enjoy limited access to Premium articles, exclusive newsletters, commenting, and virtual events with our leading journalists
Already have an account? sign in
Join our new commenting forum
Join thought-provoking conversations, follow other Independent readers and see their replies