Royal Ascot: Dawn burns bright again after sun sets on Kingdom
2,000 Guineas winner redeems reputation after Derby in titanic battle with Toronado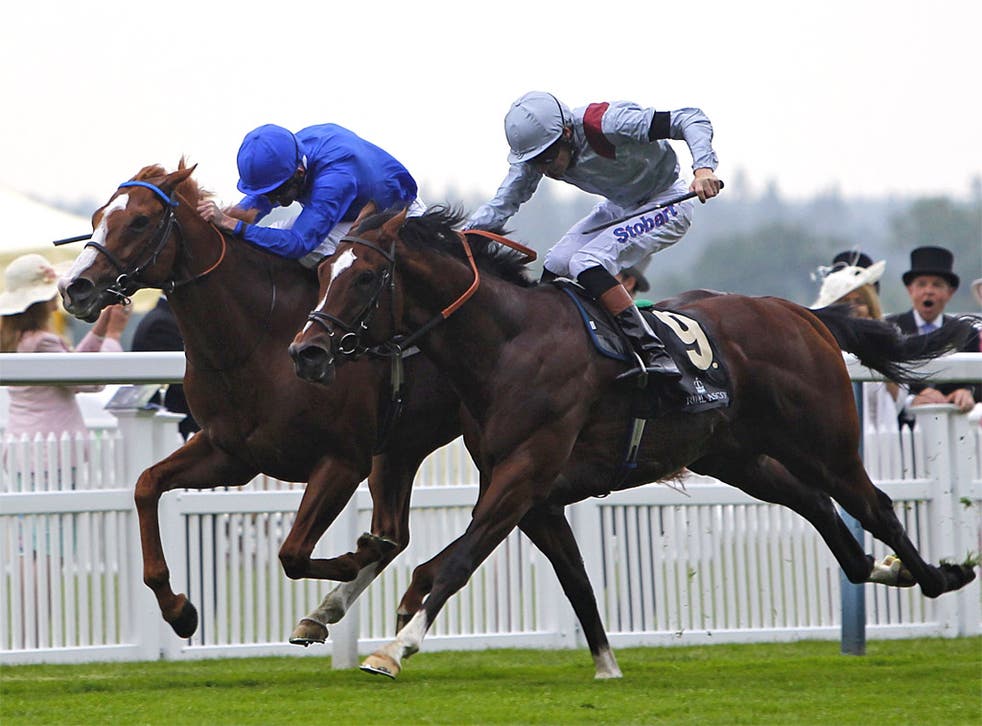 Never mind all the millinery and manners. It's a jungle out there. With thoroughbreds, the only question is whether their scalding brilliance will be turned upon the rest of the herd – or inwards. Today, two champions explored the perilous margin of their instincts. One took flight, and burnt himself out in a fretful, wild-eyed stampede. Another, guilty of a similar panic only 17 days previously, this time elected to stand and fight.
Many in the gorgeous throng of spectators had anticipated little difference between the procession of royal carriages, before racing, and that of Animal Kingdom over the same turf just a few minutes later. In the event, the globetrotting American champion was himself consumed in the Queen Anne Stakes by the very energies that had been expected to wither his indigenous rivals.
So soon after the implosion of Dawn Approach at Epsom, here was another reminder of the dark weir that can pull these animals under the fount of their genetic brilliance. For a horse who has spent his whole life wheeling round bends, the rails narrowing upon a distant horizon must have represented to his animal imaginings some portentous, choking constriction. His jockey could find no sanctuary among the pack, and Animal Kingdom tossed his head violently against all restraint. Like Dawn Approach in the Derby, he was spent by halfway. He trailed in 11th of 13 behind Declaration Of War – a dispiriting end to a career that had dismantled so many boundaries. "He just didn't relax," John Velazquez shrugged. "When I let him down, he gave me no run at all."
Graham Motion, his trainer, brought a suitably stiff upper lip back to his native land. "I am sorry it didn't work out," he said. "It's disappointing for everybody. There was such a good reception for him. But he was keen early, and Johnny had to fight him a little bit, and he didn't have any cover. When you are out in the open like that, it's a different ball game. The [outside] draw made it awkward. But the experience has been tremendous, and if I ever had the opportunity to do it again, I would – absolutely."
Motion deserved better, for the adventure he has always shown with the first Kentucky Derby winner to run here since before the Second World War. As it is, his notoriously insular professional peers will find enough in his fate here to stifle the self-doubt he might have raised by plundering the world's biggest purse in Dubai in March.
Yet barely an hour later Dawn Approach himself had reiterated the rewards that can only be won by embracing risk. The colt who blew out at Epsom this time harnessed the cutting edge of his nervous energy to a courage that can be counted no less a hallmark of the breed. He had started hot favourite for the Derby on account of his brilliant success in the 2,000 Guineas. But he achieved redemption, back over a mile in the St James's Palace Stakes, by the sheer, brutish depth of his physical reserves.
Only his trainer, Jim Bolger, perhaps, would have matched the skill and nerve to bring Dawn Approach back from Ireland, so soon after the Derby debacle. His best horses have always been defined by their resilience, and Dawn Approach proved himself hewn from the same quarry – even after again failing to settle in the early stages – once the gloves came off in the straight. Magician, perhaps reacting to the setback that had put his participation in jeopardy, veered into Dawn Approach, who in turn barged Toronado even as that colt began to challenge down the outside.
The nuances of that impact would prove critical, as Toronado regrouped just too late to reel in Dawn Approach, who held out by a short-head, the pair clear of Mars in third. The stewards held an inquiry, but the author – and beneficiary – of the interference was able to transfer all blame to Magician, who trailed in last.
However baffling his decision to run this colt in the livery of Godolphin, Sheikh Mohammed was plainly relieved by this latest dividend from his investment in Bolger's acuity. "The biggest risk is not taking any risk," the sheikh declared, indulging his weakness for axiom. But while the Derby had been his suggestion, this flourish very much bore the imprint of Bolger. Here is a trainer unaccustomed to being outsmarted, and many felt the slow pace at Epsom had been artfully calculated by his rivals to ignite any hidden tinderbox in Dawn Approach.
In turn, Bolger now gave credit to the man who partners the colt at home. "Pat O'Donovan was very brave," he said. "Because he was happy to ride the horse out in a hackamore [bridle] for a week after Epsom, which is a bit like driving without brakes. That was the winning of today's race. It's the nature of sport to take chances. Sometimes they work, and sometimes they don't."
Join our new commenting forum
Join thought-provoking conversations, follow other Independent readers and see their replies