England vs New Zealand Third Test preview: Brett Ferres - Forward with an eye for a try wants to end on a high
The second-row forward cannot stop crossing the whitewash and, he tells Dave Hadfield, would love more of the same in Saturday's series-deciding match against the Kiwis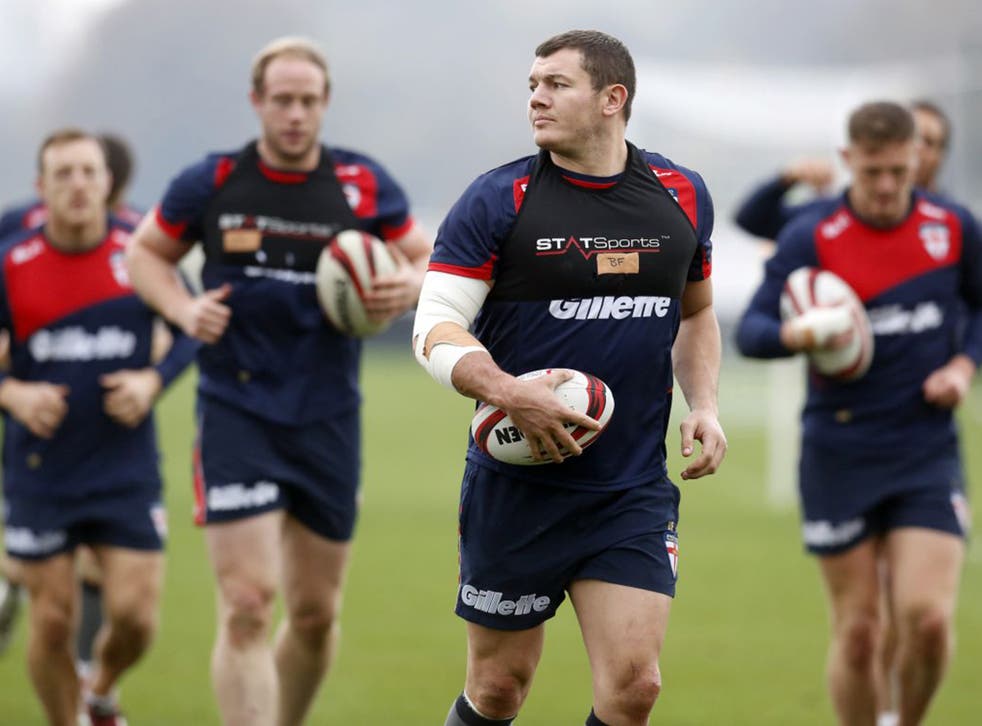 For all the spectacular touch-downs that have lit up Super League this year, England's best chance of beating New Zealand and winning their Test series could lie with a forward who has made an art form of poaching sneaky, close-range tries.
Brett Ferres might lack the pace of a Zak Hardaker or a Joe Burgess, but his recent record as a match-winner is hard to beat.
He scored three tries against France last month and two in the first match of the Kiwi series at Hull.
"Steve McNamara told me this week that I'd let him down by not scoring in London," says Ferres of the defeat last weekend, when no English player crossed the whitewash nor looked likely to do so.
The two men go back a long way. Ferres was seen as a potential long-term successor to McNamara at the Bradford Bulls when he began his professional career there in 2005.
McNamara by then was on the club's coaching staff; since he graduated to the England job, he has picked Ferres whenever he has had the opportunity, valuing his clever handling and his opportunism near the try-line.
"There's no doubt that Steve has been good for me, but then he's been good for English rugby league in general," Ferres says. "He's always been very fair and honest with me and I think other players would say that as well."
Ferres could be described as having had a chequered career. Since his early days at Odsal, he has played for Wakefield, his home-town club Castleford and now Huddersfield. He has had his share of interruptions through suspensions and injuries – including a notorious "cannonball" tackle from Rangi Chase that put him out for three months this season.
Through all his ups and downs, however, he has always had an eye for a try. His double at Hull two weeks ago took him past the 80 mark for club and country – a heady achievement for a specialist forward, albeit one who played a fair bit of stand-off in his youth.
"That was before I filled out," he says. "As far as scoring tries is concerned, I've always just tried to get into the right positions."
Like most of his team-mates, Ferres is perplexed by how rarely England got into those positions at Olympic Park last Saturday. Unlike many spectators, he doesn't blame any lack of atmosphere at rugby league's newest venue. "I thought it was a good atmosphere, with plenty of noise, and it was a great idea to take the match down there."
As for England's failings on the field, he agrees with McNamara's analysis of where it all went wrong. "We defended really well, but we had to do so much of it that it took the edge off our attack," he says.
The consolation after that bitterly disappointing performance is that there is the prospect of speedy redemption at a soldout DW Stadium on Saturday. "It's a fantastic prospect, a full house at Wigan with so much riding on it," says the 29-year-old Ferres. "It probably makes the difference between a good season and a bad season for rugby league in this country."
Whatever happens, he remains convinced that McNamara should keep his job. "They wouldn't find anyone better. No one has put things in place for the players like he has."
That includes using the new international training facility at St George's Park near Burton on Trent, which Ferres describes as "magnificent. Everything is laid on for you."
With Saturday's decider shaping up as the closest of contests, it might not take three tries or even two from Ferres to win it; one at the right time – even the sort of scruffy effort in which he specialises – could be enough.
And then the England forwards can resume their baiting of their more glamorous back-line team-mates about how easy this try-scoring business really is.
Join our new commenting forum
Join thought-provoking conversations, follow other Independent readers and see their replies