Huddersfield interim coach Chris Thorman gives himself six out of 10 after Magic Weekend win
The Wallsend-born Thorman became the first Geordie to coach a team at the Magic Weekend in Newcastle and was able to bask in the glory of a 25-22 victory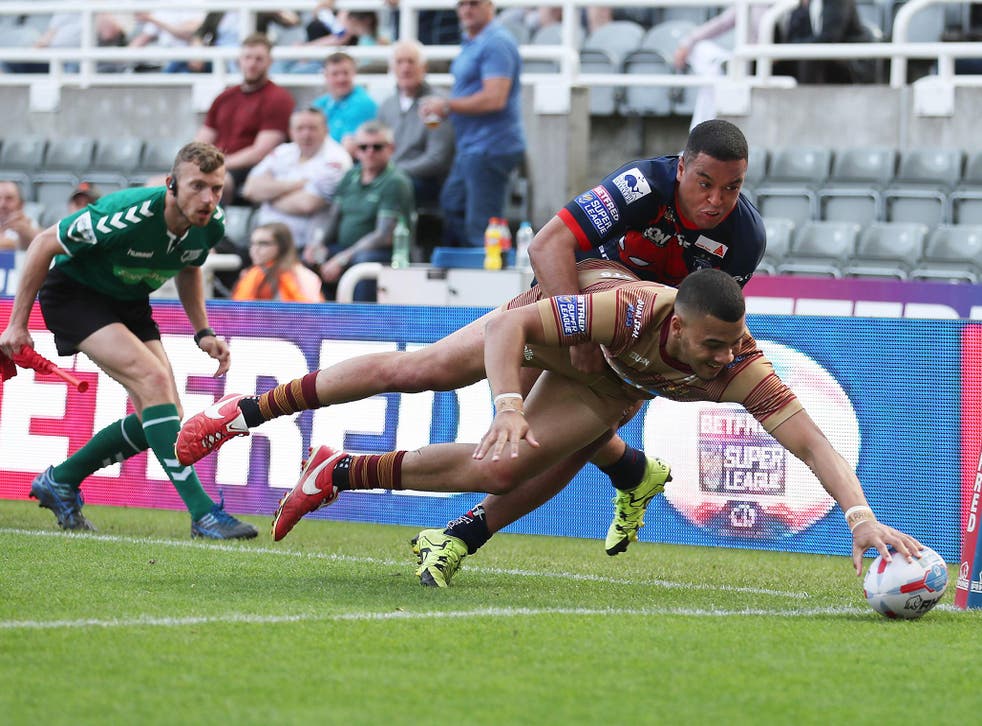 Huddersfield interim head coach Chris Thorman gave himself a mark of six out of 10 as he prepares to hand over a winning team to Simon Woolford.
The Wallsend-born Thorman became the first Geordie to coach a team at the Magic Weekend in Newcastle and was able to bask in the glory of a 25-22 victory over Wakefield at St James' Park.
"It's a nice feeling," he said. "I was born a mile down the road and for any Geordie to come here, in whatever sport, and win in this sporting cathedral is pretty special."
Thorman, who is holding the fort while Woolford waits in Australia for final clearance, has steered the Giants into the last eight of the Challenge Cup and to consecutive Super League victories for the first time since last July.
"I'll give myself six out of 10, could do better," he said. "With all the injuries we picked up, I think we've done as well as we could have expected. I've given five debuts to young academy products which will stand the club in good stead going forward. Hopefully we're only going to improve. Winning is a nice habit to get into and whilst you've got a bit of momentum and confidence then it stays with you."
Thorman has presided over nine matches since the sacking of Rick Stone and said he could still be in charge for next Friday's trip to Salford.
Huddersfield made the perfect start against Wakefield with Aaron Murphy, Jake Mamo and Adam O'Brien scoring tries inside the first 23 minutes to put them 18-0 in front. Trinity staged a tremendous fightback, highlighted by two tries from winger Ben Jones-Bishop, but winger Darnell McIntosh scored a fourth try for the Giants to keep them in front.
"It was frustrating," Thorman added. "At the end of the day we got the two points which were very much needed to keep that momentum building. But I'm frustrated with the performance. We made too many unforced errors and gave away too many stupid penalties. I thought we were probably just good value for our win."
Wakefield coach Chris Chester was pleased with his side's second-half display but admitted his side had left themselves with too much to do.
"We started the game very sloppily," he said. "We didn't get out of the blocks, it took us 30 minutes to get a foothold in the game. I thought for the next 50 minutes we were the better side but you can't afford to give 18 points away, that's what hurt us. I don't think we deserved anything from the game.
"We just didn't want to do the tough stuff in the first 30 minutes. It was probably the worst I've seen us play in that 30 minutes. We probably got out-enthused by a young, energetic Huddersfield team and we need to look at the reasons."
After starting the season with four straight wins, Trinity have won just two of their last 10 in the league but Chester is confident they can retain their top-eight place.
"We're still looking up," he said. "We're only three points off Leeds. It's hurt us, the fact that we've not been able to bridge that gap between us and the teams above but, once we start clicking, we know we're a good side."
PA
Register for free to continue reading
Registration is a free and easy way to support our truly independent journalism
By registering, you will also enjoy limited access to Premium articles, exclusive newsletters, commenting, and virtual events with our leading journalists
Already have an account? sign in
Register for free to continue reading
Registration is a free and easy way to support our truly independent journalism
By registering, you will also enjoy limited access to Premium articles, exclusive newsletters, commenting, and virtual events with our leading journalists
Already have an account? sign in
Join our new commenting forum
Join thought-provoking conversations, follow other Independent readers and see their replies