Josh Charnley on the Challenge Cup, changing codes and changing his life
Exclusive interview: Charnley has taken his return to the 13-man game completely in his stride and heads back to Wembley this weekend attempting to win a third Challenge Cup
Jonathan Liew
Chief Sports Writer
Friday 24 August 2018 07:15 Comments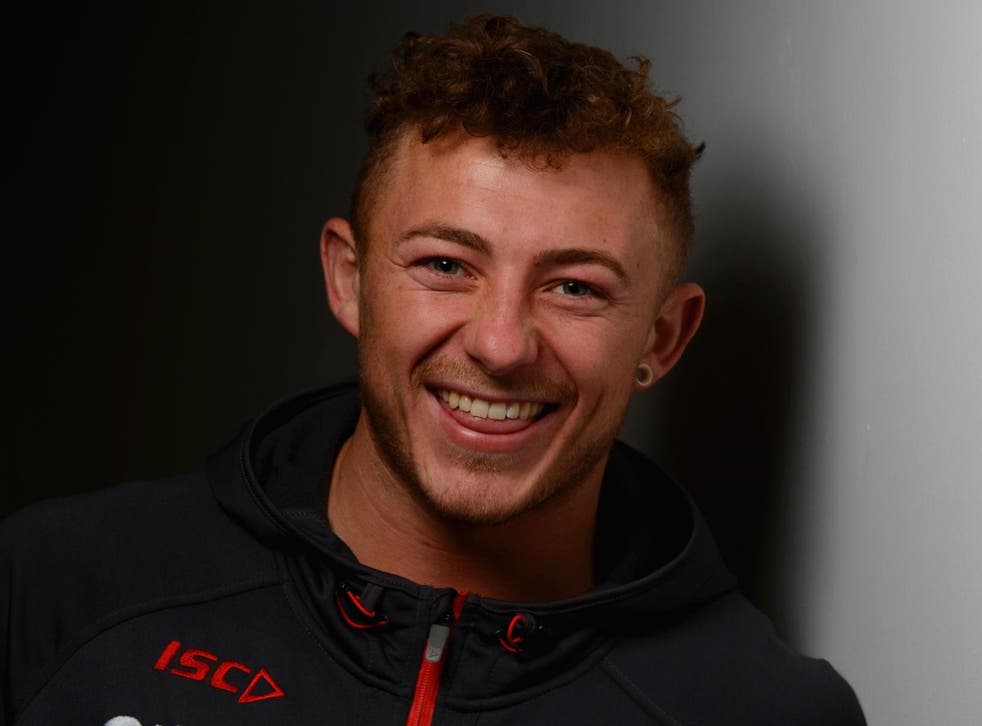 "Things move fast," says Josh Charnley, and this time he's not just talking about himself. Instead, he's reflecting on a journey that has unfolded with the same electric pace he brings to his game. One that has taken him to Wembley Stadium for this Saturday's Challenge Cup final, from playing a completely different sport five months ago.
We're sitting in the stands of the Halliwell Jones Stadium, the unprepossessing home of Warrington Wolves. A tough training session is just drawing to a close, and a kicking challenge is now taking place on the field. All around, the comforting sights and sounds of a familiar game. Charnley has only been a Warrington player for five months, but already these four stands, and the memories entombed within them, are beginning to feel like home.
Rugby league runs out of the hot and cold taps in this town, and on Saturday tens of thousands will migrate south on coaches and trains, bedecked in primrose and blue, in the hope of seeing the Wire's first silverware since 2012. "We've definitely got the best travelling crowd," Charnley says approvingly. "They're passionate about their rugby here, and it shows in the numbers that turn out each week. When I played here for Wigan, they were always on my back, giving me abuse. But now it gives you a lift."
There's no bitterness from Charnley at the way things turned out for him in rugby union, having joined Sale Sharks in 2016 with dreams of making it big in the 15-man game. But you certainly don't get the sense that he has any regrets about his time there, or that he feels like he failed. On the contrary: by the end of his spell at Sale, he believes he had finally cracked the code.
"I really enjoyed it," he says now. "I just didn't get game time. If you play, you're learning. Sale helped me as much as they could, but it was just competition in the team. My last game I played for them, I thought I did really well. I didn't want to leave without doing what I set out to do. So I was happy with myself."
What were the main differences between the two codes? "Everything," he says. "From positioning, plays on the field, the moves. There's a lot of scrumming, a lot of ball off the field, a lot of waiting around. The only thing the same is the shape of the ball. That's about it."
Ultimately, Charnley put everything into making it as a Premiership regular, perhaps even pushing for international honours. But with little kicking game to speak of, and competing for a spot in the back line against international players like Marland Yarde, Denny Solomona and Byron McGuigan, it was always going to be a tough gig.
There was no great sulk, nor any grand escape plan. But when Warrington offered him a route back to the game he had been playing since he was six years old, something chimed inside him. He signed the contract with barely a second thought. "It was all within a week," he says. "It were that quick." In a way, Charnley has always plotted his career the same way he plots his way down the wing: one move at a time, never looking too far ahead, and seizing an opportunity when it presents itself.
He hasn't looked back. Without a pre-season, and parachuting himself into a new dressing room with an established style, Charnley has enjoyed an outstanding first season in Cheshire, scoring 13 Super League tries and slotting into a team stuffed with international quality. They will begin as heavy favourites on Saturday against Catalans Dragons, having beaten the French side 26-0 and 56-6 (albeit against a weakened team) already this season.
In a way, Charnley sees his form this season as a kind of payback. "I'm grateful to this club," he says. "They gave me the opportunity to come back to league, so I owe them a lot. Now I need to be a leader. They've not had much success in recent years. I've been there twice, won twice. Now I want to go there and win three times with these lads."
He's 27 now: the kid who used to bounce off the walls at Wigan, infusing the dressing room with his skittish energy, belongs to the past. He's a father now, with one son and another child on the way. These days his pre-match routine stretches to nothing more extravagant than a ham and cheese sandwich from Subway. "I'm just a little bit smarter and a bit wiser," he says. "I used to be giddy. Probably used to get on people's nerves at Wigan. But I've taken a step back."
He's got life experiences to draw on, and the freight of adulthood weighing on his mind. "I've just sold my house at the minute. It's only a little two-bed, and we've got another baby. So I'm moving, but I don't know whether to move closer or stay where I am. I don't like being in the same town where I work. I like to be away from rugby, away from it all. That's what I'm doing as soon as I finish training. I'm on Rightmove, searching for houses…"
Older, wiser, and a winner. Having won three Grand Finals and two Challenge Cups with the Warriors, Charnley knows better than most where these big showpiece games are won and lost. "It's just whoever turns up on the day," he says. "It could be anyone's. You've just got to be in the right frame of mind. We know how to play, we know what systems to run. If we do them right on the day, we're unstoppable."
Register for free to continue reading
Registration is a free and easy way to support our truly independent journalism
By registering, you will also enjoy limited access to Premium articles, exclusive newsletters, commenting, and virtual events with our leading journalists
Already have an account? sign in
Join our new commenting forum
Join thought-provoking conversations, follow other Independent readers and see their replies