Billy Vunipola opens up on broken relationship with brother Mako after realising his 'head was in the clouds'
Saracens forward has also spoken with England teammates during lockdown after realising his off-field behaviour was not up to scratch during last year's Rugby World Cup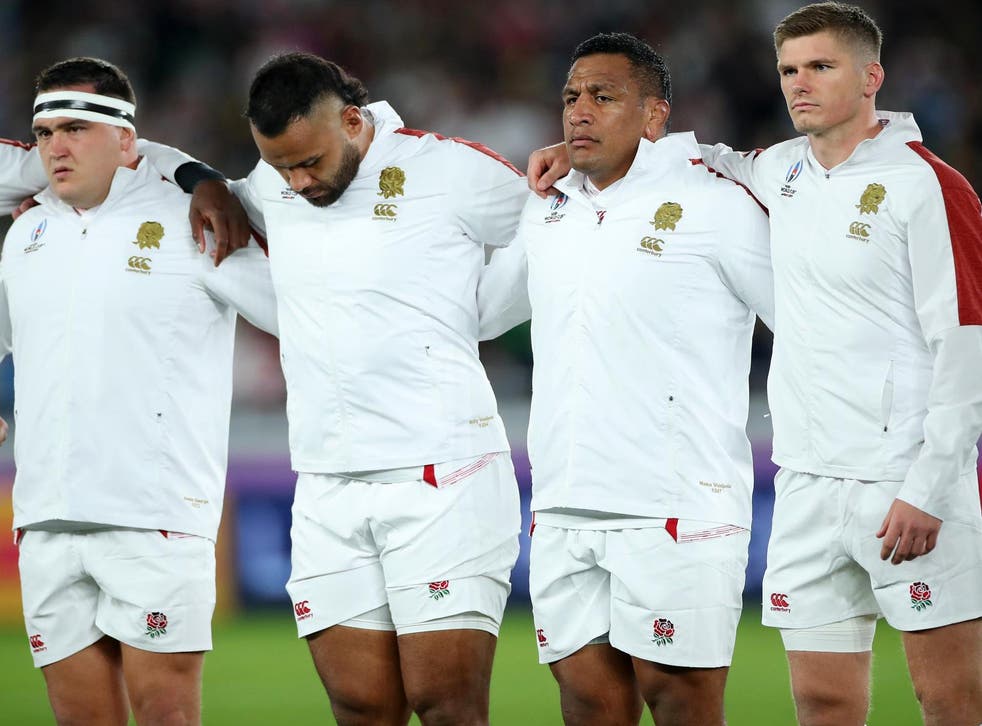 Billy Vunipola has opened up on the broken relationship with his brother Mako, and how a realisation that he had his "head in the clouds" impacted England's World Cup campaign.
The Saracens No 8 has endured a difficult spell over the course of the last three years, breaking his arm four times and missing nearly as much rugby as he has played since the start of 2017. His return to fitness last year coincided with England's rich run of form in 2019, culminating in the disappointing World Cup defeat against South Africa last November before the latest of his injury setbacks struck in January with yet another arm fracture.
The forward missed England's Six Nations campaign because of the injury, but lockdown and the suspension of rugby union means that Vunipola will be able to play some part in that campaign if he is selected for their final game against Italy on 24 October. And with rugby set to finally return next weekend when the Premiership resumes, Vunipola would have been forgiven for approaching media duties this week with a spring in his step.
But seven months since his last rugby outing has given him plenty of time to assess where he is in life, resulting in a lengthy period of self-reflection that produced uncomfortable answers. Despite playing rugby for the same club and county, Vunipola acknowledged a somewhat strained relationship with elder brother Mako, while a refusal to listen to his parents in Japan last autumn led to him becoming something of a hindrance to the team off the field.
"I had a real good look at myself," Vunipola said. "I think I could have been better at the World Cup in terms of off the field. I think my head was in the clouds.
"That's something I always battle with. I find it hard to keep my feet on the ground when I do something well. That's been a massive challenge for me over this period of lockdown. If you reach success again, both as a team or personally, how do I stay grounded?
"The people I (since) needed to talk to, I talked to about it. I did a lot of self-reflection after the World Cup and during this Covid period. It's things I could have done better and things that affected the chemistry of the team.
"There are (specifics) but they are things that happened in the vicinity of the team when we were away and I have talked to people that I guess it affected, and that was personal between me and them."
That was no clearer than with Mako. The pair may be brothers, but they represent the different ends of the personality spectrum. Mako has a son at 29 years old and prefers life out of the public eye, keeping himself to himself and going about his business as quietly as a 130g prop forward can do. Billy on the other hand would do well to keep himself out of the headlines, whether it's stumbling out of Six Nations celebrations in Dublin looking worse for wear or his support for sacked Australian Israel Folau that earned him a firm warning from Saracens and England. Through it all, he has operated with a philosophy of 'Billy knows best' - until now.
"When I say 'head in the clouds', I haven't been willing to learn as much as I could off the coaches and people around me whether they're younger or older than me," he added. "I can learn off other people and listen to people, rather than just listening to give them a comeback. It's an important skill that I've worked on.
"I'm trying to be a better person and that's including listening to people, and actually listening, not just to critique them back. When I had my head in the clouds someone would be telling me something, I would go 'yeah, yeah, yeah, sweet' and carry on what I was doing before. There's an intention to try and get better. Hopefully I can show that."
He has not discussed any of this with his brother, but believes that his actions should speak louder than his words. "I think he can see that there is change in me. We talk a lot more.
"Him and me didn't really get on and that was my fault because I would never make the effort, I would never listen to him because I thought I knew the crack. I listened to critique him rather than listened to listen to him. That is one thing I have definitely improved on."
"What kind of happened before was … it was mainly we were very competitive with each other but maybe we didn't support each other as best we could and that is definitely something I felt I didn't do for my brother. I didn't support him when he was in a bad spot with injuries and that kind of improved our relationship, and hopefully we can keep going that way."
Much of the advice in Japan last year arrived at his doorstep from those who love him most, only for it to be ignored despite it being passed on with good intentions.
"I always looked to blame someone else or something else and I finally realised, when I spoke to my parents, that I need to take ownership," he reflected. "Those guys never lie to me. It was hard to look at myself and it took a while, maybe two or three weeks to think.
"It took me a while to realise that they are right. It just took me longer. My head was in the cloud and I didn't want to take ownership for things that I did. It's hard to admit it sometimes and tell people around you that you are wrong."
He hopes that this brutal period of self-reflection will produce a better Vunipola on the field, which is something that his Saracens boss Mark McCall is already seeing.
"We have (seen a change), actually, just in a quiet way," McCall said. "What he says in a team meeting and, more importantly, in the emotions of a training session, how slightly more mature he is, I'd say. We have seen that.
"If you're going to grow and you're going to learn and you're going to become a leader, you are going to go through all those things. Billy is one of the players who learns the best – he is prepared to reflect, he is very self-aware. Fingers crossed, we need to see a better Billy."
Join our new commenting forum
Join thought-provoking conversations, follow other Independent readers and see their replies