The Billy Vunipola episode has shown how much rugby still has to learn
Whether the sport likes it or not, there is a lot more education to be done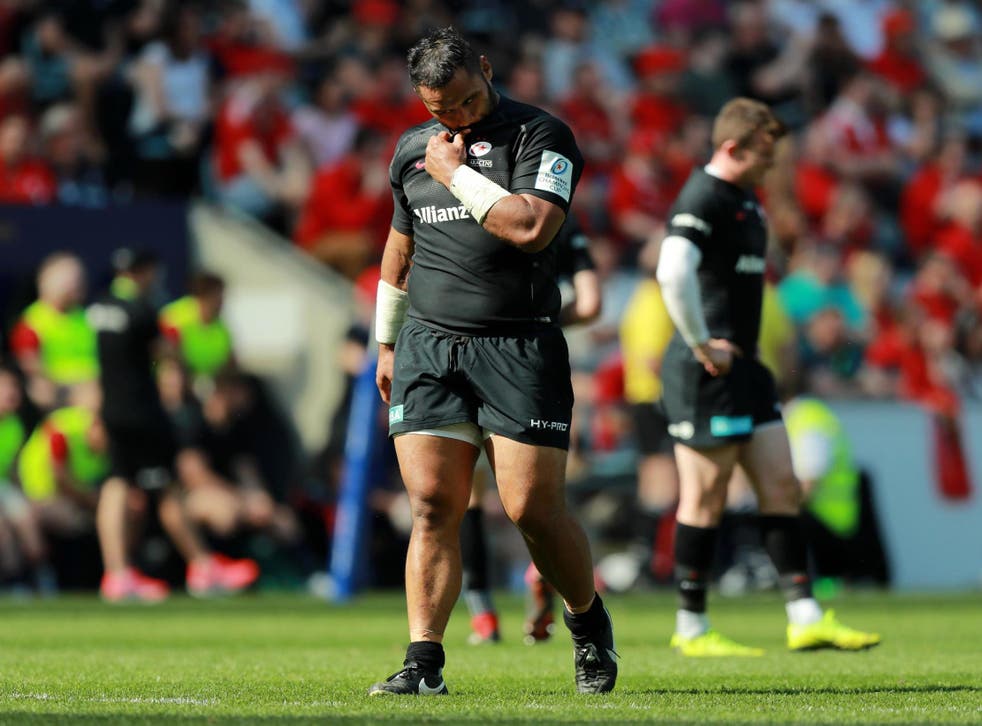 It was grimly predictable that Saracens' magnificent European Champions Cup semi-final win over Munster would be mired in controversy.
In a week when rugby was drawn into the gutter by those misguided enough to profess to know the word of God, the spiteful bile became apparent in the stands. It seems a window has been created for the lowest common denominator to wade through and, on Saturday, some Munster fans took the opportunity to pile in.
Let's be clear: those booing Billy Vunipola and hurling abuse at him and any other Saracens player within earshot at the Ricoh Arena were not standing in solidarity with the LGBT community. They were simply adding to the hate. It was horrible and completely unacceptable, and the individual who ran onto the field at the end of the game to confront Vunipola should receive a lengthy stadium ban.
Clearly rugby has no room for sanctimony or complacency when it comes to the foul-mouthed abuse of players. Football is not the only sport with a problem.
The problem for Vunipola and Israel Folau, who let's not forget opened this foul can of worms, is that they've weaponised the rhetoric of the hate preachers and opened up a world of abuse rugby has previously prided itself on rising above. They've changed the landscape for all the wrong reasons.
"All gays are going to hell." Could you imagine a more cruel, divisive and inflammatory statement?
The ends – which saw some Munster fans highjack Vunipola's folly to vent their own fury at the world and any Saracen within earshot – did not justify the means. The screaming fools demeaned their club and embarrassed the sport with their hypocrisy and bile.
But Vunipola cannot be allowed to simply shrug his hulking shoulders, smile his broad smile, make a half-hearted apology for any hurt caused and simply carry on as we were.
By publicly defending Folau, Vunipola hurt a great many people. The very togetherness rugby prides itself on has been challenged. We need to agree some common ground.
So as the effluent continues to drain away from the stench caused by Folau and those foolish enough to support him, can we agree on a rare thing in today's polar world? Some nuance.
We admire Billy Vunipola as a rugby player.
We abhor his homophobic views.
We never condone a spectator entering the field of play.
We condemn vile, persistent and unwarranted abuse of players.
We've entered a new world here and if rugby doesn't get it's act together soon we'll see more scenes and hear more abuse like we did at the Ricoh.
We also can't pretend Vunipola is the victim in all this. It may have been a difficult week for him, as many of us reported, but it has been a considerably more difficult week for those in the LGBT community he's hurt by revealing his deeply held beliefs.
"From my point of view there is no intention to hurt anybody," Vunipola said after his man-of-the-match display.
"I believe in what I believe in. I felt a lot of love, a lot of kindness shown to me."
Sorry, Billy but you can't have it both ways. Showing love works on more than one level.
Whether the sport likes it or not, there is a lot more education to be done.
Clearly, there are spectators who need educating about the values or respect and decency which rugby has prided itself on for more than a century. If necessary, bans will needed to be dished out.
Some of the scenes witnessed by those of us who watched the game on television were embarrassing for Munster and the sport we love, while trusted friends and colleagues who covered the game live reported a spiteful and bilious atmosphere which went far beyond anything remotely acceptable.
But at the same time, and without justifying any of this abuse, there are rugby players – a great deal of them it seems – who need educating that what they believe is wrong, divisive and anti-rugby.
Saracens were brilliant on Saturday and will probably go on to win the Champions Cup for the third time in four years. In Ben Spencer they have a young scrum half who is playing his way into World Cup contention while Billy and Mako Vunipola are closing in on the sort of form which will make England fans proud.
But no-one can be proud of the nonsense that's gone on in recent weeks. Rugby, it's players and supporters clearly still have a lot to learn.
Join our new commenting forum
Join thought-provoking conversations, follow other Independent readers and see their replies