Burns fires final shot as young rivals duel in rain
Saracens 15 Gloucester 15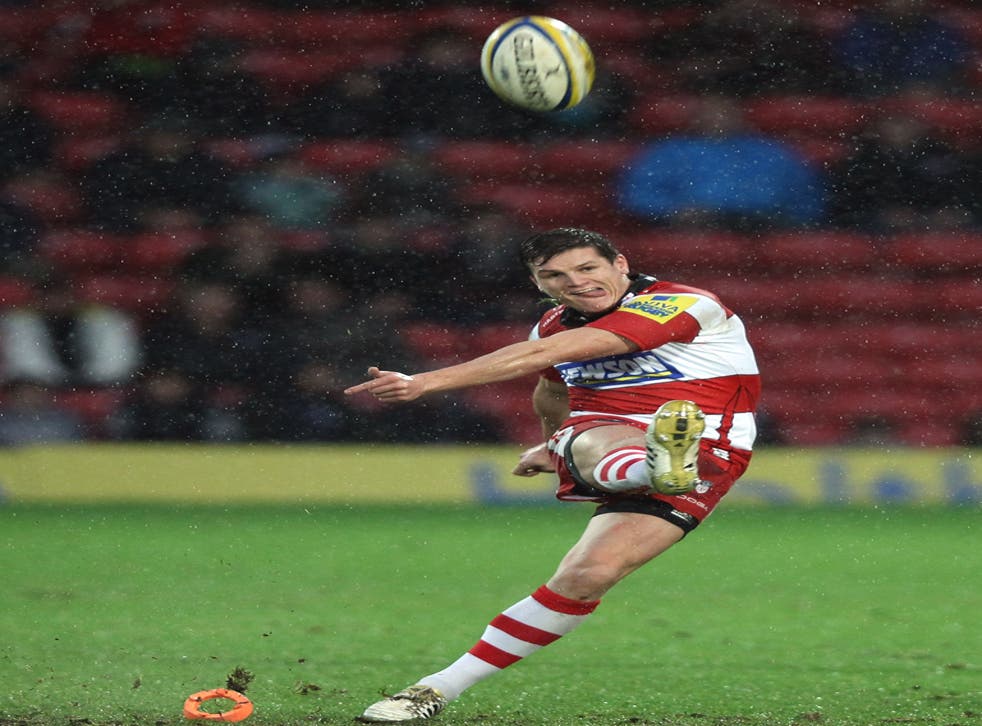 Owen Farrell and Freddie Burns shared the honours as their teams shared the points in a shocking downpour at Vicarage Road.
The young fly-halves are in contention for England consideration when interim head coach Stuart Lancaster names his Six Nations Championship squad on 11 January, and both did themselves no harm with five goals each and plenty else to admire.
Gloucester, who increased their grip in the scrum as the battle unfolded, certainly deserved their share of the spoils, delivered by Burns with what is becoming a trademark long-range goal, just two minutes from time.
Farrell looked furious when referee Sean Davey penalised Saracens late on, not because of any sense of injustice, but purely frustration as the champions saw two points lost rather than gained.
Saracens were forced to make an 11th-hour change, with Farrell moving up off the bench to replace fly-half Charlie Hodgson, who became a father for the third time during the early hours with the birth of son Jack. Gloucester restored Mike Tindall to their midfield after resting him for ther home win over Wasps.
Lancaster along with Saracens head coach Andy Farell, who is also England's interim attack coach, had the opportunity to assess the likes of Alex Goode, Brad Barritt and Farrell in the home side and Charlie Sharples, Henry Trinder and Burns from the visitors.
But, in the end, justice was done by Burns while the other contenders were dealt a difficult hand by the conditions. Goode, however, excelled and looks back to his best form.
Considering the atrocious wet conditions, both teams tried to play expansive rugby, with sometimes predictable results in terms of handling errors.
Gloucester, trailing 3-9 after 28 minutes, gradually gained an edge in the tight and reversed the earlier trend by and taking the game to Saracens.
The home side were justifying their reputation as the meanest defence in the Aviva Premiership. But half-time did no favours to Gloucester who lost some of their impetus upon the restart.
Aside from the duel between Farrell and Burns, and the threat posed by Goode, there was little else to lift Lancaster out of his seat from the other candidates.
Saracens were always the side with their noses in front, besides from when Burns struck equalisers, saving his best to last, with the most crucial kick arriving from some 45 metres out and two minutes from time to delight the visiting fans, and leave Harlequins seven points clear at the top.
Scorers: Saracens. Pens: Farrell (5). Gloucester. Pens: Burns (5).
Saracens: A Goode; C Wyles, A Powell, B Barritt, J Short; O Farrell, P Stringer; R Gill, J George, M Stevens, S Borthwick (c) M Botha, K Brown, J Wray, A Saull.
Gloucester: O Morgan; C Sharples, H Trinder, M Tindall, J Simpson-Daniel; F Burns, R Lawson; N Wood, S Lawson, R Harden, P Buxton, J Hamilton, A Strokosch, L Narraway (c), A Qera.
Referee: Sean Davey.
Join our new commenting forum
Join thought-provoking conversations, follow other Independent readers and see their replies