Gareth Anscombe backs Cardiff Blues to end eight years of hurt in European Challenge Cup final
The Blues beat Pau to set up a final with favourites Gloucester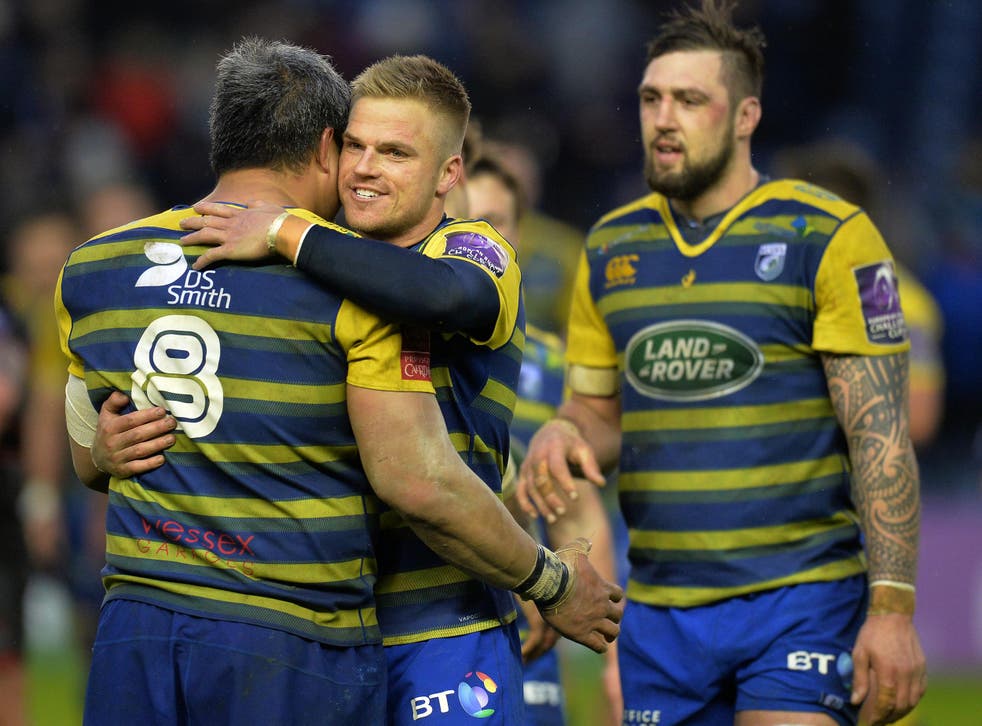 Gareth Anscombe has backed Cardiff Blues to end eight years of hurt in the European Challenge Cup final against favourites Gloucester after overcoming one of the biggest rugby teams on the planet.
Danny Wilson's men set up a 11 May showdown in Bilbao with Johan Ackermann's Cherry and Whites as they beat Pau 16-10 in an absorbing contest at the Arms Park on Saturday which saw no quarter asked or given.
Pau, with hulking tighthead prop Malik Hamadache standing 6ft 4in tall and weighing 22 stone, posed a massive physical threat across the field but Blues were up to the challenge and now stand on the brink of winning the Challenge Cup for the first time since 2010.
The intervening years have not been kind for Blues fans who have seen the region struggle financially while the playing squad has been decimated.
But a revival is clearly on the cards with Anscombe and the current squad appearing unified, focused and blessed with enormous self-belief and grit, embodied by the tireless work of flanker Josh Navidi.
Gloucester's comfortable win over an under-strength Newcastle side on Friday night promises an exciting Anglo-Welsh match up in the final when Anscombe and his team-mates have the chance to bring silverware back to the Arms Park.
"Hats off to our boys there were a couple of big boys in the middle of the park there for Pau," Anscombe said. "Their prop was one of the biggest boys I've ever seen.
"We knew how much this game meant but it's not until you see the reactions of the staff, people in the crowd and behind the scenes. You could see it meant a hell of a lot to them. The Blues have probably been put through the ringer over the past five, six years in terms of some results and things happening off the field. So it's been nice to return that a little bit and give them something to look forward to. It'll be a fantastic occasion in Bilbao in a couple of weeks.
"The final will be a tremendous occasion. Hopefully we can pack out a few planes and we'll go out and see what happens."
Anscombe was his team's only try-scorer in a brutally physical encounter between two teams playing contrasting styles.
Pau's big-money collective could not crack the Blues well organised defence in the second half with former All Black Conrad Smith scoring his team's only try when he took advantage of Anscombe's charged down attempted clearance to touch down on 20 minutes.
But the lack of tries did not detract from a hugely entertaining game between two totally committed teams containing plenty of talent.
Gloucester's win over Newcastle was more prosaic by comparison with Falcons director of rugby Dean Richards selecting an under-strength team with one eye clearly on preserving his squad for the Premiership run in.
With 21-year-old fly half Jarrod Evans impressing at fly half and a high-class back row unit in which Navidi is relentless, Blues will pose a significant challenge to a Gloucester team whose full back Jason Woodward has emerged as a serious contender for England's tour to South Africa.
"I think Gloucester will be favourites and they probably deserve to be. I don't think there's any point talking about the final just yet," Anscombe added. "We've got another big game next week (vs Ospreys in Pro14). We deserve to enjoy this win. Gloucester are a good side with a hell of a team on paper. Last year we played them and we were in that game for 50 minutes and fell away. They'll present a hell of challenge.
"The beauty about finals footy is that when you get there anything can happen. Pressure does strange things to people. When we get there we'll have nothing to lose.
"I'm pretty sure that will be our message in a couple of weeks. We'll go out and try to win the game and if it's not to be we can live with that. We've got to go out there and give it our best. After all the hard work that's what we deserve."
Register for free to continue reading
Registration is a free and easy way to support our truly independent journalism
By registering, you will also enjoy limited access to Premium articles, exclusive newsletters, commenting, and virtual events with our leading journalists
Already have an account? sign in
Register for free to continue reading
Registration is a free and easy way to support our truly independent journalism
By registering, you will also enjoy limited access to Premium articles, exclusive newsletters, commenting, and virtual events with our leading journalists
Already have an account? sign in
Join our new commenting forum
Join thought-provoking conversations, follow other Independent readers and see their replies