'I can't really remember taking it' - Dan Biggar's late missed penalty reopens concussion debate
Ospreys insist the HIA protocols were all followed and he was fit to continue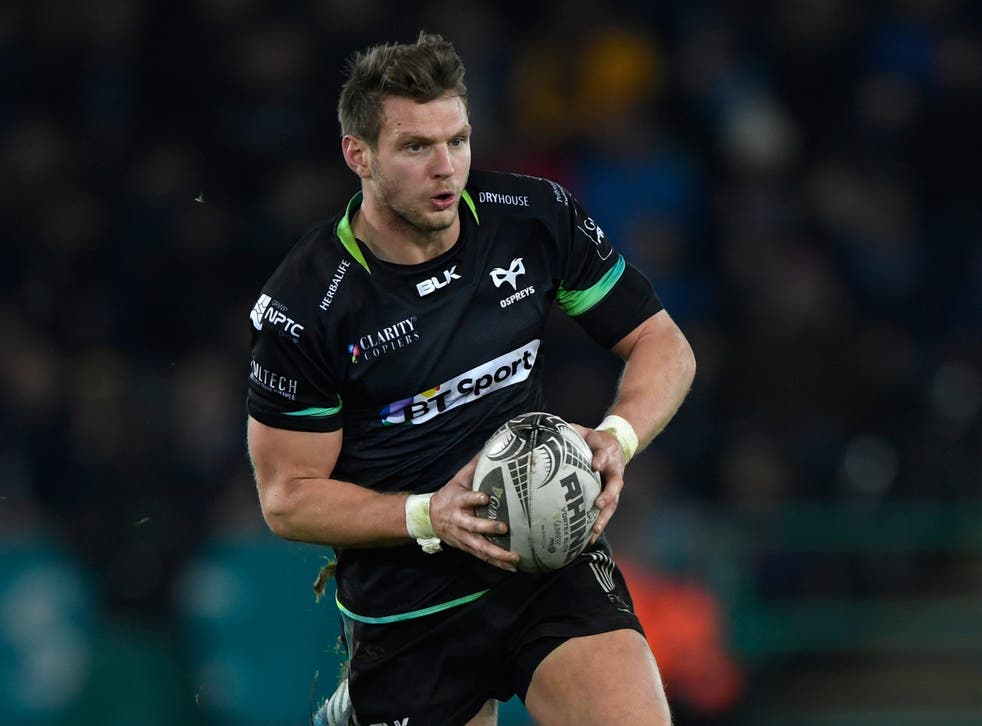 The concussion protocols in rugby have again been thrown into question after Wales fly-half Dan Biggar confessed to being unable to remember his last-minute penalty miss during Ospreys' 20-18 Pro12 defeat by Leinster.
Biggar left the field in the 59th minute and was absent from play for the next nine minutes as he underwent a pitch-side head injury assessment (HIA) at the Liberty Stadium.
Having already successfully slotted twice from the tee, Biggar stepped up again as the clock went dead but missed from around 40 metres out.
And speaking following the defeat, Biggar confessed he could barely recall any of the last 10 minutes of the game, having returned from his HIA in the 69th minute.
"It was a disappointing way to end the game," Biggar said. "I can't really remember much of the last 10 minutes, to be honest. I was a little bit dazed."
Under the HIA protocol, as well as a balance evaluation and symptom assessments, there are also a number of memory tests, for both long and short-term memory.
And, in a statement, Ospreys said they were "satisfied" that Biggar was fit to return to play and the HIA was conducted correctly.
"Dan Biggar left the field during the second half of the match to receive medical treatment for an eye wound," the Welsh region said.
What goes into a pitch-side Head Injury Assessment?
1. Player must answer a series of simple questions including: Where are we? Which half is it? What day is it?
2. Short-term memory test: Player must correctly repeat a sequence of five random words
3. Second short-term memory test: Player must recall sequences of numbers and repeat them in reverse order
4. Balance evaluation: Player must walk by putting one foot directly and immediately in front of the other 
5. Symptoms checklist: Doctor checks for concussion symptoms including headaches, nausea, blurred vision and dizziness
6. Third memory test: Player must recall words or numbers from earlier test (stages 2 and 3)
7. Doctor checks for clinical signs such as emotional distress and drowsiness
"Before being allowed to return to the field Dan underwent, and passed, a head injury assessment as per the required protocol and satisfied the medical team that he was fit to continue.
"Having resumed playing, Dan reported no further symptoms and his actions caused no undue concern for the medical team at that time.
"After the match Dan underwent a thorough assessment with the medical team, as is standard procedure for such occurrences, at which time they were made aware of his comments in a television interview immediately after the final whistle.
"Dan will continue to be monitored as part of the HIA protocol in case of any delayed reaction. He will need to pass each stage and satisfy stringent criteria before being ruled fit to play.
"The medical welfare and wellbeing of players is the utmost priority of everybody involved at the Ospreys at all times."
It is not the first time concussion protocols have been questioned, with fellow Welshman George North and his club Northampton at the centre of a storm in December.
Television footage showed North was knocked unconscious on the pitch but doctors ruled he was fit to continue, only to later concede they had not known the winger had lost consciousness.
Join our new commenting forum
Join thought-provoking conversations, follow other Independent readers and see their replies