George Ford returns to his old stamping ground with England Flood warning
Bath fly-half has perfect opportunity to get one over his former club Leicester - and boost his international credentials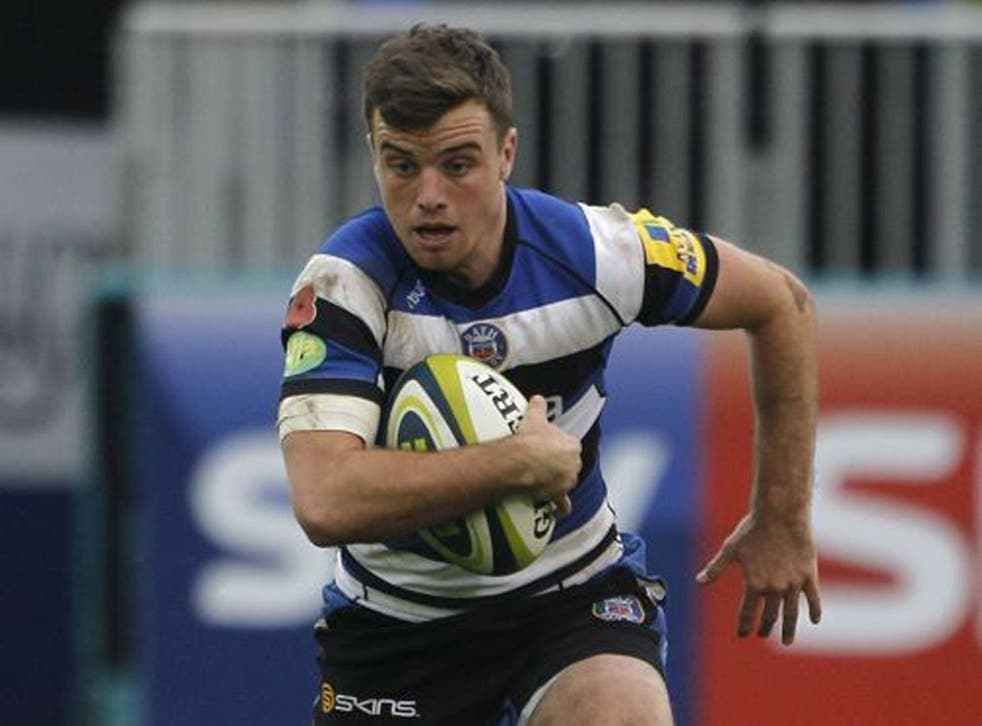 The last time Leicester hosted Bath in the Premiership at Welford Road, George Ford was in the home changing room, his heart thumping before kick-off to the beat of the spectators stamping their feet in the Crumbie Stand above his head.
Today the young fly-half will be an interloper, wearing the blue, black and white of Bath, as the crowd bears witness to a changing of the guard. Not only will Ford be facing his former Leicester mentor, Toby Flood, but he has an England place to play for: a delicious sub-plot in the latest battle of two great rival clubs.
The din and the adrenaline were just abstract memories in midweek as Ford sat in an echoey boardroom at Bath's Farleigh House training headquarters contemplating what lay ahead. I asked him for two or three words to describe Flood (a man on the cusp of his own major life change that had heavy implications for the pair of them). "I'd say he's very professional, and he's very intelligent," said Ford.
"For me, he was very helpful. To watch him as a 50-cap fly-half day in, day out, was brilliant for a young lad like me." But now Flood is off, or at least he will be at the end of the season, leaving the Premiership at the age of 28 to play in France, and out of the England reckoning due to the policy against picking players based abroad.
Stuart Lancaster will name a revised England squad next Thursday to cover the Six Nations Championship in February and March and the red-letter summer tour to New Zealand. The Leicester coach Richard Cockerill has spoken of Flood's concern at slipping down the England picking order behind the incumbent No 10, Owen Farrell of Saracens.
With everyone mindful of the 2015 World Cup in 21 months' time, logic suggests Flood will be dropped sooner or later, with Ford or Northampton's Steve Myler promoted. Ford has played twice for the Saxons; Myler played one Test as a substitute in Argentina last June. Freddie Burns of Gloucester is the other fly-half in the mix.
Stuart Lancaster names England EPS squad

Show all 44
As the youngest contender, at 20, Ford is blessed with uncommon experience – two Premiership finals for Leicester included – and ardent admirers. "You can see the way players rally round him, he's a class act," said Brian Smith, London Irish's former England attack coach, in September. Ditto, the former Bath and England fly-half Stuart Barnes: "His passing is rhythmic. He knows not just how to pass, but when."
Then there are those with closer connections. Ford's father Mike is head coach at Bath, whose improving pack have put them above the champions Leicester in the table. Farrell, whose father Andy is the England backs coach, has an iron defence and a proven nerve for Test goal-kicking. He has played for England since February 2012 and toured with the Lions. But his long-time friend Ford – though 18 months Farrell's junior, they grew up as opponents in kids' rugby league and were neighbours and school mates when their dads worked in union together at Saracens – has a gliding style and flair for game management that many see as superior.
They could even re-form a partnership dating back to England's Under-16 team in 2008 of Ford at fly-half and Farrell as inside centre. They reprised it for the England U18s in 2009 - when Ford was 16 - and the Under-20s during the 2011 World Junior Championship including the final, after which Ford was named the IRB Young Player of the Year.
I put it to Ford that he needed to crack on now with England and he chuckled – but, in his broad Lancastrian accent, he did not disagree. "All I can do is play well at Bath and see where that takes me," he said. "But with the World Cup not being too far away, you'd probably want to have a bit of experience before you go into international rugby. You don't want to be – well, in an ideal situation – chucked in at the last minute. You'd probably want to have a few Test matches behind you, to go into a world cup.
But, you only get into that situation by playing well consistently for your club." His rivalry with Farrell is matter-of-fact; they don't harp on about their relative progress. "I speak to him a fair bit," said Ford. "We went to the same school and lived about five metres away from each other in Harpenden. Playing the Test matches he's played and going on a Lions tour is unbelievable, he deserved everything that's come his way. To speak to him about that is awesome. But I saw him when we played Saracens [in September] and we were chatting for 20 minutes - and 15 minutes would have been about family and girlfriends and what-not.
A few memories, or about the game we'd just played. And five minutes at the end about his summer, and his Lions, and his experiences there. Being friends, you catch up on other things." And Farrell still lives with his parents, whereas Mike Ford is in a house on the Farleigh estate and George is sharing a flat in Bath city centre with his fellow former Tiger, the scrum-half Micky Young? "Owen's just saving the money, isn't he?" Ford smiled. "He's not daft, is he?"
Nor, you can be certain, is Ford, who has the recordings of the Premiership finals of 2012 and 2013 marked for keeping on his mum's TV. "Well, I'd struggle to watch the Harlequins one," he said of the 2012 loss that he started in place of the injured Flood. A year later he came on for a concussed Flood during the first half of the victory over Northampton. "Leicester winning trophies was the hardest thing in the decision to leave for Bath," Ford said.
He also had an inkling of Flood's future plans. "You think, do I be patient, do I wait? I felt at the time I just needed to go out and play. I was extremely frustrated, I wanted to get better every week. I was missing the challenges of previewing teams and reviewing games. It's a different kettle of fish when you're starting as a fly-half, the amount you learn. There's a lot of pressure from your own team-mates, especially the forward pack here, they've been brilliant this year, so you've got to pay them back by managing the game and kicking your goals when you can."
Throwing dummies in his 22 is a Ford trait, and while his goal-kicking success rate in the Premiership could be better, regulars at the Rec have appreciated his poise under pressure as a contrast to Stephen Donald's more haphazard approach last season. "We work all week with a plan," said Ford, "Now whether that's going accordingly is a different matter. We have to be clever enough to change on the go. I like to take the game play by play, stay in that moment – and a lot of it's about feel, of whether we're under pressure or on top and what the right thing is to do.
"My best match at Welford Road was the semi-final against Saracens, the year before last. I hadn't played for a few weeks then Floody got injured in the last regular-season game – against Bath, it was. I got put in and it was a great feeling, winning. Being picked to start, you're excited but you're pretty nervous at the same time, being quite young. You're thinking about the game all week, you're stressing a bit, so to win and enjoy yourself was a great feeling.
"There's been a hell of a lot of players who've not made the next step from age-group rugby. It's never guaranteed. Playing grown-up rugby, especially in the Premiership and in Europe, is a big difference."
Bath's assistant coach Toby Booth concurred with the idea that England need to give their youngest squad member a go sooner rather than later. "In tough games in wet weather – Worcester away, Newcastle away – he's been the difference," said Booth. "Exeter and London Irish and Quins at home, we kept the ball in hand – and he's the person pulling the strings and making that happen. The diversity of what he has to do is massive.
"He's having to solve problems immediately. When he wasn't playing so regularly he'd have weeks to think about how to put it right. What George is exceptional at is the rate at which he learns."
Amid Farleigh Castle and its sprawling grounds there is an outbuilding converted into a well-stocked gym where Ford's smallish frame can look out of place. But brains can still beat brawn, and perhaps the truth of the matter is that Bath have got a player Leicester would have done well to hold on to.
In any event, Ford is relaxed amid the grandeur. "It's different – a lot different to what I'm used to, growing up as a little kid in Oldham, with the facilities there. They weren't the best. But at the end of the day, it was all about getting on a field and just playing. When you're young you're not too bothered about facilities."
Register for free to continue reading
Registration is a free and easy way to support our truly independent journalism
By registering, you will also enjoy limited access to Premium articles, exclusive newsletters, commenting, and virtual events with our leading journalists
Already have an account? sign in
Register for free to continue reading
Registration is a free and easy way to support our truly independent journalism
By registering, you will also enjoy limited access to Premium articles, exclusive newsletters, commenting, and virtual events with our leading journalists
Already have an account? sign in
Join our new commenting forum
Join thought-provoking conversations, follow other Independent readers and see their replies