Leicester Tigers' defeat by Exeter Chiefs typifies the deterioration of a once mighty club
With 21 defeats in 28 matches, the Tigers have become synonymous with something; and it isn't winning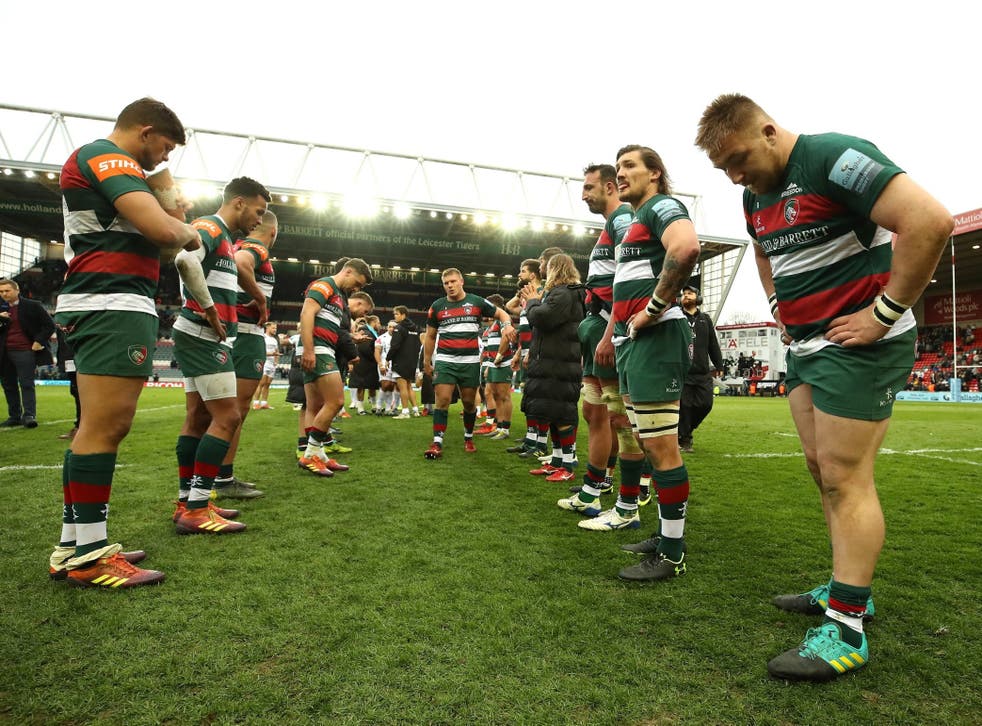 If Leicester Tigers fans were anxious before kick-off on Saturday they were positively terrified by the time referee Thomas Foley put them temporarily out of their misery by blowing the final whistle.
Their side's latest humiliating defeat, after a week of fighting talk from Leicester's players, new management and Board alike, was yet another symptom of a deep malaise within a club once synonymous with winning.
With 21 defeats in 28 matches in all competitions this season, the worst points difference in the Gallagher Premiership, and lying five points above bottom club Newcastle Falcons, who they play this Friday, and Leicester Tigers have become synonymous with something; but it certainly isn't winning.
In Mike Ford's first game sort of in charge after being parachuted in below [you couldn't make it up] Geordan Murphy by the same Board who sacked Matt O'Connor one game into this season after backing him at the end of last, Leicester conceded the most points they have conceded in a league game in more than 30 years.
Exeter Chiefs, the club Leicester used to be, ran in seven tries to two in an almost effortless demonstration of their superiority, following up their opening round 40-6 win over Tigers, which accounted for O'Connor, with yet another evisceration of a once mighty club.
"I just don't see it [relegation] happening," said Tigers scrum half Ben Youngs last week in a newspaper interview which ran on Saturday morning.
"We are a better side than some of the teams around us, so I think we'll stay up."
This followed bullish comments from former England defence coach Ford last week when he told BBC East Midlands: "I don't think it's a big job. I really don't. We are not getting relegated."
Ford went on to clarify the comment by explaining a simple game plan would free up Tigers players to deliver results. That wasn't the case on Saturday as Henry Slade led the rout with his latest midfield masterclass, club captain Tom Youngs was sent off and the only piece of good news for Tigers was that Newcastle had narrowly missed out on securing a bonus-point away at Saracens. Things have got that bad.
Even the timing – just minutes before kick off - of announcing Ben Youngs underwent shoulder surgery last week and will miss the rest of the season, smacked of a club trying to be too clever and lacking clarity in its thought processes. It was a bad day to bury bad news.
With chief executive Simon Cohen tweeting angrily about another entirely reasonable newspaper critique of the club's current position and fellow Board member Ben Kay picking apart Leicester's current predicament in one of his media roles as a commentator on BT Sport, these are undeniably messy times at Welford Road. On Friday night, they could get messier still.
Ben Youngs says Tigers are a better side than some of the teams around them and while that may be the case on paper, with eight current internationals starting against Exeter, it is simply not being shown in results.
Worcester, two points below Leicester in 11th and therefore very much one of the teams around them, have beaten Tigers twice in the league already this season while ninth-placed Bristol, who earned a bonus-point against Bath on Saturday, thrashed them 41-10 at Ashton Gate in December. Leicester face Bristol again on April 27 at Welford Road.
The bold statements of last week were designed to boost the flagging confidence of a group of players who don't know if they coming or going. The current Board have sacked three head coaches in Richard Cockerill, Aaron Mauger and O'Connor in the space of barely two years and has lost faith in their decision-making ability among the players and Leicester's huge supporter base.
The plan to bring Ford in as a coaching consultant, and inevitably diminish Murphy's status in the player's eyes, may yet prove a masterstroke and Leicester may well be too good to go down. But there wasn't much evidence of that on Saturday. If anything, things are getting worse at Welford Road.
While Leicester City Football Club winning the Premiership title was the stuff of fairy-tales, Leicester Tigers Rugby Club being relegated would be the stuff of nightmares.
It hasn't happened yet, but the former powerhouse of English club rugby has just four games left to avoid the unthinkable. At some point the talking has to stop.
Better than the teams around them? We'll find out on Friday night.
Join our new commenting forum
Join thought-provoking conversations, follow other Independent readers and see their replies