Match Report: Saracens find cutting edge on new ground
Saracens 31 Exeter Chiefs 11: After failed kicks and fumbles, Hodgson and Vunipola pile on points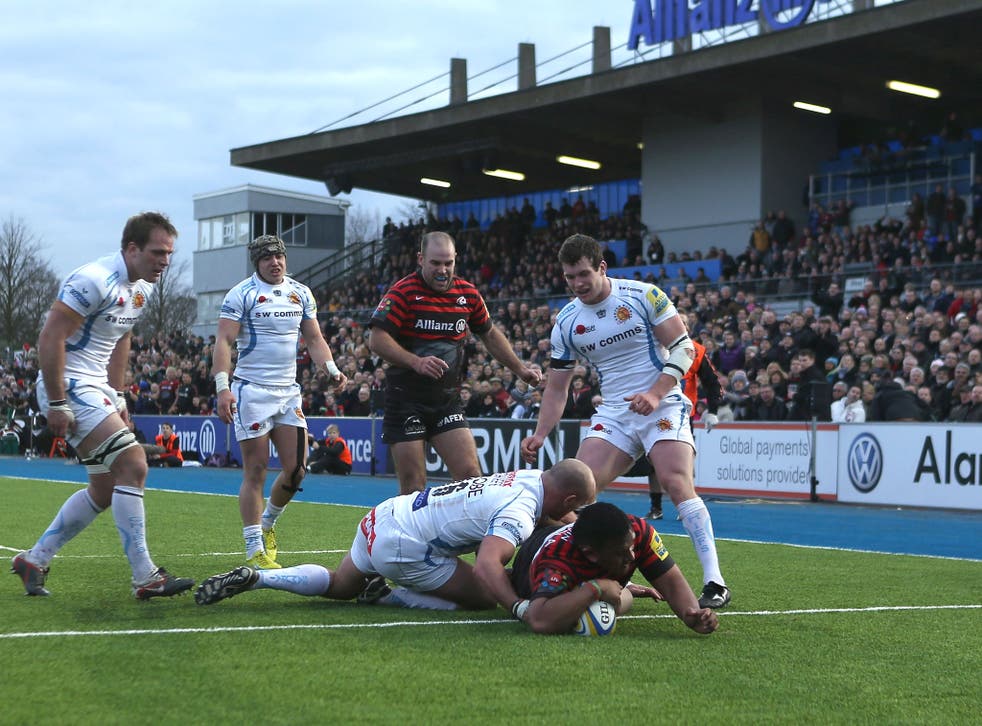 If you have a strong moral or spiritual devotion to rugby being played only on grass, this would be a good time to get your campaign going. The pace of movement and high count of clean and completed scrums made a compelling argument in favour of Saracens' artificial pitch on the day the fantastic plastic came to the English Premiership.
With England's Owen Farrell, Brad Barritt, Alex Goode and Chris Ashton as non-playing spectators, Saracens, who had played one match here before against Cardiff Blues in the LV= Cup, dispelled any doubts their rigid style might not cope, harvesting a bonus point for four tries.
Three of them went to the props Mako Vunipola, with two, and Matt Stevens. Perhaps the energy they saved not constantly picking themselves up from reset scrums served them well elsewhere. If you get your kicks from finishing a match caked in mud or aquaplaning 20 metres through puddles for tries, Allianz Park is not for you.
Both goal-kickers, Charlie Hodgson and Gareth Steenson, had trouble adjusting at first. Hodgson has trimmed the lip off his kicking tee so he can push it, cake-cutter-like, into the surface, but in still conditions the former England fly-half missed his first three shots; the third more or less directly in front of the posts.
Saracens' backs Joel Tomkins and Adam Powell fumbled when tries were on. So it was with some relief for Saracens that two things happened around the half-hour.
Having kicked a penalty for touch, they went left to right and Hodgson darted through a gap left by Jason Shoemark being tied into a ruck. Hodgson added the conversion for a 7-3 lead. Steenson had kicked a penalty for Exeter after 24 minutes, but missed from long, short and ridiculously short range twice before half-time.
With Saracens in the hunt for a treble of League, Heineken Cup and LV= Cup, they may need a new trophy cabinet here to go with the revolutionary pitch. Unlike the hybrid weaves at Twickenham and several professional football clubs, there is no grass; rather a bespoke surface for rugby topped off with 65mm blades of synthetic turf – picture a shagpile carpet made from the foliage of an artificial Christmas tree – filled in with black rubber crumb.
The players report that it has some give but does not give way. There were 14 scrums called, three were reset, and with three penalties the rest produced fast, playable ball – way above the normal average.
Some things are old-school. The programme carried a big photo of the Angels cheerleaders in leather jackets and skimpy shorts; Stevens was hailed for having won a midweek pie-eating contest. It is not as if there are motorbikes and a spiked ball in play. And there are things you cannot do here – play football, for one, as the pitch is marked permanently for rugby. Or throw a javelin.
But Shaftesbury Barnet Harriers athletic club and the local council have unsurprisingly been happy to welcome their deep-pocketed tenants on a 99-year lease. Saracens' chief executive and ideas man, Ed Griffiths, grabbed the PA mic beforehand to thank the club's South African backers Remgro – headed by the tycoon Johann Rupert – for the "£25 million of investment" that has spruced up a dilapidated venue out of the book of 1960s East German architecture. Big investment too, from the German bankers with the naming rights.
The paying punters joined queues 15 or 20 deep for a pre-match beer in the "biggest bar in rugby", ecstatic to be anywhere other than Watford's Vicarage Road. Their new home is no aesthetic dream but the £500,000 pitch is looking extra-shrewd given the confluence of bad winter weather and last weekend's Six Nations' Championship when the grass pitches at Stade de France and Aviva Stadium cut up badly. Cardiff's Millennium Stadium, the Blue Bulls' Loftus Versfeld and English clubs Gloucester, Bath, Worcester and Newcastle are all said to be paying close attention.
Hodgson's 40-metre penalty in the 43rd minute settled Saracens, who lost at London Irish last week, and they piled on the points thereafter, with hard driving into the tackle and quick support putting Stevens over in the 49th minute – Damien Welch won then lost a defensive line-out, and Vunipola's tidying up set Saracens away – followed by Vunipola on short gallops after 53 and 71 minutes.
Hodgson's three conversions helped make Steenson's 52nd-minute penalty and the short-range score by Rich Baxter near the end pretty inconsequential. There was a loud and rudely timed "Nessun Dorma" aria from what looked like a Viking in drag over the sound system during the final minute – that'll be the fat lady singing, then – and as with all of Saracens' innovations, you could take it or leave it, but not ignore it.
Saracens B Ransom (J Maddock, 71); J Short, J Tomkins, A Powell (N Mordt, 66), D Strettle; C Hodgson, N de Kock (R Wigglesworth, 50); M Vunipola (N Auterac, 71), J Smit (J George, 59), M Stevens (P du Plessis, 71), S Borthwick (capt), M Botha (A Hargreaves, 55), J Wray (J Melck, 66), E Joubert, W Fraser.
Exeter L Arscott (P Dollman, 66); J Nowell, I Whitten, J Shoemark, M Jess; G Steenson (I Mieres 58), W Chudley (H Thomas, 40); B Moon (C Rimmer, 58), N Clark (J Yeandle, 61), H Tui (A Brown, 66), D Mumm, D Welch (A Muldowney, 66; T Hayes, 75), R Baxter (capt), K Horstmann, J Scaysbrook.
Referee Martin Fox (Leicestershire).
Saracens
Tries: Hodgson, Stevens, Vunipola (2)
Cons: Hodgson (4)
Pen: Hodgson
Exeter Chiefs
Try: Baxter
Pens: Steenson (2)
Register for free to continue reading
Registration is a free and easy way to support our truly independent journalism
By registering, you will also enjoy limited access to Premium articles, exclusive newsletters, commenting, and virtual events with our leading journalists
Already have an account? sign in
Register for free to continue reading
Registration is a free and easy way to support our truly independent journalism
By registering, you will also enjoy limited access to Premium articles, exclusive newsletters, commenting, and virtual events with our leading journalists
Already have an account? sign in
Join our new commenting forum
Join thought-provoking conversations, follow other Independent readers and see their replies