Swathes of empty seats mar Newcastle vs Saracens but the Premiership's American adventure is here to stay
Chris Wyles scored a try in his homeland before five Owen Farrell penalties booted Saracens to victory in Philadelphia
Graham Jenkins
Talen Energy Stadium
Sunday 17 September 2017 10:39 Comments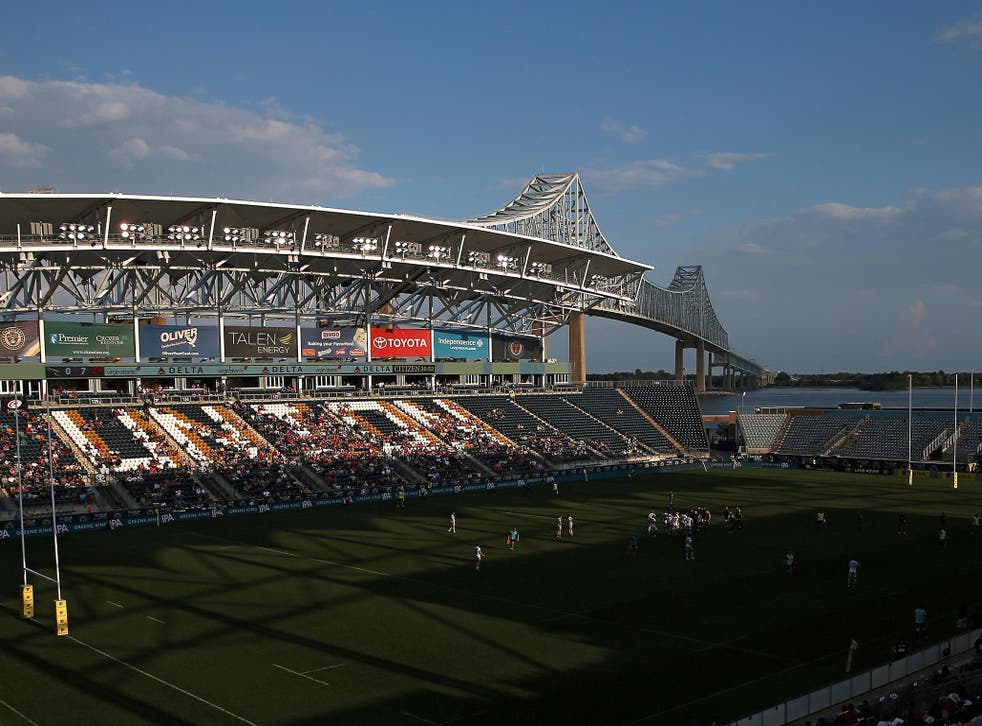 The Aviva Premiership's latest attempt to crack what is widely considered a potentially lucrative and largely untapped American market began so well.
USA international Chris Wyles added the finishing touches to a dazzling Saracens try that looked to have set the tone for their showcase clash with Newcastle Falcons at Philadelphia's Talen Energy Stadium.
A crowd looking for a familiar face in an unfamiliar sporting environment on whom to hang their hopes and fuel their passion for the game appeared to have found their man. And a league looking for the player who could help unlock a new market and boost both the sport and their balance sheet had reason to raise a smile or even a glass.
Concerns about an attendance that would be later confirmed as 6,271 rattling around in an 18,500 capacity venue were about to be lost in the afterglow of a scintillating advert for English rugby's top flight. However, a game that could not have been scripted better soon when off script.
The hot and humid conditions that had greeted the players, including temperatures nudging 30 degrees just before kick off, soon resulted in a slippery ball that neither side could keep their hands on for long.
The players would later divulge that it was so bad it was like playing a game in the rain. For all the industry and endeavour on show, the poor execution was turning a game to remember into one to forget.
Despite the best efforts of both sides to rescue the game, it failed to shine like the impressive Premiership silverware that had also made the trip across the Atlantic and sat pitchside throughout.
The game flirted with a recovery each time Saracens No.8 Billy Vunipola latched onto the ball. Fans old and new roared approval as he delivered a typically powerful performance that belied the fact that he had been sidelined for months through injury.
There was little doubt that an American audience used to the physicality of NFL were enthused by such a barn-storming display. But there was appreciation of the finer things too.
They heaped praise on Saracens' fly-half Owen Farrell as he controlled proceedings and kicked 17 points that carried his side to victory and up to second place in the Premiership table behind Exeter. But as the players worked harder to try and lift their performances and the game to new heights, it only served to hasten their fatigue.
You could have been forgiven for thinking the players were running in the thick and sticky cheese sauce that accompanies the city's world famous cheesesteak staple.
Each error will have hammered home the disappointment of those Premiership officials who may have dreamed of selling out the venue or at least matching the 14,811 crowd that flocked to New York's Red Bull Arena for London Irish's Premiership clash with Saracens last year. But Premiership Rugby, promotional partners AEG and host union USA Rugby insisted that the attendance was never going to define the success of the event.
According to them this was a much more ambitious undertaking than that in New York and once that goes far beyond the match day experience. Hundreds of kids benefitted from top class coaching in the build-up to the clash and a select group of players and coaches have earned a place on an exchange programme to the UK next year.
This is a long-term relationship, not just a weekend away.
A raft of replacements breathed new life and hope into the game and to their credit Saracens turned down a shot at goal with one final penalty in the hope that they could end the game with a moment of brilliance to match that which had started it all. It was not be but perhaps that moment of magic, or at least hope, came after the game when crowds of youngsters swarmed around Farrell in new-found adulation.
It is clear that they will return to the game in the future, as Premiership Rugby will return to the States.
BT Sport is the only place to watch rugby from the Aviva Premiership, European Champions Cup and Challenge Cup where the best teams from domestic and European rugby go head to head
Register for free to continue reading
Registration is a free and easy way to support our truly independent journalism
By registering, you will also enjoy limited access to Premium articles, exclusive newsletters, commenting, and virtual events with our leading journalists
Already have an account? sign in
Join our new commenting forum
Join thought-provoking conversations, follow other Independent readers and see their replies