World Rugby must act fast if referees will not rule the breakdown - and this week's Premiership shows why
Three serious and sickening injuries this weekend are just a latest results from the wild west that is the breakdown. World Rugby have shown they are ready to act, but now there is little time to waste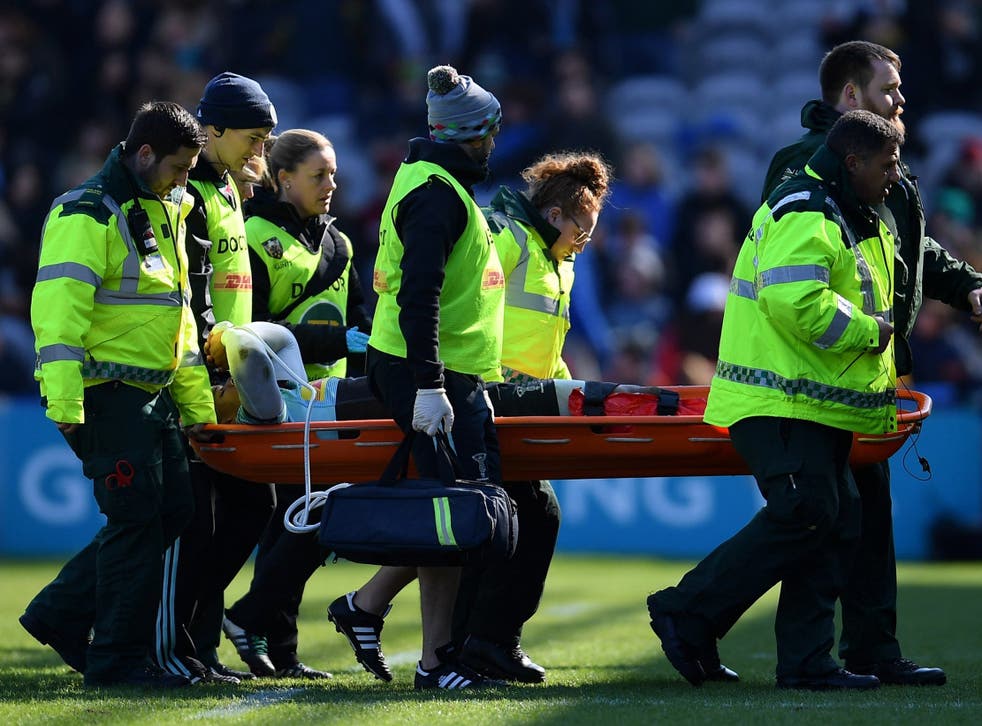 Two Gallagher Premiership matches, four incidents and one serious problem for professional rugby: injuries and the severity of them.
Mercifully the "rugby has gone soft" line has become an increasingly discredited phrase as data, evidence and hard facts regarding rugby's injury rates have enabled reasoned argument to trump emotive ranting. The figures tell us there is a problem and the statistical evidence is backed up by what we see with our own eyes.
But admitting there a problem is only the first step on the road to cure and it's clear, on the evidence of this weekend's Premiership matches alone, rugby still has a long journey ahead.
Let's be clear. There will always be injuries, there will always be concussions and there will always be a high degree of risk associated with playing rugby. No sane person is suggesting otherwise. You cannot take risk out of rugby. It's why we love the sport.
But limiting, minimising and in some areas actively looking to reduce risk must be the principle driver for anybody running a sport. If governing bodies can be proved to have been gung ho or blasé to injuries caused by participating in their sport, the consequences can be seismic. Watch this space, football.
Six Nations Team of the Tournament

Show all 24
World Rugby gets this, so too do the RFU. How to reduce injuries and the severity of them without radically changing the sport is now rugby's Holy Grail.
While the rate of injuries may not be rising, the severity of injuries are and this weekend we saw why.
First, on Friday night Newcastle Falcons fly half Toby Flood, a player with a long history of concussion (see Premiership Final 2013), went to contest a ball at a breakdown in the increasingly contentious "jackal" position.
With his arms and head over the ball Flood was vulnerable in every sense as three Tigers players - Matt Toomua, Gareth Owen and Mike Fitzgerald - illegally flew in, going straight off their feet in the process, in a bid to shift the fly-half and the clear the ball.
In the process Flood suffered a head injury – how he passed the ensuing Head Injury Assessment is an entirely different but equally troubling question – but no penalty was awarded and play continued with the Newcastle player left prone on the ground.
A few of us screamed at our televisions but nothing else happened. This was just another act of breakdown butchery which went unpunished and is now routine at the top level of rugby.
Former Fiji Sevens coach Ben Ryan tweeted: "Flood's shoulders below his hips and 3 tigers clear out and none are attempting to stay on their feet. That's law being broken just the four times. It's so common now - no one bats an eyelid about it anymore. The game cannot sustain this."
On Saturday, Harlequins played Northampton and we witnessed three more bad injuries.
First, Saints full back George Furbank went up to contest a high ball and clashed heads – accidentally – with Quins centre Ben Tapai.
Furbank, a 22-year-old with a bright future, needed almost 10 minutes of treatment as he lay unconscious or partially conscious on the floor before being removed from the field on a stretcher.
Moments later Nathan Earle, a young winger on England's radar, made an arcing break down the left before being partially tackled by Piers Francis and in doing so ruptured his knee ligaments. He will not play again this season and must wait to discover if surgery is required.
As if that wasn't bad enough, with 11 minutes left Quins' 19-year-old winger Cadan Murley was left lying prone on the ground with his elbow horribly distorted and dislocated. He was in enormous pain. It wasn't clear precisely how the injury occurred but it can't be a coincidence that as the breakdown gets ever more lawless, we're seeing more and more cases of a previously rare injury.
A World Rugby symposium recently proposed eight possible law changes which could one day be introduced in a bid to make the game safer. They accept there is a problem but they need to act fast because the evidence is telling us these injuries are only going to continue getting worse, especially if referees won't police the breakdown properly and players continue to risk themselves and their opponents by clearing out recklessly.
There will always be some who see any change as negative and put any talk of danger down to scaremongering and sensationalism.
But it isn't. It's real. The evidence of this weekend alone proves that.
Rugby has a problem, most of us accept that. The next question is; what do we do about it?
Join our new commenting forum
Join thought-provoking conversations, follow other Independent readers and see their replies