Alex Goode shows he may be the Rugby World Cup answer to Eddie Jones' Danny Cipriani problem
Saturday's Premiership semi-final saw England's exiled fly-half go up against the No 1 choice Owen Farrell, but it was the Saracens 15 who showed once again why he deserves to be on the plane to Japan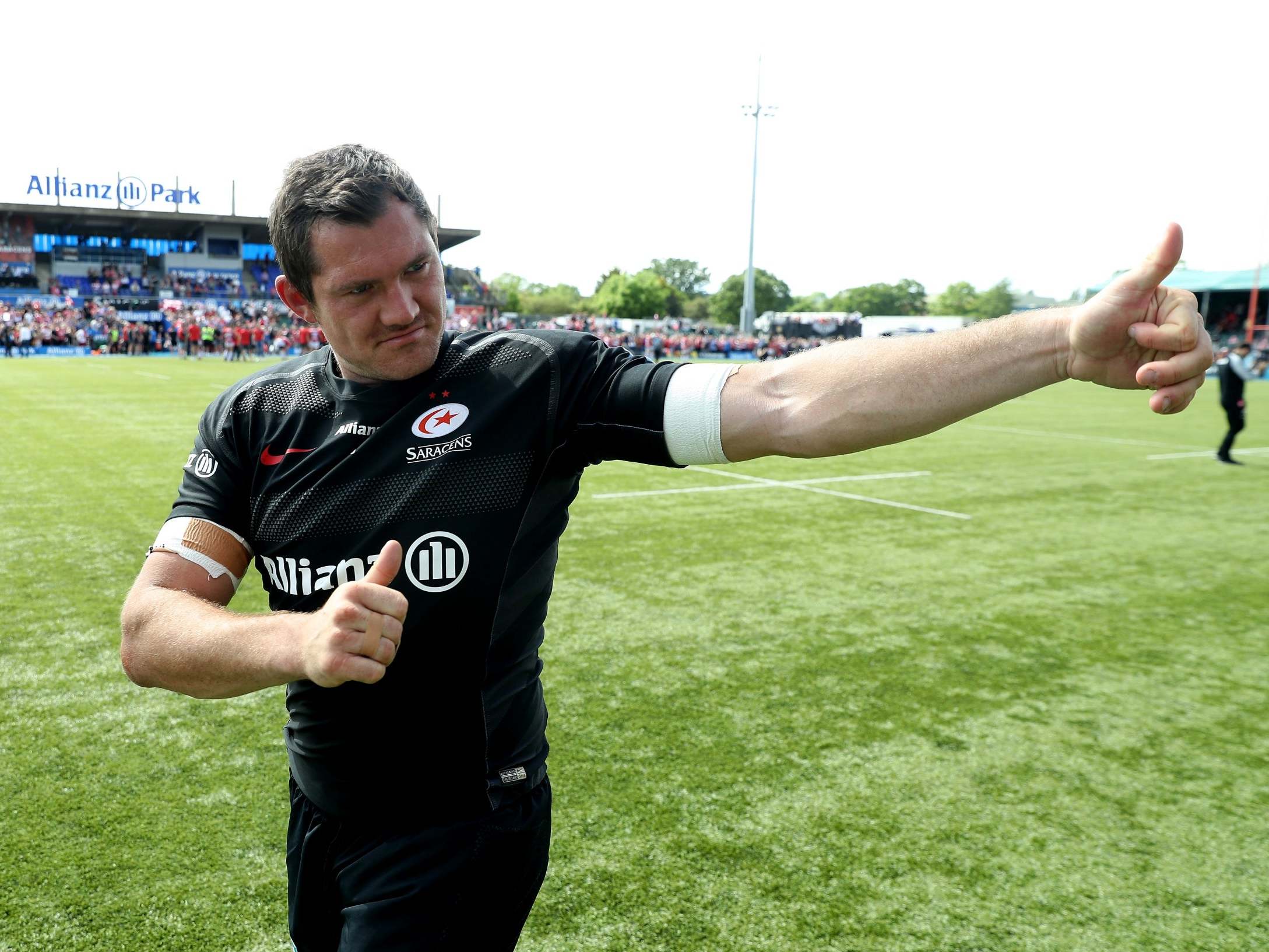 Danny Cipriani did not lose Saturday's Premiership semi-final. Gloucester did, to a Saracens side that is more experienced and successful at this stage of the season than any of their rivals over the last decade.
Saturday's 44-19 defeat to the reigning Premiership champions was one perhaps not quite as predictable as the scoreline suggested. Gloucester looked very much in the contest until Liam Williams crossed in the corner four minutes from half-time with a try that, even at the time, felt like a nail in the Cherry and Whites coffin.
By the time Saracens had scored the last of their 44 unanswered points, the headlines were already being written: Owen Farrell gets the better of fly-half rival Danny Cipriani.
Truth be told, Farrell didn't have his best day. With the ball in hand he was instrumental in setting up tries for Sean Maitland and Nick Tompkins while throughout he looked a step ahead of the opposition, but his goalkicking was alarmingly off-colour in missing five of his 11 attempts that falls well short of his usual standards.
Cipriani did not play to his best either, but this is pointless discussing. The two are not competing for the same spot when it comes to England, as Farrell is Eddie Jones' undisputable No 10 when it comes to Japan in September. And based on his performances in the Premiership's most underachieving side this season, George Ford will be the designated understudy. Only injury will change that.
Premiership Rugby Team of the Season 2018/19
Show all 16
So we come to the third-choice fly-half. At present that man is Henry Slade, but based on the Six Nations he is also part of Jones' first-choice midfield partnership, which gives the Australian a problem. If Farrell and Ford were to be struck down along the way at the Rugby World Cup - and 2011 reminds us that even worse is possible - not only will he have to go with his third-choice fly-half but he will also need to restructure his centre pairing. What is ideal in this scenario is someone who is already a back-up option who is able to slot in at 10 and cause minimal disruption to the rest of the team. At present, that man is Cipriani, but there is another option that is worth exploring.
Step forward Alex Goode. The Saracens full-back put down his tinny post-Champions Cup celebrations long enough to turn in yet another eye-catching display against Gloucester, playing a pivotal role in Nick Tompkins' second try. His defence has long been a concern of Jones' - and Gloucester's two late tries will not have helped that argument even if Saracens had switched off - but what he offers fits what England need.
Should Cipriani head to Japan, the likelihood is that he would see action either at fly-half against the United States in England's second pool game after a slim four-day turnaround, or as a makeshift full-back. Goode, on the other hand, is a genuine contender for the full-back shirt who has not only shown he can play 10 if needed, but do it in the heat of a European quarter-final at short notice. Throughout the Six Nations, while Farrell was away on international duty, it was Goode who took on the reins to guide the Saracens backline, and he would not look out of place if needed as a third-choice international fly-half.
Granted, this is not to say Goode is a better fly-half than Cipriani. To say so would be bonkers given the season Cipriani has had. But if Jones is not even willing to bring the Gloucester stand-off in for the Six Nations, what chance does he have of making the 31-man squad for the World Cup
The likelihood is that Cipriani makes the enlarged World Cup training squad named on 4 June, only to miss out on the final cut, whereas recent history suggests that Goode will not even get a look-in. With Elliot Daly the current full-back incumbant, Mike Brown refusing to give up on his 15 shirt and Anthony Watson back in action, Jones will not care for a fourth option there. But Goode has outplayed all three of those this season, and also faced the best Europe has to offer, leaving them all flailing in the dirt as he dances his way into the distance. To ignore him from the World Cup reckoning is brutally harsh at best, but at worse it is going against everything Jones demands in versatility, X-factor and consistency. He may just be the answer to his Cipriani problem.
Join our commenting forum
Join thought-provoking conversations, follow other Independent readers and see their replies